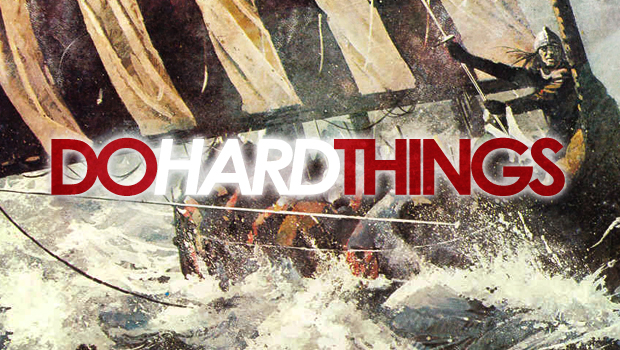 While musing on the subject of Hard Things recently, I thought of a practical reason to do them. What's the opposite of Do Hard Things? That's right: do easy things.
Doing easy things feeds the flesh. Playing computer games in free time when I could write to missionaries, tinkering on the guitar instead of cleaning my room, even building a web site instead of following up on that business lead I got — all of these feed the base desires of the flesh for pleasure and self-satisfaction.
Are We Feeding or Starving Our Flesh?
Regular election to do easy things builds a habit of feeding the fleshly pleasures, therefore it hinders my fellowship with God throughout the day. It's analogous to desiring good health and nutrition. Eat a fruit at breakfast or be sure to include a few carrot sticks in lunch, but otherwise eat sugary, frosted, refined-grain, and deep-fried foods. You still wish to be healthy, but by choosing all the foods that "taste good," you are actually choosing not to have good health.
Do Hard Things, on the other hand, is choosing to eat healthful foods. It builds habits of starving the flesh, suppressing that hindrance to a closer walk with God.
Paul wrote about this saying, "But I discipline my body and keep it under control, lest after preaching to others I myself should be disqualified" (1 Cor. 9:27).
Why Do Hard Things? To keep the flesh in subjection and to avoid fleshly habits so that you can have a more effective relationship with God. Doing hard things in mundane aspects of life also builds discipline for doing hard things like sharing the gospel with strangers.
Galatians 6:8 "For the one who sows to his own flesh will from the flesh reap corruption, but the one who sows to the Spirit will from the Spirit reap eternal life."
About The Author: Ryan is a 23-year-old rebelutionary and follower of Jesus Christ from Seymour, Connecticut. His heroes are Jim Elliot, Peter Fleming, and Ed McCully, three of the missionaries killed in Ecuador on January 8, 1956, because each of them lived a life of denial of self with their faith placed wholly in God. On a less sublime note, Ryan thinks and learns visually.