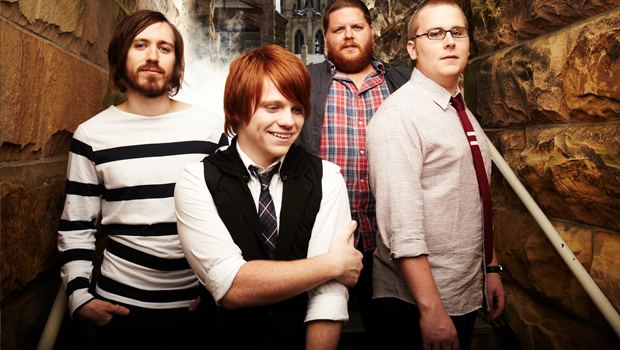 With their rebelutionary-themed album Opposite Way due in stores tomorrow, Brett and I want to share excerpts of an interview we did last October for Do Hard Things with Leeland frontman and namesake, 19-year-old Leeland Mooring.
Having spent time with Leeland, his brother Jack, and the other members of the band, Brett and I can unhesitatingly commend them to you as true young men of God — with a shared heart to see our generation living for His glory.
"Our new album is meant to encourage our generation to live passionately for the Lord, even when it means going the 'opposite way' of the world," they explain. "Our goal is to be a creative outlet, helping to raise up a new generation of worshippers who do whatever it takes to make that 'opposite way' a reality in their lives."
In our interview with him last year, Leeland shared some of the story and heart behind the band's ministry. We think you'll be blessed and encouraged by these words from a fellow rebelutionary and brother in Christ:
A&B: Tell us briefly about Leeland the band. What is your mission as a band?

LM: Our band actually started about six years ago. We're from Baytown, Texas, right outside of Houston. We all met at my mom and dad's home church and on Thursday nights we'd lead worship for church and for youth group.

My brother Jack was the youth pastor. I was about 14, and Jack was about 17. So we were all super young, but we started just leading worship, and that's how the band started.

Our mission is to see our generation completely on fire with the gospel of Jesus Christ. It's just like what you guys are writing about — doing hard things. That's what we want to see our generation doing. It's not just speaking about God, but acting out in their faith.

A&B: Tell us a little about your travels as a kid.

LM: When I was 11, my parents, me, Jack and my little sister went on the road in a Lincoln Town Car. We went from church to church and ministered with two different evangelists. We'd be the music team. I would sing, Jack would sing, and mom would sing. Dad would play keyboard and run some tracks. And it was really cool. We'd travel as a family, and we did that for two years.

Every once in a while we'd do churches on our own, and my role was just that I would sing with my brother. We'd harmonize with my mom. And that's where we literally started getting a hunger to start leading worship. It was there at that time.

A&B: You wrote your first song when you were 11. Tell us about that song.

LM: I wrote a song called "Shine." I didn't have an instrument at the time, so I let my dad kind of do the chords to it, and I just sang the melody for my dad. My mom helped me with the lyrics for it. It was in California where I wrote it, and a week later we sang it at this church in Illinois.

The whole time the church really didn't want us to be there. You could tell. It was awkward. And I got up there, and my mom said, "Leeland, sing your song now."

And so I started just singing the chorus, and my dad was playing at the piano. And about halfway through singing the song, I opened my eyes, because my mom had stopped singing. And I looked out, and my mom was down there praying for the whole congregation. They had all walked up to the floor. About 500 people had just come to the altar, when before they were just staring at us.

Some people were just lifting their hands and tears running down their face. God's presence just entered the room. We found out later that there had been a lot of stuff happening in church, and God restored a lot of stuff that day. And the pastor handed over the whole service to us.

It was a huge God thing. It was the type of thing where I said, "This is what I want to do. This is what I'm called to do." And so I started writing. That's where that whole thing started.

A&B: You signed a writer's deal when you were 15. You recorded your first album when you were 17. You've worked with and written multiple songs for Michael W. Smith. God has clearly given you an incredible gift. When other young people look at you, should all they see be Wow, that guy is just really super-talented or should they see blood, sweat, and tears?

LM: You know, people are always looking up to other people, whether it's an author or it's a band or a speaker. You're always looking up to somebody, and deep down in sometimes you might say, "I'll never be that talented." But I would rather people look at us, and look at me, and say, "Man, he's got a passion for God, and I want that." When people look at our ministry and look at me, I want them to feel God, and I want them to be inspired. I want to see them to see the blood of Jesus. I want them to see the blood, sweat and tears that God has put into our lives.

I do want them to see hard work, because we have done a lot of hard work. There's a lot of blood, sweat and tears that goes into it. There is. You have to work hard at it. If you're going to pursue something — pursue a dream — you've got to put actions behind your faith. And that's true in anything. So definitely blood, sweat and tears. Definitely hard work. But again, it has been nothing apart from the hand of God, and I want people to be moved towards the Lord.

And that's the beauty of God, because it's not age that God sees. If you've got a hunger for God, it doesn't matter how much talent you have. It doesn't matter how old you are or how experienced you are in certain areas. It really just comes down to you having a passion for God and wanting to know the Lord.

To be completely honest, I would be more than happy if our records got taken off the shelf and the Christian industry completely just shunned us away, and we went back to our youth group of 30 people, and we're leading worship for them. I would be more than happy to go back to Baytown, Texas, with chemical plants. I'm happy to go back to that town and serve my church.

And I'm not trying to say that to build myself up. I'm honestly saying you have to come to a point where you just have a passion to serve God. That's when you're used.

A&B: What is your vision for our generation?

LM: I think our generation is just welling with intensity, ready to explode and do something huge—and once they figure out that it's God that they need, once they figure out that God is the answer, and not only do they hear about God, but they see God… Wow.

If I had to say one thing to our generation, I would encourage them to live like Jesus. Live like God to the world. Literally give up your life to God. If you're not going to give up your life, and you're not willing to give up your life, don't even pursue it, because God says, "I would rather have you hot or cold. I wouldn't want you lukewarm."

Dream huge. Do huge things. Don't limit yourself just because you don't have a certain talent or you don't have certain things. Don't limit yourself. Dream big. Dream as big as you possibly can, and God will dream bigger than that. And He'll do awesome things in your life. Just go for it.