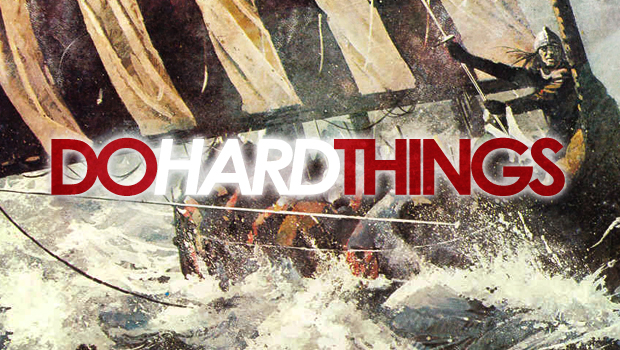 Two weeks ago, I did something stupid. And God, in His goodness, used my stupidity to remind me of a lesson He's been patiently teaching me over the last few months. It was Homecoming Week here at PHC — where family and alumni descend on campus — and part of the festivities was a big class competition.
As freshman, our class was dedicated to demonstrating our solidarity (and of course, superiority) in activities like competitive fund-raising, a 5K race, a banner-making contest, a challenge course, and something simply called "the epic relay race."
A Reminder of My Weakness
First, some background. Over the last year or so, I have been dealing with some ongoing (though Lord-willing, temporary) health issues. It hasn't been fun, or easy, but it's been good. God has used it as a constant reminder of my weakness and dependence on Him. It's been a true 2 Corinthians 12:9 experience.
Part of this lesson has been adjusting to doctor's orders, given just before we left for school, that I avoid any physical activity that requires me to "exert myself." This meant that I couldn't try out for the PHC soccer team — a change of plans. It was a big disappointment, but Brett, being a loyal brother, chose not to try out either.
Since then I've found myself unable to do a lot of things I want to do. I can't play soccer or basketball — my two loves, as far as sports go. I can't work out. And I haven't been able to participate in things like the annual dodgeball tournament or the D4 versus D5 football game — where our guys' dorm (D4) systematically dismantles the other guys' dorm on campus. It's not fun being the puny twin.
But still, up until recently, I credited myself with having a pretty good attitude about the whole thing. I took quite a bit of pride in my humble resignation to God's will — waiting patiently to recover before blowing everyone away with my (sub-par) athletic ability. They wouldn't know what hit them! Or so I thought.
That Fateful October Day
Then Homecoming Week arrived. The freshmen were caught in a fierce battle with the seniors for first place. And rumor spread that the next event — "the epic relay race" — was a series of 100 yard dashes, one by each member of the relay team. "I could do that," I thought. "I'm pretty fast. And my class needs me."
We pulled together our four-member team, even managing to get out of class a few minutes early. To warm up, we ran a pre-run dash to determine who would run as anchor. I won. I was feeling pretty good. Then they began to explain the rules.
It turned out that instead of a series of individual dashes, we would each run 50 yards, spin around 10 times, run 50 yards again, then run 100 yards, spin around 10 times, and run 100 yards again. 300 yards and 20 spins, at breakneck speed. At that point, I really should have excused myself. But I didn't. We lined up. The race began.
At first, everything went according to plan. Our team had the lead. I was running fast, and feeling good. But after the first spin, head down, I was feeling a bit dizzy. After the third sprint, I was feeling winded. But the race was tightening up. It all came down to the final spin and run — and I was the anchor.
It was us and the seniors. We spun round ten times and were off, running as fast as we could. There were 500 points at stake, not to mention class pride. But something strange started to happen as we hit the homestretch, neck and neck. My legs weren't moving right, and I was feeling a bit woozy. I dove at the finish line.
"The seniors win!" they yelled. But I was too preoccupied lying on the ground to protest. I was helped up, only to slump down again immediately. My stomach decided it was a lifeboat in a tropical storm. After 20 minutes, I was still on the ground.
By this time, people began to be concerned. I didn't think I could get up. I just felt like throwing up. People tried to get me to drink something, but it didn't help. Then they called the ambulance, which arrived quickly (which is good), sirens wailing.
In the end, I chose to be taken to my dorm room, rather than the hospital. But I was confined to my bed for 24 hours, missing school, homecoming, and time with family — our mother, sister, and youngest brother. It was not what I had planned.*
* If you are concerned about my well-being, I am fully recovered. The diagnosis was that I gave myself a large dose of lactic acid and seasickness. In fact, we later found out that eight of the sixteen participants threw up after the race. Because I was the most out of shape, I just took the longest to recover.
The Moral of the Story
Why do I share this (embarrassing) story with you? I share it to make a simple but important point: Sometimes "do hard things" means saying no. Sure, running the race was hard — my condition afterward testified to that. But it was also foolish.
Brett and I have joked that the second half of "do hard things" should be "don't do stupid things" — but it's more than a joke, it's true. As rebelutionaries our goal is not to do just anything that's hard. Our goal is to never let fear or difficulty keep us from doing what is good and right — especially those things God has called us to do.
In order to do the hard things God has called us to do, we often have to say no to lesser things, even if they qualify as "rebelutionary." Being at school, that has meant learning to say no to activities, time with friends, and other good things in order to be faithful in our walk with God and to our studies.
For me right now, that means reigning myself in when I'm tempted to take on more projects, stay up late working, or push myself to do more and be more than God has called me to in this season of my life.
When she heard I was writing a post on this topic, my mother sent me this quote by Theodore Roosevelt: "No man is worth his salt who is not ready at all times to risk his well-being, to risk his body, to risk his life, in a great cause."
With the quote, she attached the following commentary: "Here is the quote, dear. The point is that the relay race was NOT a great cause." I laughed, but she's right. As rebelutionaries, we do have a great cause: the glory of Christ and His gospel. If we are to risk our well-being, our bodies, our lives, let it be for that cause.
Some questions for discussion:

Have you ever done something "hard" and stupid? What happened?
Have you ever said no to a good opportunity because you were focused on a greater cause? What helped you to make that decision?
How do we distinguish between "good things" and "most important" things? What resources has God given us to help us discern?
Photos courtesy of Emily Hall and Christine Soares.