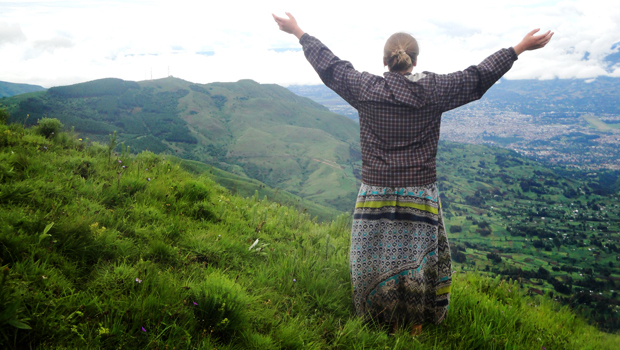 ---
In December, Brett and I were invited to attend a White House Office of Faith-Based Initiatives round table discussion of young social entrepreneurs. The Rebelution was well-represented. Zach Hunter (our host), Conner Cress, and Jack and Leeland Mooring were all panelists. But what was even more exciting was to hear the stories of other teens, like them, who God is using to bring hope to a hurting world.
"Walk Humbly with Your God"
One of the young people we met was 17-year-old Jaime Colman from Pennsylvania. In 2007 her church partnered with 410 Bridge, a missions organization that uses humanitarian projects to share the gospel and meet the needs of rural Kenyan communities. After the church decided to adopt the town of Karogoto, Jaime found about a pressing need for something that most of us take for granted: shoes.
Jaime figured that her family wasn't the only one with shoes in the closet that they didn't need or never wore. She called her project Walk Humbly, based off Micah 6:8, "He has told you, O man, what is good; and what does the LORD require of you but to do justice, and to love kindness, and to walk humbly with your God?"
"God Could Make it Happen"
She set a goal to collect 150 pairs of shoes. Her plan was to kick off the drive with a "Barefoot Mile" at her high school's track. People would come, donate shoes, and walk four laps around the track barefoot. Some adults were skeptical, questioning whether people would show up and doubting that Jaime could even get the shoes to Africa if they did — but it didn't take God long to prove them wrong.
"There were definitely low expectations," Jaime told us. "It was discouraging, but I knew God could make it happen. On a rainy Saturday, 50 people showed up at the track — with 1,164 pairs of shoes! By the time the drive was over, God had brought in over 4,200 pairs of shoes for the people of Karogoto."
Now that she had the shoes, Jaime had to get them to Kenya. It wasn't easy. "We had a really hard time figuring out how to transport the shoes," she said. "We had a lot of companies say no before we finally found one who would help us."
"A Great Miracle from God"
In June of last year, Jaime and 14 other members of her church traveled to Kenya to help distribute the shoes. At one of the locations, they ran out of women's shoes. An 11-year-old on the team immediately took off her own shoes and gave them away. The whole team followed suit. They weren't prepared for what happened next.
"When one of the Kenyan ladies noticed my bare feet, she offered me the shoes she had just received," Jaime shared, tears in her eyes. "I was so humbled. I was giving out of sheer abundance but she was giving out of pure genuine sacrifice."
Jaime shared another story — that of 90-year-old woman named Gladys, who stood in line with thousands of people to get a pair of shoes. "I had given up on putting on another shoe until I die," she had told one of the 410 Bridge team members. "The last time I wore shoes was 5 years ago and my feet can attest to that. For someone to think of something like this for us is a great miracle from God."
That's the story of Jaime. Her simple idea was a great miracle from God. Ultimately, it's His story — a God who still uses teens to "do hard things" for Him.
Pictures after the jump:
Jaime and her church team distribute 200 of the 4,200 pairs of shoes.
Something we take for granted — a treasure for this young man.
Thousands of people line up to get a pair of shoes
Two elderly ladies. Gladys on the left.
Gladys' feet. Without shoes for over five years.