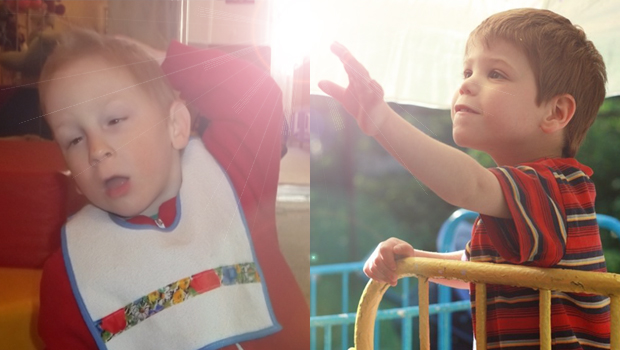 ---
It's midnight in America. As we lay sleeping, the sun is dusting a half-curtained window far away. If you looked through that window you would see a line of cribs. Little heads are slowing raising. In the midst of these children are two tiny boys. One named Yuri and one named Viktor. Yuri crawls to the edge of his crib and pulls himself up to watch the rays of sun tumble to the floor. Viktor remains seated, but he clutches the bars of the crib and moans, rocking back and forth in his childhood prison.
The sun is a cruel beauty to both of them. It lightens the trees and overgrown grass in the yard; it lightens beyond—beyond where they will never see.
The sunshine flaunts the world in front of their faces, taunting them of joy and love and laughter they will never have. Taunting them about the roads that lead elsewhere—roads that lead away from barred prisons for seven-year-olds.
Viktor cries out into the empty stillness. No one answers—of course. He cries out again—yelling for the dream of a rescue that has nearly faded from his mind. He shifts his twisted ankles beneath him and stares out the window at the world that disabled Ukrainian children are shut out from.
Yuri lays back down in his crib. His sweet eyes become vacant as he fixes them on the ceiling. Nobody would know what he was thinking—if he even is. There is nothing to think in this place. And, by the time you are nearly seven, you certainly should have run out of hope. By that age you aren't the cute kid with shining eyes who captures hearts with dazzling smiles. In fact, it's a small miracle if you know how to smile anymore. No, by this age, your body is becoming twisted from needed but never received surgeries and therapies and lack of food. Your ribs show like you have spent your years in a concentration camp…and, in a way, you have. Eyes, glimmering with the last dying flecks of hope, sweep over the window and the lengthening morning. Another day has begun.
When I met Viktor and Yuri in 2011, I was appalled at the conditions in their orphanage, although I knew what to expect. Still, knowing and seeing are different. Holding the hands of 15 pound six-year-olds and watching little children screaming as they slowly went insane from being ignored and starved, dug its way into my breaking heart. I came back to America knowing that I would do all I could to find adoptive families for three of those children. Those three? Viktor, Yuri, and Katia. After months of advocating on my part, a family stepped forward for dying Katia and brought her home. The changes in this child are amazing. She is no longer dying—no, she is healing. But there is no healing going on for Yuri or Viktor. They remain, banging their crippled bodies against cribs, begging for freedom. Begging for love. Love that may just never come.
Yuri is turning seven this summer. His special needs include microcephally and cerebral palsy (although he is capable of being VERY active; crawling, walking—even escaping from the cribs and I do doubt that diagnosis). He also has many mental issues…what can you expect from a child who has never been spoken to or held? Viktor is turning seven, too. He has Down syndrome, microcephally, spastic tetraparesis, and partial atrophy of the optic nerves. He has deformed ankles. They didn't seem to bend. I received an update summer 2012 that he had gotten an operation on his ankles, though!
I just received word that Yuri is being sent to an institution for older children. I knew that this was going to happen, being that he is aging out of the "baby house", but, still, the news brought tears to my eyes. Statistics in these institutions are appalling. In some, almost no children escape death. It can also be harder to adopt from these places. The orphanage asked if there was an adoptive family for Yuri. If there was, there is a chance they could try to keep him at the orphanage until the family arrived.
There is no family.
A few days ago a man contacted me and told me that he would be would be willing to donate a few thousand—a few thousand—dollars towards Viktor's adoption if a family stepped forward.
But there is no family.
And as the days pass, time is ticking down—ticking out—for these two boys. I have tried. I have tried to get the word out, tried to find people who could take care of these children; people who were ready to take on the lifelong responsibility of adopting a child with severe special needs. Yes, I have tried, and, for Yuri and Viktor, I have failed.
That's why I need help.
Your help.
Please—send out an email to everyone on your contact list, call up a friend, make a Facebook post or a blog post. Pass on Yuri and Viktor's stories. If you want to do even more, but cannot adopt one of the boys yourself, send me an email at mckennaugh [at] inbox [dot] com with a pledge of an amount that you would be willing to donate towards one of the boys' adoptions, if they received families. Whatever you do, do it now.
They're waiting.
---