Projects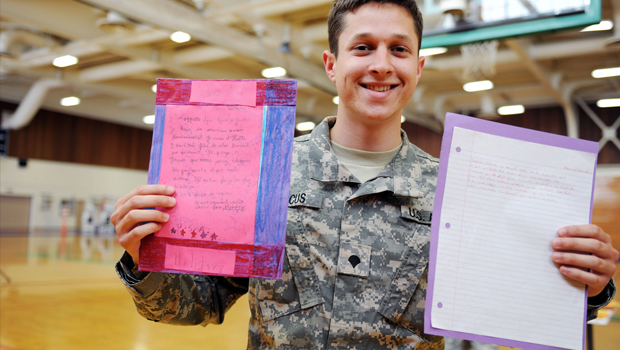 Published on December 8th, 2014 | by Colette Sweers
Help Me Write Letters to Soldiers
---
Imagine the dirt, grease, and sweat of working on an aircraft carrier for up to eighteen hours a day. There is very little gratitude from the other people on the ship and the days seem to just flow together with no difference from one to the next.
Then one day your friend comes to you with a letter. You haven't received any mail in months, but you open the envelope and pull out a hand written letter from someone you've never met. You carefully unfold the letter and the first words you see is "THANK YOU". You read the letter and by the end you're smiling ear-to-ear. That letter made your day.
My name is Colette and I'm a 15-year-old girl growing up just south of Seattle, Washington. I've been homeschooled all my life and I've always wanted to serve my country. One problem, to enlist you have to be at seventeen and done with high school, I'm fifteen and just starting my sophomore year in high school.
People may say that teenagers are too young to serve our country, so we may not be able to don a uniform just yet, but do you know what we can do? We can cheer up those already in uniform, we can bring a smile to a sailor's face, a twinkle to a soldier's eyes, and a laugh to the lips of a Marine, simply by writing letters to them.
How it started
A couple months ago I was doing some research for a school paper and accidentally came upon a website called AnySoldier.com. I began reading and found out that this website provides contacts in all the branches of the military station all around the world. AnySoldier provides these addresses so that people can write letters and send packages to these men and women who would then give the mail to service men and women who get very little to no mail.
Immediately I felt as if the Holy Spirit was telling me that I needed to take action. That afternoon I sat down and wrote a letter to a solider and within a week I'd written four more letters and then I requested an address and sent them to a contact in Afghanistan. I began to think, what would happen if teens all across America took even 30 minutes out of their day and wrote a Soldier, Sailor, Marine, or Airman a letter?
How it works
Even if you don't have time to write very much, just one letter, that one letter could make a world of difference. Begin the letter with "Dear Sailor" or whatever service man you want to write.
What do you write? Start with thanking them for serving their country then just talk about life. What made you laugh today? Was it the joke your dad told you at dinner of a funny sight you saw while you went about your day. Tell them about it, it could make them laugh to. Then end it with a positive note, a bible verse or an encouraging quote.
Once you've written the letter you have two options, you can either go to www.AnySoldier.com and request an address or you can put it in an envelope and send it to me. I'll be mailing letters throughout the year. If you want my address, just contact Brett using the contact form with the subject "Any Soldier Letters" and he'll pass my address along to you.
If you have the time and the passion, don't stop at one letter. Do a couple and consider getting your friends involved.
If you don't like to write letters or don't have time yet you still want to help then you can go down to the post office and buy a book of stamps then send it to me. The hardest part for me will be having enough stamps for the letters I'm going to send. All the stamps sent to me will be used for this project and this project alone. Once again, you can get my mailing address by contacting Brett using the contact form.
I would love any suggestions and questions in the comment section! Last of all, please pray. Pray for all the letters that are going to be sent this year and beyond. And pray for the military in general so that America can remain the land of the free and the home of the brave.
---
Share Your Thoughts in the Comment Section!

There are currently __ Comment(s)
---
Photo courtesy of Presidio of Monterey and Flickr Creative Commons.
---