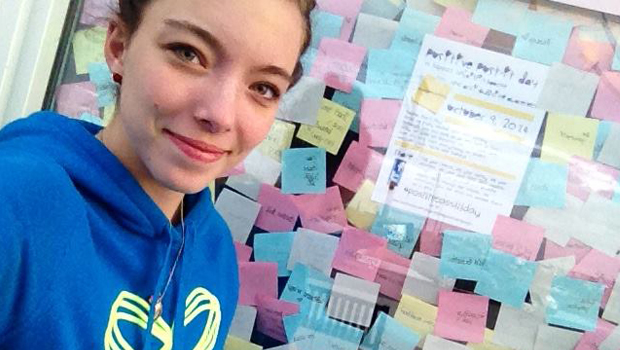 ---
(Airdrie City View) — Caitlin Haacke said she can't believe how much opportunity has come her way from the simple act of spreading kindness and positivity. Haacke's latest opportunity is an invitation to give a TEDx Teen Talk in New York City on May 16.
"I'm really, really excited. Doing a TED talk has always been my dream and then TEDx contacted my family and asked if I'd come do a talk for them," she said. "I'm super excited for it. It's one of those crazy popular events."
Haacke, who turned 17 on April 30, turned an act of bullying into a positive movement when she posted messages anonymously on 850 sticky notes on school lockers at George McDougall High School on Oct. 6, 2014. That act inspired Positive Post-It Day on Oct. 9, 2014, an event Haacke said will be held each year on the first Monday in October.
( Read more about the beginning of Positive Post-It Day on ABC11 )
Since then, she has been recognized in the House of Commons by MP Blake Richards, has appeared on the Meredith Vieira Show and was invited to speak at a school in Japan.
The TEDx Teen talks are independently-organized events that grew out of the TED talks. TED stands for technology, entertainment, design and speakers at the annual event have included names like Bill Clinton, Jane Goodall and Bono. The events are held live and streamed online. Haacke said the organizers found out about her advocacy work through the media coverage she's received.
"I'll be speaking for just under 20 minutes, and my topic is going to be how positivity and kindness can help put an end to bullying," she said.
Haacke has just returned from Toronto where she was invited to speak at three schools. One of the schools held fundraisers to pay for part of her trip.
"Originally (the schools) heard about my story through the media. I'd been contacted through my Facebook page and invited to speak via Skype to a group of girls," she said. "We did the video and that sparked the idea to get me there."
While in Toronto, Haacke also put on what she calls a Kindness Campaign, during which she handed out thousands of items with positive messages on them to individuals on the streets of Toronto.
Haacke said she couldn't believe how much her simple idea has grown.
"When I originally did it, I did it anonymously and I set out to put up Post-Its and let people be excited about it," she said. "It was supposed to be for one day and no one would ever know if was me. I never saw it coming to where it is now. With the next Positive Post-It Day coming up on (Oct. 5), I'm starting to get more and more people contacting me about doing Post-It Day in their schools. It's absolutely crazy what it's become."
"Even though I've gotten some awards and recognition, it's never been about that. It's been about taking positivity and kindness and putting a stop to bullying. It just happens I'm off to New York for it," she said.
Haacke will graduate from high school early in December and said she then plans to take a year off to travel before returning to attend the University of Calgary to get a degree in political science and a doctorate in law. Her ultimate goal remains – as always – to be Prime Minister of Canada.
"I'm sticking with the same goal so far," she said.
---
Share Your Thoughts in the Comment Section!

There are currently 7 Comment(s)
---