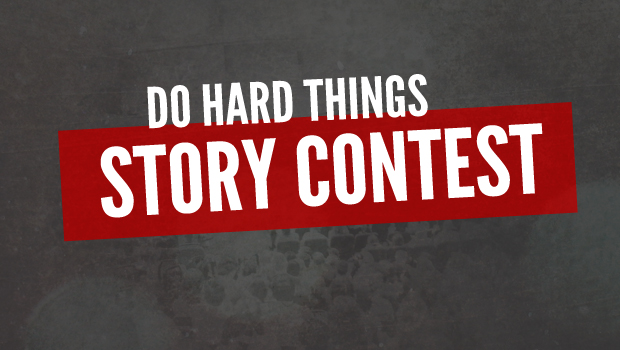 ---
After reading so many great entries for the Do Hard Things Story Contest, we've decided to highlight a story on TheRebelution every week for the rest of the year. Each story emphasizes how Do Hard Things has impacted these rebelutionaries. Today, meet Michaela!
---
I first cracked the pages of Do Hard Things at a crucial point in my life, as a sixteen-year-old searching for purpose and overwhelmed by the ocean of choices before me.
For me personally, doing hard things meant always finishing what I'd started, no matter how difficult or painful that turned out to be.
Finishing the tap dance class I started, even though my legs ached and even though I towered above the other girls and was the least experienced. Finishing the internship I started, even though nothing was the way I expected. Finishing an awful statistics class, finishing a basketball season as an amateur referee, finishing a political race.
I was proud of myself every time I pushed past the frustration, wiped my tears and sweat, and finished something I'd started. Little did I know that God had bigger, harder things in store for me than a persuasive speech final.
The summer I was eighteen, in the middle of my first semester of college and my first job, I learned something that no eighteen-year-old ever wants to learn. I had a tumor, an innocent little benign tumor, but a tumor all the same.
To say that I was scared would be an understatement.
I was terrified. I'd never had so much as a stitch in my life, and here I was facing a rather serious surgery, complete with needles, anesthesia, the whole works.
It was totally out of my control. My comfort zone? It was left behind in the dust.
That surgery was hard. It was scary. It hurt, physically and emotionally. But it is also one of the most precious memories I will ever have, because there, in my complete brokenness, God was very close. He held me when I was alone and He spoke comfort and peace to my racing heart.
You might think my story ends there, and I certainly thought it did. But a week later, at my follow up visit, my doctor gave me devastating news.
My innocent little benign tumor was not innocent or benign. It wasn't even little.
I had a very rare tumor. It was so rare in fact, that my doctor was truly shocked to even encounter this type of tumor in someone so young. A second surgery would be needed, less than two weeks after the first, so that he could remove any affected tissue.
I sat there in that doctor's office and listened to those words that would change my life forever and I felt totally numb. This is not happening to me. We hear about cancer every day of our lives. We all have an uncle, or cousin, or grandmother or friend who battled or is battling the horrible disease. But somehow I had managed to hold that horror at arm's length. I never imagined that it could be me.
My world was rocked in that moment. I'd faced trials before; I'd faced very difficult, devastating losses. But this was different. This was watching the very foundations of my world crumble beneath my feet.
My mom and doctor left the office and I remember that I could think of only one thing to do. I dropped to my knees under those fluorescent lights, clung to the edge of a hard plastic stool, and cried out to God.
I surrendered everything I had left into His hands. I asked for His will to be done, no matter how bitter the cup He handed me. I put all my trust, completely and irrevocably, into His hands.
And He answered.
I can honestly say that, even though I was nervous and hurting at times, I had this incredible peace throughout my whole second surgery and recovery. I cannot remember ever feeling scared or insecure. I was wrapped in God's love and it was the most beautiful thing I have ever experienced.
Two years later, I'm a healthy, active twenty-year-old with big goals and bigger dreams. Life is amazing, but I find it impossible to forget that the days we have here are so short and that every moment is precious. I'm overwhelmed by the urge to make each second count. I want to change the world for Jesus.
Sometimes doing hard things doesn't mean winning a competition, going on a mission trip to a third world country, or witnessing to a hostile acquaintance. All of those things are wonderful things to do, and they can certainly be hard.
Those were the kinds of "hard things" that I was always looking for, the type of challenge that I always wanted. But I found out that sometimes the hard thing God is calling you to do is to give up all your competitions and mission trips and to simply trust Him.
Ultimately, it's one of the easiest and yet hardest things you will ever do.
---
Share Your Thoughts in the Comment Section!

There are currently __ Comment(s)
---