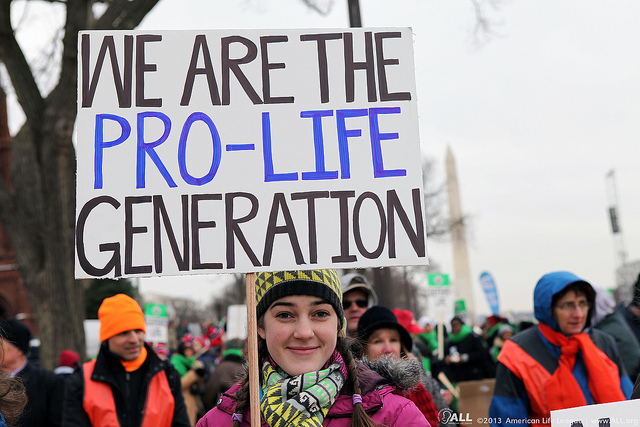 ---
"Do you want a heavier coat?" the lady asked me.
Maybe she had seen me trembling as the cold, late-fall wind snaked over us. But as I glanced down at my white hands that were shaking as they grasped at each other, I knew that the chilly day had nothing to do with it ….
I had just witnessed murder.
I had watched a dozen children brought to their deaths and the cold terror filled me.
I stood there, praying and pleading, because I knew that every time the door of that building shut another child was being violently torn from limb to limb. Tears coated my lashes. My legs felt weak. A quarter of my generation had been killed this way.
Another woman got out of her car and started toward the grey, harmless-looking building.
"Please!" I called out. "Please, you have other options! Will you come talk with us? Your baby is real. Please give your baby life."
She never looked back.
Things like that change you forever.
---
This summer, nearly three years into my fight against abortion, I launched an organization called APPOINT.
When I was 16, God showed me that I needed to devote my life to the unborn. At first, I was scared. Really scared. I had to give up all of my dreams. I had to confront our nation on what may be their very worst crime. And I had to watch babies die.
There weren't many people around to show me where to start. A lot of times I had to blaze my own trail – and it felt like I was hacking one through the thickest brush, never knowing what I'd find.
That winding trail took me into Greyhound buses bound for Oregon, to the flat land called Ohio where I did sidewalk counseling and campus outreach, and beside leaders in the movement that I had previously only hoped to meet.
It took me to lonely winter days where signs struggled to blow from my frozen fingers, along a roadside lit by candlelight, and to a shelf in an old apartment where I finally dared to lift the papers from the shelves and see the images of the victims I fought for.
But in the beginning I was so frightened and, through it all, as I searched for different ways to get involved, I kept thinking, "There needs to be something to show teens how to blaze that trail." That's where I hope APPOINT will come in.
APPOINT's mission is to show teens how to stop waiting for opportunities to do pro-life work and start creating them. We are here to equip those who are already pro-life and get them out on the front lines.
We're also here for those that aren't pro-life – to show them that a quarter of our generation was lost to abortion and they can never tell us it's a "small issue."
Losing a quarter of a generation cannot be a small issue.
So we're getting outreach equipment and building a booth to take places to show them the real truth about what abortion has done to our nation.
We're creating the Y.O.U. (Youth Outreach for the Unborn) Program, too. When this is finalized, it will contain six months worth of training for young people who want to be active in abolishing abortion.
I want to invite you to help us get started.
Want to get involved? Here's how.
Have you done pro-life work before and have a story to share? We need your experience for our Y.O.U. Program! You don't need to have done something huge – you can even tell us about a short-term volunteer project at a center, or participating in an event like 40 Days for Life. We hope to have this program finalized in the very near future – and we hope your advice is in it!
Want to sign up to take the program when it's finished? Visit here. We'll contact you when it's ready!
Let people know about us! You know how to make something go viral! Use any way you can.
I need those creative artsy types to jump at the chance to have your work on our stuff. Good at writing articles & talking to people? Give us a holler.
Are you one of those who loves to see final drafts and feel the accomplishment of a project completed? Help us receive and comply all the material for the Y.O.U. Program.
Got some pro-life photos hanging around? Send 'em over for our graphics.
Interested in truly being a permanent part of APPOINT? Be on our board! We're working on eventually being a 501c3/registered non-profit, and I'm still learning about all the requirements. Pennsylvania rules do say you have to be 18 for this one.
Contact us for more info and openings. (These are currently volunteer-only positions. You must live in/near Pennsylvania or NY or be willing/able to commute at least once a year to these states.)
We have to get outreach equipment and a booth. Your opinions on what to have at that booth counts.
We can also use some go-get-it people who are willing to knock down doors (figuratively!) to let people know that equipment doesn't come without a price. Funds have to happen, too.
If you feel excited about any of the above, you can get in touch with us through our website www.AppointTheGeneration.org. Message us. We can't wait to work with you!
---
Share Your Thoughts in the Comment Section!

There are currently __ Comment(s)
---
Photo courtesy of Pro-Life Generation and Flickr Creative Commons.
---