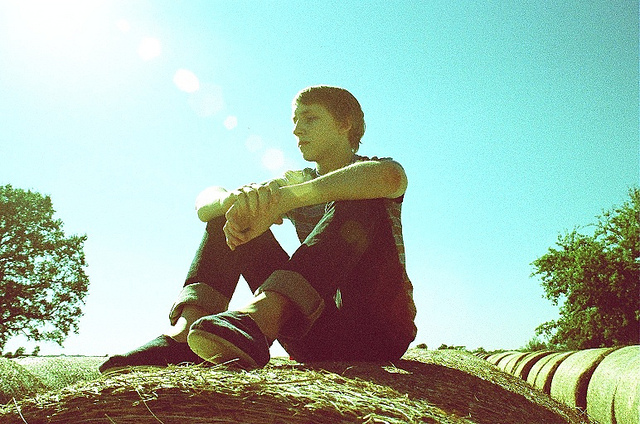 ---
I had a friend who died recently.
Wow, that's something hard to say so matter-of-factly. Mind you, I use the word "friend" very loosely. Perhaps friendly acquaintances would better suit our situation.
I sat next to him in my theater class and we participated in several group projects together. When I saw the grief counselors walk into that theater class for the second time that year, my heart shattered into a million pieces.
He was not a follower of Christ.
The Struggle
As tears streamed down my face in front of all my classmates, I listened with growing frustration to what the teacher and counselors had to say.
They told us, "He is in a better place," and, "He's with the angels now."
I was angry.
I was angry that my friend had died in a car crash. However, I was even angrier at the fact that falsehood on what happens after death was being presented to forty grieving teenagers.
This was not the first time this particular group of students had to face the death of a classmate.
This was the second time we were being told lies on what happens after death.
A Biblical Response
The Bible teaches us that there is a very real Heaven and Hell (Revelation 10:1-11, John 3:16).
We cannot hide from this truth, though many may consider it offensive. The cross Jesus died on is offensive to many, because if you come to the cross you have to admit you deserve to die!
You have to admit you deserve the wrath of God.
I deserve the wrath of God. My friend, whom I never shared the good news of Jesus Christ with, deserved the wrath of God. It is amazing that God is so loving and compassionate that He offered us a way to be with Him.
Romans 10:9 states, "If you confess with your mouth that Jesus is Lord and believe in your heart that God raised him from the dead, you will be saved."
We don't have to work our way into Heaven. In fact it is impossible to do so.
"For the wages of sin is death, but the free gift of God is eternal life through Christ Jesus our Lord" (Romans 6:23).
The Mission
The body of Christ, cannot back down from the truth of the Scripture. I know what it is like to have your heart shredded and stomped on after the death of an unbeliever.
I know what is like to feel guilt wrap around your neck like a noose and suffocate you for not having the courage to speak out about Jesus.
I do not wish it upon anyone else!
Yes, I know I am not responsible for the salvation of any other person. That is not my place, and with Jesus there is no condemnation. He forgives my weaknesses and overwhelms me with His grace.
Be that as it may, I still never want to have another friend die without hearing the good news of Jesus.
We need to get over feeling awkward about our faith. If I were to tell someone about Jesus what is the worse that could happen? Maybe I would lose a friend. Maybe I would get weird looks from other students. Maybe I would be unpopular.
There is the possibility, however, that if I were to speak out, someone would give their life to Christ forever.
Going to Battle
In our world today nobody wants to talk about death. In most minds it is so long off that we don't need to address it.
This must change.
As followers of Christ, we know this is not our home. Our souls yearn to be in Heaven with our Father. Wouldn't it be so very exciting to be there with friends, dancing and singing to Jesus together?!
Today, I pray that you will be bold for Christ. Be strong and courageous in the face of pressure and persecution. This life is gone in a blink of an eye. Do not have any regrets when you day comes.
I will leave you with these powerful words from Jesus.
"Go therefore and make disciples of all the nations, baptizing them in the name of the Father and the Son and the Holy Spirit, teaching them to observe all that I commanded you; and lo, I am with you always, even to the end of the age" (Matthew 28:19-20).
Share Your Thoughts in the Comment Section!

There are currently __ Comment(s)
---
Photo courtesy of Lauren Rushing and Flickr Creative Commons.
---