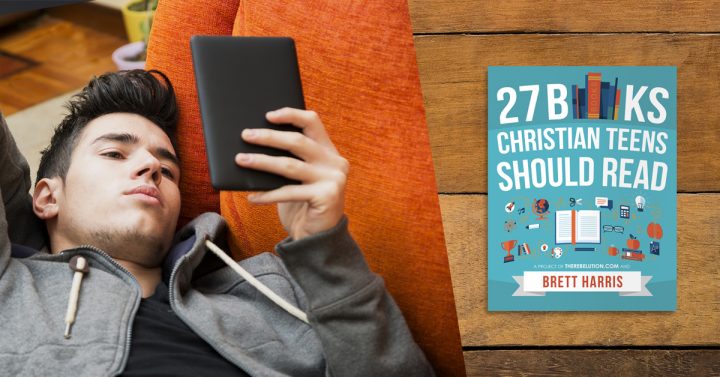 "Give yourself unto reading. The man who never reads will never be read; he who never quotes will never be quoted. He who will not use the thoughts of other men's brains, proves that he has no brains of his own. You need to read." — Charles Spurgeon
The Rebelution started with a stack of books. When Alex and I were 16-years-old our dad walked in one morning and announced, "I'm putting you two on an intense reading regimen."
That challenge lit a fire in us. And those books became the inspiration behind this blog and helped birth a movement of young people rebelling against low expectations and doing hard things for the glory of God.
Now, if I had a dollar for every time someone has asked me for the list of books our dad handed us — I wouldn't be rich, but I'd have some substantial pocket money.
Just yesterday John wrote to say, "I'm reading your book again as I prepare for a series titled 'Leaving a Legacy" for eighth graders. Would it be possible to get the list of books your dad had you read? Thanks!"
Fortunately for John, we've actually put together an improved and expanded list of books Christian teens should read as part of our Raising Kids to Do Hard Things online course.
Growing up my dad always said to me, "Don't waste time reading good books. There are too many good books. Focus on reading the great ones."
Don't waste time reading good books. There are too many good books. Focus on the great ones.
Click To Tweet
This is a list of great books. These are books that changed my life, expanded my horizons, and shaped me into the Christian man I am today. You can grab a PDF of the entire list by subscribing to my email updates. You can unsubscribe at any time.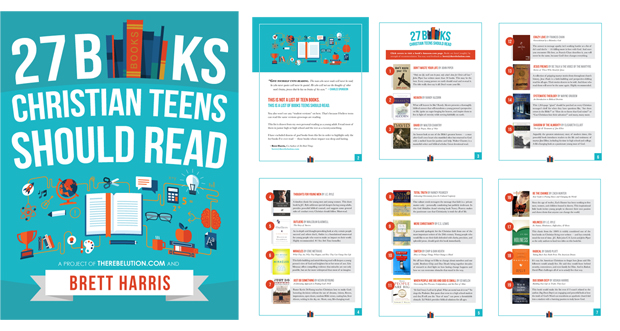 ---
The Top 5 Books Christian Teens Should Read
Of course, you really should grab the entire list.
But here are my Top 5 book recommendations for Christian teens and young adults. Besides #4 these are not teen books. They are books teens should read. These five books have impacted my life more than any others (outside the Bible itself).
You can click the cover of each book to visit it's Amazon.com page. The links are affiliate, which doesn't affect the price for you, but does provide TheRebelution.com with a small percentage of your purchase. This allows us to reach more teens and parents around the world. Thanks!
Now, without further ado, here are my top five books Christian teens should read:
---
1. Don't Waste Your Life by John Piper
"Only one life, twill soon be past, only what's done for Christ will last." John Piper has written more than 50 books. This may be the best. Every young person on earth should read and re-read it. The title really does say it all: Don't waste your life.
---
2. Heaven by Randy Alcorn
What will heaven be like? Randy Alcorn presents a thoroughly biblical answer that will transform a young person's perspective on life, ignite an eager longing for heaven, and inspire them to live in light of eternity while serving faithfully on earth.
---
3. David by Walter Chantry
An honest look at one of the Bible's greatest heroes — a man after God's own heart who stumbled often but returned to God with a melted heart for pardon and help. Walter Chantry is a masterful writer and biblical scholar. Great devotional read.
---
4. Thoughts for Young Men by J.C. Ryle
A timeless classic for young men and young women. This short book by J.C. Ryle addresses special dangers facing young adults, provides powerful biblical counsel, and suggests some general rules of conduct every Christian should follow. Must-read.
---
5. Outliers by Malcolm Gladwell
An in-depth and thought-provoking look at why certain people succeed and others don't, Outliers is a foundational must-read for young people who want to make an impact on their world. Highly recommended. #1 New York Times bestseller.
---
Those are my top five, but I've got 22 more books I think every Christian teenager should read. This list is drawn from my own personal reading as a young adult. I read most of them in junior high or high school and the rest as a twentysomething. You can grab a PDF of the entire list by subscribing to my email updates. You can unsubscribe at any time.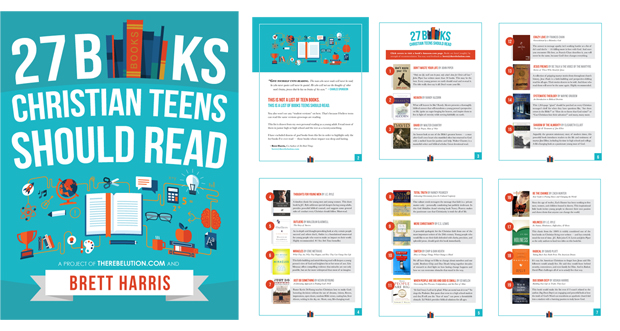 So, I'm curious. How many of my top five books have you read? How many of my top 27 books have you read? Let me know in the comment section. Parents, you can chime in for yourself or for your kids (since these are really just books everyone should read).
---