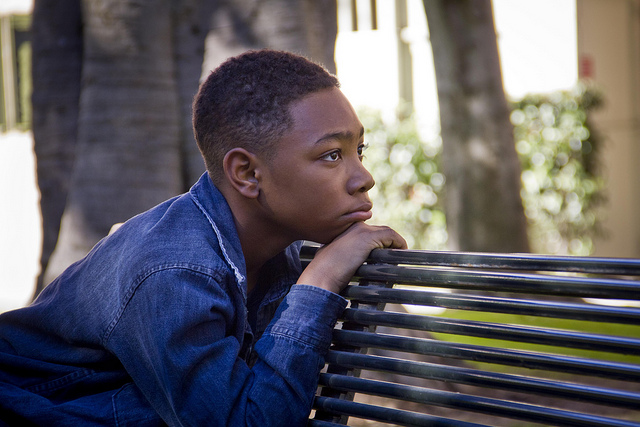 ---
Why am I so afraid to believe in Jesus?
Honesty hour: this is the first time I've put words to that creeping fear that lives in the shadows of my mind.
Here's what I am learning: humans have upset me. They have disappointed me. They have broken their promises.
And all this time, I was labeling God as another person that would let me down.
Nowhere in the Bible, nowhere in Christianity is Jesus someone that disappointed people and said, "You expected this from me, and I didn't follow through. I left you high and dry and crying because you needed me to come through and I didn't."
Why Jesus Let Lazarus Die
In all of this, I think of the story of Lazarus.
I'm sure you're familiar with the story but it goes like this: Jesus heard that his friend Lazarus was sick and dying. He—and his friends who had sent the message—knew that he had the power to heal this man. But he did not go to him immediately.
And in his absence, Lazarus died.
Can you imagine how Mary and Martha must have felt? Here was their savior, seemingly leaving them in their time of need. Why would he do such a thing? Was he abandoning them?
"When Mary reached the place where Jesus was and saw him, she fell at his feet and said, 'Lord, if you had been here, my brother would not have died'" (John 11:32).
"Some of them said, 'Could not he who opened the eyes of the blind man have kept this man from dying?'" (John 11:37)
However, the story was not over.
Jesus was not through with Lazarus and his loved ones, though they doubted his plans and timing.
Jesus had not abandoned Lazarus, Mary, and Martha in their time of need—he was planning something better than a healing.
He was planning resurrection.
Lazarus was dead. Wrapped in linen and placed in a grave. To the onlookers, the scene was hopeless. A man had died and the only one that could save him had been delayed in coming.
But Jesus was planning a resurrection.
He was planning something better than healing Lazarus from his sickness. He was planning a complete resurrection—something that God was unmistakably evident in. Something that made the people shout "Hallelujah, God is here! And he is good."
Stop Running, and Start Trusting
Where is Jesus in our pain?
Maybe he's not settling to slap a band-aid over our pain. Maybe he's refusing to let us settle for anything less than a complete resurrection. A new attitude. A new, strengthened faith.
"I have told you these things, so that in me you may have peace. In this world you will have trouble. But take heart! I have overcome the world" (John 16:33).
We will have problems. We will want to shake our fist and scream at God some days. We will want to turn our back on our faith.
But our disbelief, our habit of shoving God in boxes marked 'human' does not nullify who he is and what he does.
He is still God.
In your struggles and doubts, Jesus will not walk out.
When the world and the people in it have left you beaten down and disappointed, he remains. And he won't disappoint. You may not understand what he's doing, but he's not up there watching nonchalantly as you cry out to him.
Please, please don't give up on him, friends. He's not giving up on you.
I know what it's like to run from him and yes, you can get used to how running feels. You can get used to how it feels to believe for a half second and then run back to the prisons of doubt and fear.
For about the last six months, that's precisely what I've been doing.
A step of faith, another five steps back. Don't make my mistakes. Don't let fear overwhelm you. Don't let doubt steal your faith. It is good to ask questions, it is good to deepen your faith.
But there's a risk with growing accustomed to questioning and doubting.
It teaches you to be a runner … and once you start running from God it's hard to stop.
If this is you—if you're running today … I know how scary it is to stop running from God once it's become routine.
But you must. You must stop.
Stop letting fear rule your actions when Jesus has died so that we can be fearless. Don't hold on to fear—I know it is more comfortable. You know how fear will stop you. It will become rhythmic.
But Jesus came to set us free. He came to set you free. Don't let that be in vain.
Stop running from him, and start running to him.
---
Share Your Thoughts in the Comment Section!

There are currently __ Comment(s)
---
Photo courtesy of Neon Tommy and Flickr Creative Commons.
---