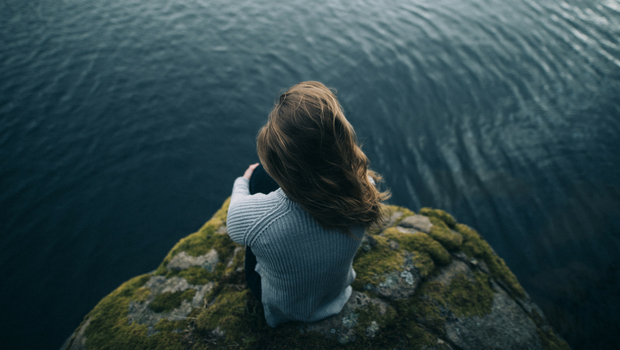 ---
When I was nineteen years old I shattered pieces of myself.
I lost purity, dignity, and fruits of the Spirit I was sure would never return. That winter I found myself in a self-dug pit, tangled in cords so tight I could hardly breathe.
However, by the sovereignty of God, I made the decision to pursue the Spirit and throw off my flesh. The following is what I learned, so please hear me out, dear friends. I know what it feels like to be suffocating under the weight of Satan's lies, begging for death, pleading for the pain and depression to end… But it does not always have to be so; there is great hope to be embraced in the Gospel.
1. Throw yourself onto the scriptures
The war that is waging within your mind and heart is not of this world (2 Corinthians 10:3-4, Ephesians 6:12). Therefore, you must battle the lies and deception with a supernatural device: the holy Scriptures. Every morning when you rise, run to this book. Before you get ready for a day at the office or prepare breakfast for your children, run to the Bible. Flee to this book every day and fill yourself with the beautiful promises it holds, giving Satan no foothold to deceive.
2. Pray without ceasing
So what happens when you're driving home or sitting in class and Satan floods your mind with shame or doubt? He tells you your sin is too great to be forgiven and you're unwanted. Or perhaps he sneaks in the temptation of a past lust. How do we fight the lies? The only solution is through prayer and by fighting them with Scripture. As Christians we live with the Holy Spirit inside of us, ready to fight our spiritual battles.
"But for You, O Lord, do I wait; it is you, O Lord my God, who will answer." (Psalm 38:15)
When these lies come our way, we must be quick to rely on the Spirit. Ask him to kill the flesh that is itching to act out.
"For if you live according to the flesh you will die, but if by the Spirit you put to death the deeds of the body, you will live." (Romans 8:13)
3. Surround yourself with the church
During the season of my life where the Lord rebuilt my entire being, one of the most precious things He added to me was people. As you struggle to "feel better," make sure you do it corporately. The church was never designed to be a one-man show, nor was it intended to be a place where perfect people reside in prissy pants and flawless composure. Your life may be messy, but I guarantee so is everyone else's.
Let people come alongside you to help you heal; be vulnerable, as hard as it may be. Even if it is only with one or two wise saints, allow them to speak freely into your life and hold you accountable. Surround yourself with their joy and let it rub off on you; the Lord will use it to restore yours (Psalm 51:12).
4. Go out and drink the coffee
My favorite pastime is going out with a friend to coffee shops for conversation and laughter. Everyone has something like this that they absolutely love doing: disc golf with a group, hammocking with friends in the park, or taking family to the lake. Whatever it is, let yourself do it, but be intentional. If it brings you a sliver of joy, then allow yourself to feel that. The Lord will work more in those moments than you might realize, but I promise He is healing.
5. Feed yourself well
There is great nutrition to be found in the Word of God. Do not neglect reading it; do not neglect hearing it. Fill yourself up on its promises every single day. Find resources and allow them to encourage your broken heart. In this season, you can either choose things of the flesh or Heavenly things to fill your broken spirit.
Imagine your spirit as a gas tank and right now it is empty; you've stalled out on the side of the road, in the pouring rain with golf ball-sized hail. By God's grace, lo and behold, there is a gas can (a.k.a. things of the Spirit) on the side of the road! You can choose to fill up your car – getting rained and hailed on in the process, of course. Or you can sit there in your flesh hanging out, out of gas, miserable and hopeless.
Blessed is the man who walks not in the counsel of the wicked,
nor stands in the way of sinners, nor sits in the seat of scoffers;
but his delight is in the law of the Lord, and on his law he meditates day and night.
He is like a tree planted by streams of water
that yields its fruit in its season, and its leaf does not wither.
In all that he does, he prospers.
The wicked are not so, but are like chaff that the wind drives away.
Therefore the wicked will not stand in the judgment, nor sinners in the congregation of the righteous;
for the Lord knows the way of the righteous, but the way of the wicked will perish. (Psalm 1:1-6)
Ultimately, the choice is yours. The Lord is faithful to chase down those He has called – Psalm 139 promises that. But what you do about this self-made pit is up to you. Will you sit in its destructive depths? Or are you going to run headfirst after a God who loves you perfectly and promises to restore?
---
Share Your Thoughts in the Comment Section!
---