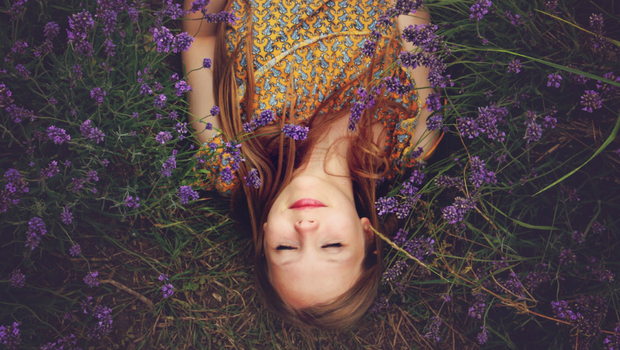 ---
Lies are tricky things.
They're often disguised to us as truths or half-truths. Other times, they can be easy to call out as false.
Some of the most sneaky lies I've seen myself believe recently all had one miserable catalyst … pain.
When our feelings and emotions take a front row seat, lies rejoice.
Pain has been a part of my daily life as I fight through a pain disorder that causes my nerves to feel unnecessary pain.
I'd love to tell you that this situation has only grown me in my walk with my Jesus. I'd love to tell you that I always trust Him, and never put relief from pain first on my list of priorities.
Pain is hard, and God only knows how much I've doubted Him during this season of my life.
Pain has drastically changed my life.
And as the changes came, the lies slowly crept into my brain and heart. I was so focused on the pain, that I started to believe them. These lies crushed my spirit and stole my joy.
1. "I am alone."
Days drifted into weeks as I laid in bed in pain. I missed many days of church activities and the piano lessons I so dearly loved. I was never truly physically alone, thanks to my kind and compassionate family.
Yet as I missed event after event, my soul started to long for community.
I began doubting whether I would ever feel up to all the activities I used to do. I began to fear being alone very much.
All the while, I was completely bypassing God's beautiful gift of community through His church. More than the services I was missing, I was still a living breathing part of His family.
While I fretted missing out, what I truly missed was the opportunity to be grateful for the friends who have visited me in my pain, and the people who have supported me tirelessly. I missed the opportunity to be grateful for the promise that Jesus is always with me, and I am never ever alone. (Hebrews 13:5, Psalm 86:7, 145:18, 2 Corinthians 1:4)
2. "No one understands me."
Pain is generally isolating.
After being asked what felt like a billion times, "how do you rate your pain on a scale of one to ten," I began to resent the question greatly. To think that someone wanted me to assign something as unfeeling as a number to my pain made me feel misunderstood.
The whole idea of an "invisible illness" such as my own lends itself to great misunderstandings. Smiles hide a lot, including pain.
I began to throw one giant pity party, and I was sure that no one could ever understand how I feel.
I was forgetting the fact that my Savior walked this very earth, and felt pain unimaginable on Calvary. To attempt to compare any pain to His would be foolish.
The truth is that Jesus knows what I'm going through when I'm tempted to sin and when I'm suffering (Hebrews 2:18, 4:15)
He's also given me some wonderful, empathetic people fighting similar battles to encourage my heart.
3. "I can't do hard things."
I finally did it. I reached my summit out of breath and tired… and all I had done was go up a flight of stairs.
Things that I once took for granted, such as eating, sleeping, or showering suddenly became often difficult activities. My body needed so much sleep that I was hardly awake sometimes. It was during these roughest days when I began to believe that my days of doing hard things were over.
I realized though that "hard" is a relative term. My capacity to do physical activities may have gone down, but my capacity to honor the King of Kings is constant. As long as I can glorify God, I can do hard things.
Everyone's perspective of what hard things are will vary according to circumstances.
One of my most recent hard things has been struggling through physical therapy. Doing workouts that many people can do ten times over cause me great pain and fatigue. it's still a hard thing, for me.
Doing hard things is not about a measurable quantity of "hard" or "big." Doing hard things is a mindset that takes on any challenge, big or seemingly insignificant, and says: "I will do my best at this thing, regardless of expectations, so that God may be glorified in my life." (1 Corinthians 10:31)
4. "I can't have joy when I'm in pain."
The idea of being "pain free" looms in front of me as some sort of utopia. The more days I spent in pain, the more my sinful heart began idolizing the idea of my pain going away. I wanted it more than anything. Sometimes I still do.
I started to gauge my joy, along with my other more superficial emotions based on my pain levels, instead of truth. I began to question where my joy was seated… in my feelings or in Jesus?
The truth is that no pain on this earth can take away the joy and peace Jesus Christ died to give me.
The truth is that the pain He allows in my life is never without a purpose.
His joy–His incredibly fulfilling and indestructible joy–is my strength. (1 Thessalonians 2:20, Psalm 118:14, 126:5)
He is still good.
It's a daily (and sometimes moment by moment) struggle for me to fight for truth, but truth is always worth fighting for.
We must continually preach truth to our fallible human hearts. Allowing lies to fester there will only bring more pain and heartache.
What lies have you seen yourself believing?
Are you ready to take those lies and filter them through God's radical promises?
Friend, will you walk with me in this fight for truth?
"For the Lord is good; His mercy is everlasting, And His truth endures to all generations." (Psalms 100:5)
Share Your Thoughts in the Comment Section!
---