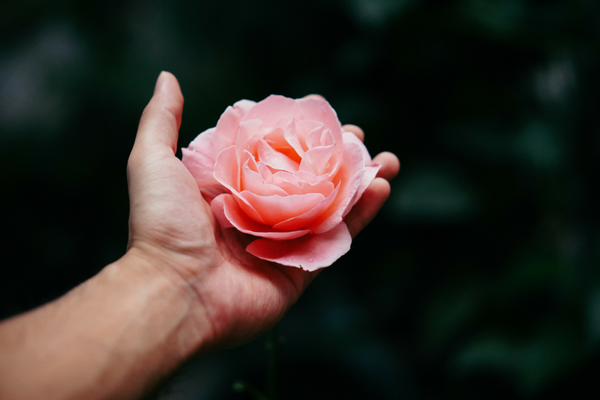 ---
My dad has been addicted to alcohol for as long as I can remember.
I remember that, when I was younger, I used to cry about it – a lot. So did my sister. But my older brother… he never cried, and he still doesn't. He never lets his emotions shine through the stone-cold look he places on his face.
While we wept, he crossed his arms and acted like he didn't care.
I remember asking him why. Why did it never seem like Dad's drinking bothered him? I wanted to feel like that – I hated crying, and honestly, I still do. I wanted to be able to harden myself, to numb the pain that I was feeling.
My brother only shrugged, crossed his arms, and said, "I don't care anymore. I've hardened myself."
Wow. I thought that was fascinating. I wanted to feel like he did – like it didn't matter, like it's nothing to cry over. I didn't want to feel weak. So, over the next year, whenever my dad drank, and yelled, and swore at us, I didn't cry. I put on the most determined face, stood my ground instead of fleeing to my room to cry, and I was mad.
I was very, very wrong in doing that. Philippians 4:7 states, "And the peace of God, which surpasses all understanding, will guard your hearts and your minds in Christ Jesus."
I wasn't letting the peace of God guard my heart, I was letting my own anger do that (it it wasn't doing a very good job, either). The sorrow I felt was replaced by anger, hatred, and pure rage. And so, slowly, bit by bit, I built a stone wall around my tender heart.
No one can hurt me now, I thought. No one would be able to make me feel sad anymore, right?
Wrong.
Every time I felt like I wanted to cry, the feeling was bottled up and placed in the deepest, darkest corner of my soul. Eventually, I'd hardened myself to the point where my mood was affected, I was often depressed, and I found myself getting caught up in sticky situations because of lies I'd told and rules I'd rebelled against.
I was becoming that once-innocent Christian kid who went bad because of how I handled my situation. And I didn't want to, but I didn't know how to stop.
I'd hardened myself too much. I barely even knew how to cry anymore.
With the help of some friends, family, and a few ah-mazing books (Do Hard Things especially), my rebellious streak came to a screeching halt and I realized that I'd gone hard, that I needed to change it, and most importantly, how to change it.
I had to…
Realize the wall around my heart was becoming a danger to my relationships with my family, my friends, and Christ.
Confess to God that I was broken and I needed the help He had been graciously offering me the whole time but I had rejected.
Break that bottle of emotions and just cry.
All that happened only about two weeks ago. There is still a wall around my heart, but, with the help of God, it's slowly becoming smaller… and smaller… and smaller.
We don't want to feel weak, so we harden ourselves instead. 2 Corinthians 12:10 says, "That is why, for Christ's sake, I delight in weaknesses, in insults, in hardships, in persecutions, in difficulties. For when I am weak, then I am strong."
We don't need to be hard. We need to be weak in our hearts so that we can be strong in Christ.
So, don't harden yourself. We're human, not concrete.
---
Share Your Thoughts in the Comment Section!
---