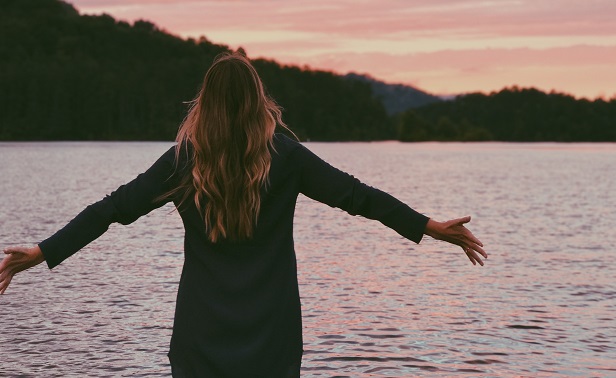 Trees are tossed out on the curb. Stockings are taken down from the mantel. Red and green decorations disappear one by one until all that is left is the brown grass and bare branches stretching out to a gray horizon.
Christmas has come and gone, and with it, the joy of many dissipates into the cool winter air.
As Christians, we're not supposed to let that happen. We're supposed to have joy all the time, right?  But some of us don't feel that joy, and we're left wondering, how is it even possible?
Some of us don't know where to find joy, but we search for it, trying our hardest to put it on–but something just isn't working right. Or maybe, we're so discouraged, we don't even try.
What if the problem isn't that we don't know how to get joy? What if the real problem is that we don't know what we're looking for?
It's easy to see joy as something that comes and goes as it pleases, leaving us subject to its undependable schedule. And yet, it seems predictable, present in the good times and absent when we need it most.
Joy is apparently something to be obtained by sheer will-power. It's a choice, a mindset, a determination to be positive. Don't have it? Just try a little harder. It's not like there's any other option.
Does all that sound like the joy you know? Well, I have good news for you.
Joy is so much more.
Joy that comes from God is more than a superficial feeling or a fleeting happiness. It's a deeply-rooted, enduring, and contented trust that God is good and does what is good for His children.
We can have joy no matter what circumstances we're in, because that's not what joy is based on. True joy is based on something that never changes: truth.
True joy is found in the person, purpose, and promises of God.
The Person of God
You may have noticed that God is pretty amazing. He created the depths of the sea and the mountain heights, the birds of the air and the beasts who roam the earth—and, after all else, the intricately designed masterpiece called a human. He knows our very thoughts and the number of hairs on our heads. Being infinitely greater than us, His ways are unsearchable. He understands every aspect of the inner workings of the universe, and even knows our minds far greater than we can understand them ourselves. He holds all things together and determines the course of history.
This is the God that stepped into history—no, who has always been a part of history. From the very beginning He has chosen to make Himself known to us…sometimes in a whisper, sometimes in a roar, and ultimately in the person of His Son, the Messiah, our Savior.
For God so loved the world that He gave His only son so that whoever would believe in Him would not perish but have everlasting life. Is there any better reason for joy?
The Purpose of God
God has adopted us as His children and given us His Spirit. He frees us from the sin we were enslaved to and enables us to walk in paths of righteousness. God has chosen to magnify Himself through us by His sanctifying work in us as we proclaim His name to the ends of the earth.
It is a joyful thing to get to be a part of God's mission. Understanding God's purpose gives our individual lives purpose and allows us to live according to the plan of our Creator.
The Promises of God
The best way to practically pursue joy in the various moments that make up life is by clinging to the promises of God. He made countless rich blessings to the nation of Israel that still apply to us today who by faith are His people. Here are just a few:
"I will satisfy the weary soul, and every languishing soul I will replenish." Jeremiah 31:25
"When you pass through the waters, I will be with you; and through the rivers, they shall not overwhelm you; when you walk through fire you shall not be burned, and the flame shall not consume you." Isaiah 43:2
"For the mountains may depart and the hills be removed, but my steadfast love shall not depart from you, and my covenant of peace shall not be removed." Isaiah 54:10
God has given us so much to cling on to in His Word; we simply must remember and believe them. If you find yourself lacking joy, seek Jesus. Bury yourself in the Bible and persevere in prayer.
He doesn't promise us to give us a warm fuzzy feeling all the time; in fact, He calls us to walk in the way of Christ, who was "a man of sorrows and well acquainted with grief" (Isaiah 53:3). But God does give us truth that transcends our circumstances and a reason to rejoice in the good times and the bad.
God is good, and He is working for the good of His people to the praise of His glory. No matter what.
---
Share Your Thoughts in the Comment Section!
---