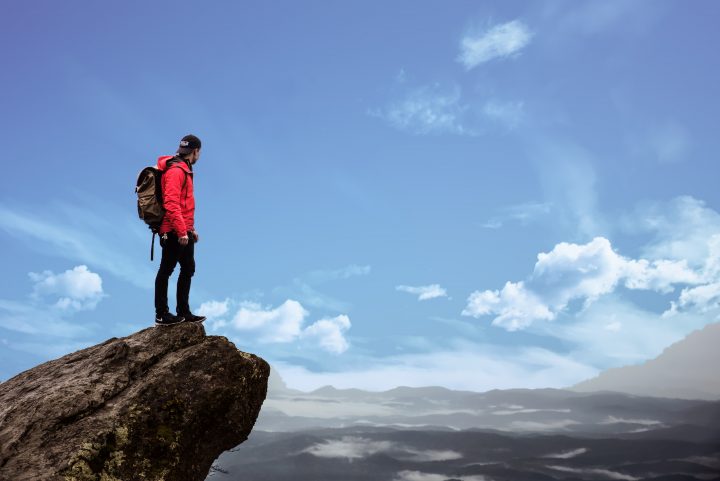 "Do you ever settle?"
I asked myself the question and sighed. I know I do. All the time.
Why do I always settle for less than my best? Why do I always do the easy thing?
Unfortunately, I like to make excuses for doing less than my best. Or maybe I do what's required of me, but I don't put forth full effort.
"Oh well, I can do it later," or "Let me hurry up and get it over with," are some of my favorite phrases. I'm a huge procrastinator, often waiting to do the most important thing until the last minute.
This isn't how it should be. In everything, I am called to be an imitator of Christ, and glorify him in everything I do.
Ephesians 5:1-2 says, "Therefore be imitators of God, as beloved children;" and 1 Corinthians 10:31 agrees and says, "So, whether you eat or drink, or whatever you do, do all to the glory of God."
How can we do this when doing everything halfway? God doesn't do things halfway and doing it ourselves doesn't shed a very good light on Christ. We need to pursue excellence in everything we do. No matter if it's as big as applying for college, or just doing the dishes—we need to pursue excellence.
If you're like me, you realize this is something you need to work on, but maybe you struggle with knowing how to put it into practice.
Here's a list of five practical things you can do today to pursue excellence.
1. Read God's Word and Talk to Him Daily
This tip, although obvious, is the most important of them all. If you're spending all day running on empty, then you'll never be able to pursue excellence. Yet, that's what we do sometimes. We forsake reading the Bible and talking to God for other diversions like our phones, or friends, or social media. No wonder we do lots of things halfway, because we lack the nourishment to do anything else.
Each day, start with a time of prayer and reading. Dig deep into his Word and see what he has to say about your life. See what he has to say about you. Ask God to help you see places where you aren't pursuing excellence, and ask him to help you correct them.
2. Make a List
I love lists. The check in the box gives me satisfaction and makes me feel like I've actually accomplished something in a day. This is a really helpful tool that helps me pursue excellence.
Make a list of things you need to get done in one day, whether that be school, work, or hobbies. Then, make a time limit of how much time you should spend on each thing. If you're a student going to school, make sure and schedule in homework, extra studying time, etc. Make sure that you spend at least that much amount of time on each thing to help you do your best.
For instance, I normally complete my schoolwork at around 2pm each day. With my schedule, I allow another hour of my day devoted just to that. If I need to review something I learned that day, or I need to study for a test, I do during that hour. Also, I try to remind myself in everything I do to make sure I'm digging hard and doing each thing with everything I have in me for the glory of God.
Make a list to help you keep track of your time and to help you pursue excellence in everything you do, whether it be school or chores. Why should we be worried about everyday tasks? Because Christ deserves for us to give our all in everything we do, every day.
3. Ask for Accountability
One thing I have found helpful in the area of pursuing excellence is asking for accountability. My parents often remind me if I'm slacking in excellence in an area, and I'm thankful for that.
But another thing I've found helpful is accountability with your friends and peers. I have recently started an accountability group with a friend, and it has already helped me tremendously.
I have asked her to point out any ways she sees me slacking, and also recruited her to ask how I have been doing in certain areas. One of those areas I ask her to help me with is pursuing excellence.
Find a good friend, family member, or even mentor and ask them if you both could partner and keep each other accountable. Maybe it will help you remember to pursue excellence in every area of your walk.
4. Memorize Scripture
I am generally terrible about memorizing things. I don't memorize Scripture as I should, and it's something I've recently felt convicted about.
In this area, look at memorizing Scripture to help you remember things like why you should pursue excellence, and who you are doing it for.
God has used Scripture in my life when dealing with anxiety, temptation and even anger. Memorizing it can help for his truth to sink into your heart and penetrate your mind. Then, in times of need, he will bring it up to show you what you should do, and to remind you of his love.
Some verses you could memorize to pursue excellence are: 2 Timothy 2:15, 1 Corinthians 9:24-25, Colossians 3:17, Titus 2:7, and so many more!
5. Show Yourself Grace
Remember to show yourself grace. You aren't going to do everything right the first time (or maybe even the second or third). Yes, we must try and pursue excellence, but we also must allow the Holy Spirit to work in and through us.
We will be made completely new one day. Right now, this world is corrupt and sin filled. There's evil everywhere. We sin all the time. But God promises that one day there will be a new earth and we will be made completely new.
Right now, we won't achieve absolute excellence. But we must try and never give up. Keep fighting for excellence, my friend! It's hard, but we will see the results of it one day.
---