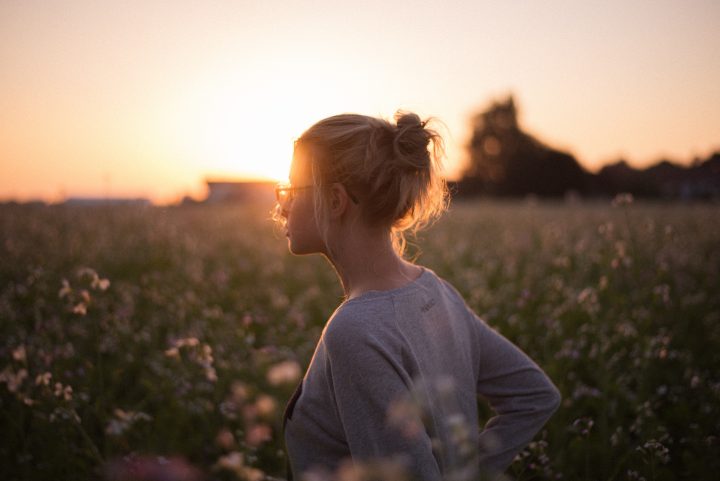 "And the thing is…I'm not jealous."
I'm pretty sure my friend's jaw hit the floor as that sentence left my mouth. Why? Well, long story short, I'd just confessed to her that someone I'm really close with has feelings for the same guy that I do.
Yes, you read that right.
I'm not jealous.
That is so weird for me to say; because, believe me, if I had been in the same situation two months ago, I would have been beyond jealous. But…I'm not. And I'd like to share with you three reasons why.
1. Sisters Over Misters
A third close friend of mine loves to complain about how someday I'm going to fall in love, start dating, and completely forget about and abandon her. And every time, I reassure her with one phrase: "Sisters over misters."
I love my girlfriends, I really do. I love them so much, in fact, that I could never let any guy, love of my life or not, get between us.
"For jealousy makes a man furious, and he will not spare when he takes revenge." (Proverbs 6:34)
"You desire and do not have, so you murder. You covet and cannot obtain, so you fight and quarrel." (James 4:2)
As you can see, jealousy is an evil thing that can rob us of our friendships and close relationships in a flash—it can cause people to murder and do things they normally wouldn't even dream of doing.
Yes, if I get married my husband will be the love of my life; the apple of my eye; the— well, you get what I mean. But…right now? Right now, I'm not married. I'm just a kid who would really be a mess without her friends.
So, why let a crush ruin of some of the most important friendships I'll ever have? As a teen, the choices I make today determine who I will become. I need friends who will help me shape my character; I don't plan on losing those friends over a crush.
2. Jealousy is Natural, But That Doesn't Make It Right
My dad is currently recovering from an alcohol addiction that has so far lasted my entire life. Before this recent treatment, life was confusing and hard and didn't make any sense. Growing up with an alcoholic dad, I've never had a stable relationship with him. To this day it's hard to be around him and talk to him. I used to wonder: "What is it like having a normal father, or a normal family?"
Those words rang through my mind day after day like a telemarketer who just won't stop calling.
One day, my friends were talking about their dads and how amazing they are and how many kind and wonderful things they do for them. As I sat there, listening to them, a sense of extreme and overwhelming jealousy came over me.
I wanted that. I wanted to be able to talk about my dad like he was the most amazing person on the earth. I wanted to be able to say I had a close and thriving relationship with my dad. I wanted to be normal.
Later that night, I lay in bed, and I cried. These tears were of sorrow and sadness, of pain and despair—but also they were tears of jealousy.
Why can't I have what they have? Why do they get normal lives and I don't? Why can't I be like them?
And sitting here, writing this, I get a stormy feeling in the pit of my stomach. Why? Because I'm jealous just thinking about it. I get jealous all the time—every day! It's natural, normal, and familiar…
But that doesn't mean it's right.
God designed every one of us exactly as he wanted us to be. He carefully orchestrated our lives as they are because someday, all the pain will benefit us and turn into something good. God gave us what we have for a reason; and being jealous of the life someone else has is like telling God you're not happy with what he's given you, that it's not enough.
God designed every one of us exactly as he wanted us to be. Click To Tweet
Jealousy is natural for us sinful humans, but it's not right. It's not how God intended us to be. Yes, we all get jealous. But as we do, we need to strive for the opposite and beg God to rid our minds of those evil thoughts; even if it doesn't feel like it, God has given us everything we need—grace, mercy, and his Son, who died on the cross to wash away our sins.
We don't need to be jealous, because we already have and forever will have the only thing we need: Jesus.
"…and be content with what you have, for he has said, "I will never leave you nor forsake you. So we can confidently say, 'The Lord is my helper; I will not fear; what can man do to me?" (Hebrews 13:5-6)
When my friend confessed her feelings for the guy I like there was the tiniest bit of jealousy. But it disappeared as quickly as it arrived when I opened up my heart and said, "Okay, God. You've got this—I know that you have a perfect plan and I have everything I need."
3. We Don't Deserve What We're Jealous For—It Was Never "Ours" To Begin With!
Not to bash anyone, but a lot of people describe the person they're crushing on as theirs. "Don't flirt with him! He's my crush…"
Sound familiar?
While competing, people will often describe the trophy they're trying to win as "theirs to win". But really…it's not. Nothing is really "ours".
"The heavens are yours; the earth also is yours; the world and all that is in it, Yyu have founded them." (Psalm 89:11)
I used to tell myself the reason I'm jealous of other people is because I deserve what they have. Well…actually, I don't. In fact, I don't deserve anything. God owns everything I have. He owns my life—every breath I take is his. Every beat of my heart is his. I don't deserve any of it, yet here I am, alive and breathing, all thanks to a merciful and gracious God.
Nothing we want "was ours to begin with". Just because I admitted to crushing on him first doesn't mean I get special rights. I don't. I don't even deserve to be feeling anything romantic towards anyone. I don't deserve to be on this earth, but, because of his love, God allows us to be.
So—why am I not feeling jealous towards my friend?
One of my best friends is more important to me than a little crush.

My jealousy would be unholy and I strive to be holy like the Lord.

Honestly…he was never even "mine" to begin with.
Jealousy is a complicated feeling that comes and goes as quickly as lightning; it's hard to control and hard to make sense of. Despite that, we cannot let jealousy take control of us. For where jealousy and selfish ambition exist, there will be disorder and every vile practice. (James 3:16, ESV)
---