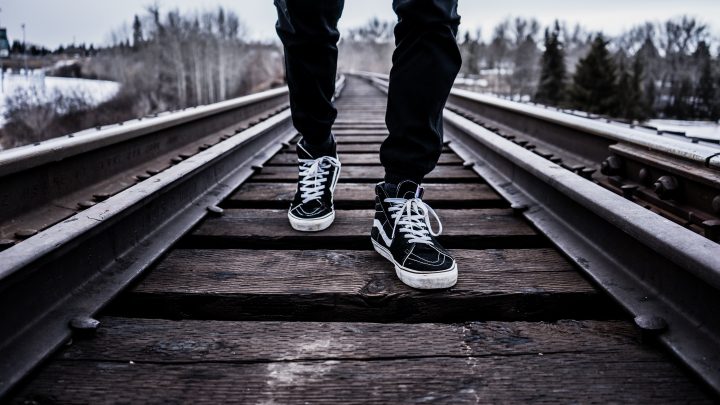 I'm going to be super honest right now; being a teenager in the twenty-first century is hard.
There are constant distractions around us, trying to pull our attention from the one thing we're supposed to be keeping our eyes on. It's so incredibly easy to get caught up with fitting in with the people at our schools, at our youth groups, and yes, even at our churches.
The music we listen to, the movies we watch, the YouTubers we follow, and the people we hang out with, all of them can grasp us by the jaw and jerk our heads away from God–especially as teenagers.
Despite what the world around us is telling us, there are some things our teen years shouldn't be.
our teen years aren't for figuring things out on our own.
Our culture is obsessed with people 'finding their own path' and 'discovering their true selves'. And a lot of the time, they do this by themselves.
For my birthday, I went and saw The Nutcracker and the Four Realms. It's a great movie that I would recommend, but one huge thing that really stuck out to me was the realization that Clara came to near the climax of the movie. (Spoiler Warning) Clara opens up a music box given to her by her mother that has the words "everything you need is inside" on the lid, and finds a mirror. Clara is extremely confused, until she realizes as she stares into her reflection, that all she needs is herself.
I almost started laughing in the theater.
That moment most likely enhanced the thought that we can do everything on our own to the kids and teens and even adults who watched the movie. Since we're older, are trusted more, and finally are able to drive around by ourselves; our teen years are often seen as a time when we go out into the world alone and figure our lives out, and everything will be just fine, because we're all we need.
But we aren't all that we need.
We have parents, teachers, and friends for a reason. We have God for a reason. He is the one who is there to help us figure life out in our teen years. We can do nothing on our own. Our friends or parents aren't there to guide us completely, but are still placed in our lives by God to keep us going down the right path. We have people in our lives for a reason, and we need to appreciate them and seek their help and guidance.
But most of all, we should seek the guidance of God.
"Your word is a lamp for my feet, a light on my path." (Psalm 119:105).
Our teen years aren't supposed to be lazy.
Okay, so maybe we teenagers do love to sit around in sweatpants and binge-watch a TV show or two…or three. But this doesn't mean the stereotypes are true in saying we're all lazy. Once people start stereotyping us, it's very easy to fall into those stereotypes, making us exactly what they think we are.
Life never stops moving, time never stops ticking; therefore we should not stop doing. Life has an ebb and flow—no matter what, the sun will rise, and the birds will chirp, and the earth will continue to spin. If we stop and become lazy, it is like letting the sands of time slip through our own fingers.
"How long will you lie there, O sluggard; When will you arise from your sleep? A little sleep, a little slumber, a little folding of the hands to rest, and poverty will come upon you like a robber, and want like an armed man." (Proverbs 6:9-11).
Our teen years are not a time for us to sit back and relax. In fact, we should be studying God's word, learning more about him, and preparing for adulthood and the responsibilities it entails more than ever as the time approaches.
And, no, I'm not telling you not to be a kid! We're still young and we can still have fun, but consider where your time is going. Are you spending more of your teenage years being lazy than doing things?
I would also like to point out that rest, breaks, holidays, and et cetera, are very good things. Even when we take a break to recharge, we are still being productive. Resting is us taking care of ourselves so that we are still able to continue working for the Lord in the future.
Our teen years aren't an excuse for silence.
Nope, I'm not talking about your normal 'loud', because really, teenagers are actually already pretty loud (especially when together!). We need to be loud for the Lord!
"Make a joyful noise to the Lord, all the earth; break forth into joyous song and sing praises!" (Psalm 98:4)
I don't know about you, but I want to be loud for the Lord. I want to shout his name to the ends of the earth so that all may hear it. As teenagers, we're not supposed to be silent about our faith; we must let every word we speak echo God's love and wisdom and every action we do scream who we do it for. As teenagers, we're not supposed to be silent about our faith; we must let every word we speak echo God's love and wisdom and every action we do scream who we do it for. Click To Tweet
(You can also be physically loud, too, if that's how you extroverts roll.)
"For I will proclaim the name of the Lord; ascribe greatness to our God!" (Deuteronomy 32:3)
"I will tell of your name to my brothers; in the midst of the congregation I will praise you." (Psalm 22:22)
Last of all, friend, I would like to remind you that our teen years aren't supposed to be perfect. Life is messy, especially when we are in the midst of discovering our purpose in Christ and who that makes us. But let us remember that even in the midst of the mess, we have God.
Let's remember that we cannot do anything alone.
Let's remember to make the most of our time.
Let's remember to be loud for God and to continuously tell of his glory!
---