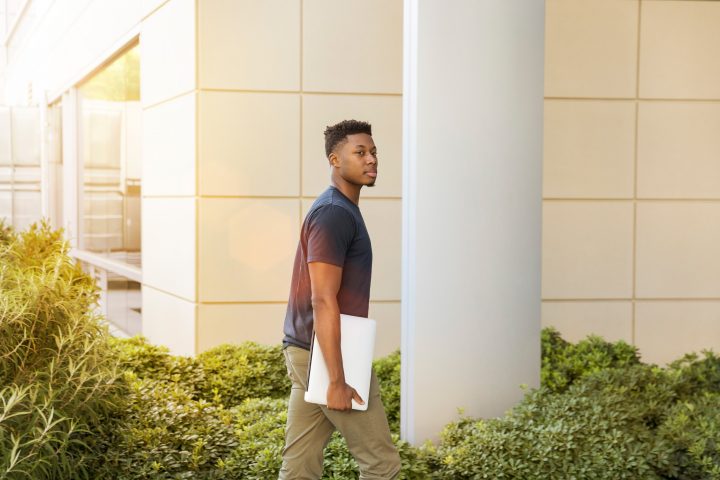 As teens and early twenties, it's easy to spend our time trying to create an identity. The most common question I got as a high schooler was, "What do you want to do with your life?" In other words, how do you want to define yourself for the next forty plus years?
It's a big question and not I wasn't the only one trying to answer it year after year. My friends were experiencing the same thing.
Then college rolled around.
Stop Trying to Create Your Own Identity
We spent our days running to classes, fitting in workouts, internships, extra-curricular activities, meetings, some type of social life, and our nights studying for exams, checking our GPA, and occasionally trying to sleep.
By the time I hit junior year I was tired of the hustle.
That's when I realized something that changed my life: my peers and I were spending all our time trying to create an identity, when we already had the truest and most lasting identity.
Embrace the Identity You're Given
What if instead of using all our energy to create an identity we simply embraced the identity Jesus has already given us?
Then we could use all our energy for the Kingdom.
I started living into this, bringing the topic up at coffee shop conversations and between classes. That's when I started seeing change.
But then a new problem came up. I was only one person. And my school had hundreds and hundreds of people.
You Have a Platform
It would have been easy to see all the obstacles as closed doors.
But God gives us each a platform. However small, we're called to use it for him.
We might think we go to the smallest high school or college. No matter how small, it's still the place God has put us and therefore called us to. That's our platform.
We might think we have no followers on our socials and so it doesn't matter what we post. But whoever follows you is part of your platform. They are people you can impact.
God gives us each a platform. However small, we're called to use it for him.
Click To Tweet
You'd be right if you said I didn't attend the largest college. But it was still a platform God entrusted me with.
No, I'd never planned an event before. But I believed the truth of 1 John 3:1, "See what kind of love the Father has given to us, that we should be called children of God; and so we are."
We must claim this identity, but so often we forget to look at the truth of God. As a result, we let culture's lies define us instead of God's truth. It was time to change that.
One night I was driving back from night class talking with one of my friends who'd recently moved to Chicago to sing. I told her my vision and asked her to pray about it for me. She said she could come up for it.
I talked with one of my classmates who sat next to me in my marketing class. He said he'd led worship for years and could for my event.
Everything started falling into place as I shared my vision of creating an event focused entirely on identity in Jesus Christ.
Live Into Who God Says You Are
Identity is a huge part of our life. It defines how we live.
So I created a worship set with identity-themed songs. I had a speaker speak on the topic of identity. My friend from Chicago came to lead those songs. One of my rapper friends even guest-rapped on identity at the end.
I hosted that event. And another. And another. And another.
But it wasn't just a college event. I didn't spend those hours creating an event to see how many people I could bring in. I wanted to remind myself and my peers who we are in Jesus.
Claiming who we are means nothing if we don't do something about it.
Anything God does through us, however small, is hugely significant because it's God working in us.
Click To Tweet
You don't need to create an event on identity to live into who God says you are.
That's something I felt called to do. Because of that I needed to live into the boldness that comes with being a daughter of God and host that event. Being a college student and feeling so inadequate could have held me back.
But anything God does through us, however small, is hugely significant because it's God working in us.
Whatever he's calling you to – do it in the boldness that is yours as a child of God.
When we stop using our energy to define ourselves, resting in who Jesus says we are, we can use that energy to change our worlds for Jesus.
Enough in Who He Is
Often I still feel like that high schooler trying to answer the age-old question, "What do you want to be when you grow up?"
That's why it's vital for us to go back to the paperwork God intended for us to look at all along – the bible itself.
Billboards tell us we need to change physically
Instagram numbers say we'll never measure up
Commercials tell us the next purchase will give us meaning
Magazines imply only those who look like models are worthy of happy lives
Minute by minute, day by day, we're hit with lies that we're not enough in who we are. And culture got that right. We're not enough in who we are.
But Jesus is enough in who he is. He will always be enough. And with his perfection covering our sin we are enough too.
That's why it's so important to read the truth of who we are. Jesus has already defined us! He has already published the book that proclaims our eternal identity.
We just need to claim who we are:
Co-heirs with Christ (Romans 8:17).
Children of God (Galatians 3:26).
Chosen (Ephesians 1:4).
All that's left is for us to boldly live into our identity and fulfill our calling.
---