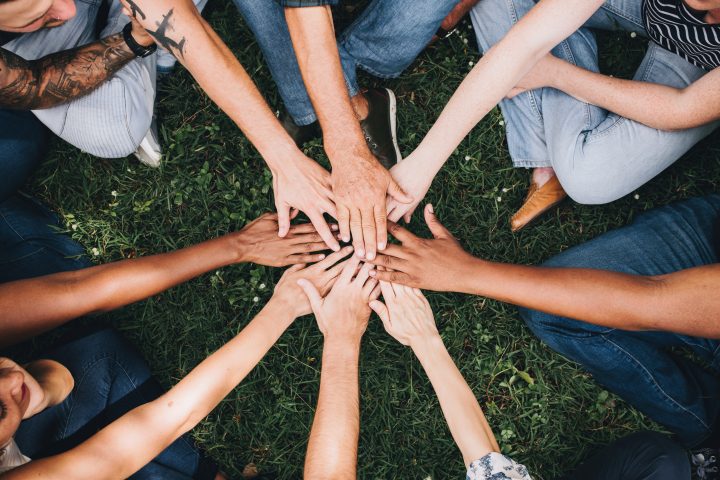 I can not people today.
Pushing past twenty-three faces in the hallway of the B building, staring out the window in English class, retreating in the corners of the garden under a cloud of misty rain…
There are some days I just want to hide from the world, forget about humanity.
Peopling is hard. It's hard to put yourself out there, to be vulnerable, to invest in a friendship with another human being.
I know my introvert peeps can relate.
Problem is, we aren't allowed to hide from the world. At least, not permanently. Zombie apocalypse bunkers sound fun, but then we'd be failing our mission.
See, choosing isolation is not only selfish and wrong for Christians, but also just plain dumb. Whether we like it or not, we need people; whether we believe it or not, people need us, or at least, they need what we have. We need people, and people need Jesus.
We need people, and people need Jesus.
Click To Tweet
We Need People
Disclaimer: Sociology Class is not the best source of life advice. Nevertheless, there are some interesting tidbits to learn from a secular study of society. For example, Emile Durkheim worked with social isolation theory, proposing the link between social isolation and suicide, a link most people from any religion or lack thereof can agree on.
Without people, we have no one to work with, no one to have fun with, no one to support us when the barn burns down, no one to encourage us when the sky falls out. Without people, it's exceedingly difficult to survive, and I'd begin to wonder, what's the point?
At the very beginning of the Bible, in Genesis, God said, "it is not good for man to be alone." (Genesis 2:18)
If God knew Adam needed Eve, then doesn't that say something about our need for other humans in general? Wouldn't the earth be empty without other people on it, when it was created for people to dwell in together?
Social interaction is vital to our existence because it matures us, growing us into more complex and understanding individuals. Siblings try our patience, parents impart wisdom, and professors…well, professors typically do a bit of both. Peers offer fantastic examples of what not to do, and every now and then they're there to learn alongside us. No matter how old, young, wise, or dumb, every person has the ability to help us grow.
Whether we like it or not, we need people.
People Need Us
If you've ever felt nobody needs you, I get it.
I get how it hurts when you want to help, you want to matter, but everybody seems to be doing fine—or if they aren't, they at least don't come to you for advice.
Vulnerability gets a lot of attention these days as the golden standard of authenticity. If you want a genuine relationship, you have to be real and open. We hear it on Instagram and in the Christian community, but who actually practices what's being preached?
The same pride that keeps people from exposing their weakness also keeps us from asking. It keeps us from reaching out to people, for fear that they will reject us. It keeps us from considering what somebody else might be going through, because our top focus is ourselves and how we look in front of others.
The same pride that keeps people from exposing their weakness also keeps us from asking.
Click To Tweet
We can't force people to invite us into their world, but we can set an example for them. We can be the ones to take initiative, to start a conversation or to share struggles with our friends. We may not see the impact our words and actions have, but simply carrying a friendly attitude and taking an interest in others can go a long way.
Be the kind of person you'd want to get to know: selfless, compassionate, content. It's not a get-friends-quick guarantee, but at least you'll know you're trying.
Chances are, if you ask God for people to minister to and you seek out opportunities to bless others, he will give you people. It takes time to connect, time to gain someone's trust. Be patient and trust that he knows what he's doing with you.
Everyone Needs Jesus
The biggest reason we're here—really, the only reason we're here—is Jesus.
It's through Jesus' blood that we have life, through his sacrifice that we're free to love and be loved. He's keeping us on this earth to share his love with others.
More than people need us, more than we need people, everyone needs Jesus. We exist to know him and to make him known, to love him and to share his love, to follow him and to call others to do the same. Any relationship—whether it's with a believer or an unbeliever, a peer or an adult—should take place with the goal of worshipping Christ.
Now, that doesn't mean I stroll into sociology class determined to convert my teacher. It doesn't mean I expect every person I talk to to come to Christ, and it doesn't even mean I have to give a full five point gospel presentation to everyone I come in contact with.
The point is that if we have a relationship with Jesus, we'll act like him and speak like him and our faith will be evident in the way we study hard, the way we respect the teacher, the way we build up our peers, the way we openly speak about Christ whenever it seems relevant and appropriate. (Notice I didn't say pick fights with the science teacher or interrupt English class for spontaneous evangelism.)
While I write this from the perspective of a high school kid at community college, I've been in the homeschool shoes too, plan to be in the university shoes, and have confidence that the public school shoes people can figure out how they fit in too (because believe me, we need them.)
Wherever God has placed you, whatever schooling your parents have chosen–or maybe you're out of school and in the workplace or ministering to your family and church–wherever you are, you can walk in the footsteps of Christ and invite others to follow in the path of grace.
We all have a responsibility, introvert or not, to build relationships. Jesus Christ was born into filth and raised in humility, served through suffering, and set aside his earthly life to reconcile us with God, to mend the relationship we severed by sin, at an expense no human could dream of paying.
Peopling is hard, but it's essential to our mission. With his help, we can reach out to others and build relationships for Christ.
Peopling is hard, but it's essential to our mission.
Click To Tweet
"And let us consider how to stir up one another to love and good works, not neglecting to meet together, as is the habit of some, but encouraging one another, and all the more as you see the Day drawing near." (Hebrews 10:24-25)
And he answered, "You shall love the Lord your God with all your heart and with all your soul and with all your strength and with all your mind, and your neighbor as yourself." (Luke 10:27)
---