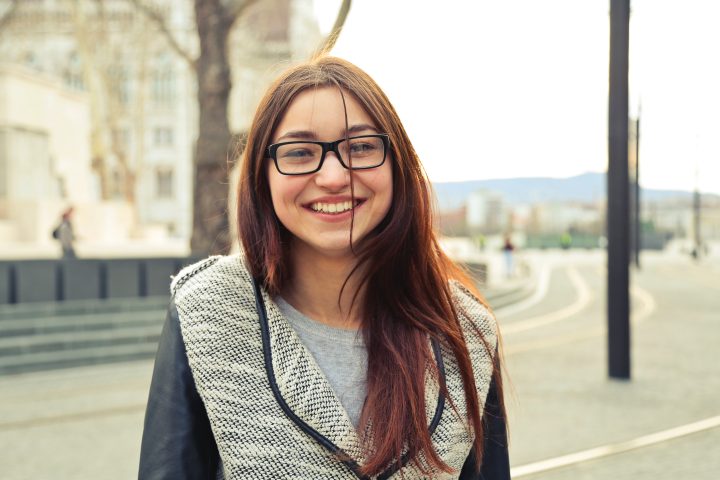 Teenagers. We're a bunch of kid-adults who often have no idea who we are or who we ought to be. We grasp at all kinds of things to find identity, things like beauty, sports, and intelligence.
And for so long, I've prided myself in being above those things. Maybe all the rest of the world cares about beauty and sports and intelligence, but in the words of the Little Red Hen's friends when she asked who would help her bake a loaf of bread…
"Not I," said the teenage Olivia.
It might bother me for a moment that I have acne or my hair is a frizzy mess or my glasses slide down to the tip of my nose like that crazy cat lady librarian, but as soon as I'm off to wherever I'm going, all these things slip out of my mind. I might look a mess, but it doesn't matter much to me.
Athletic ability, likewise, has never been impressed upon me as particularly significant. Sure, my dad watches football on occasion, but we weren't the soccer family with practices four nights a week. So I didn't mind that I'm too short to reach a basketball net, too unenergized to run half a mile. None of that mattered to me.
So if I'm not the athlete or the beauty queen, I must be a nerd, right? Straight A student with a type-A personality?
Wrong. I get okay grades, I put effort into my courses, and I complete all my assignments. But I don't have color coded planners, I'm not the teachers' pet, and while a 4.0 would be nice, I'd much rather take time to breathe than spend my every waking moment avoiding a couple B's.
Look, I'm average, like most people are. I'm not beautiful, I'm not athletic, and I'm not a genius. I could easily tell myself that I'm different, better, and stronger than everybody else because of my indifference.
But I know that isn't really the truth. As little as I don't care about those things, I hold all the more tightly to the one thing I do have, at least, the one thing I've been complimented on: the transcendent art of wisdom.
Call Me Ugly, Call Me Dumb, But Don't Call Me a Fool
People say I'm wise beyond my years. For all the comments I've gotten about how I couldn't be older than a sixth grader, people who actually know me—who've heard me speak (or type)—know I have big thoughts. They tell me I'm mature, grown up. I fancy myself as a seventy-three year old living in a fifteen-year-old's body, and assume I ought to have the respect of such.
And because of this one point of praise, my ego swells from a raisin to a watermelon inside my five foot frame. I'm full for the moment, yes, but what do I have to do to stay that way? How long will it last before my ego implodes? How much does it take to deflate?
Not much, I'll tell you that.
See, when my pride grasps onto this single thread, suddenly my entire identity hinges itself on my supposed reputation. I'm constantly considering how others might perceive me, assuming the worst. When my ego reaches its greatest and my self-esteem its least, I'm a fragile being, encaged by insecurity. I can't post a picture on Instagram without wondering how each and every one of my followers will react to that post (all one hundred of them, imagine that).
My whole thought-process gets tied up in a delusion, impressing nightmares upon myself of how others might judge me when, really, those people will pass by without a second thought.
It's hard for me to see, because this self-stigma feels legitimate. I've let a fear take root in my heart to the point where I don't even want to be around people at times, I don't want to be a part of society, because I'm afraid. I'm afraid of not being the person I claim to be. I'm terrified of the thought that instead of being wise and deep, somehow I'm just a shallow and dramatic idiot.
Not only does this deteriorate my emotional stability, but it also chokes my relationship with God.
When I long for the approval of others, I degrade the approval of Christ. Placing my identity in who others make me out to be goes against every fiber of who I truly am, based on Christ. I know that he is my life, he is the source of all that is good in me, and he is the Creator and I am the creation. Yet somehow, I can get so drunk with myself that I bury these foundational truths underneath worldly attitudes.
Yes, through my fear of failing in the eyes of others, I choose to fail in the eyes of God.
God didn't create me to seek my own glory. God didn't call me to earn my own respect at the expense of my sanity. In reality, this self-absorption is the antithesis of my calling. It's not smartness or beauty or strength he wants from me, but worship. Worship not of myself, but of him.
The world has enough self-absorbed teenagers. It doesn't need girls who know how awesome they are and exist to show their awesomeness to others. Enough with the idolatry. Enough with the pride. There's a new man we're called to be, and it's called the image of Christ.
If we were made by him, saved by him, and sustained by him, let's just go ahead agree we exist for him. We're called to be humble, to love one another at our own expense, to get down on our knees and demonstrate the gospel.
If we were made by God, saved by him, and sustained by him, let's just go ahead agree we exist for him. We're called to be humble, to love one another at our own expense, to get down on our knees and demonstrate the gospel.
Click To Tweet
God does not need my eloquent Instagram posts, but he does ask for my heart. That I join my heart with his and direct it towards others. If that leads me to share truth on my Instagram, all the better, but truth can hold its own weight. Really, there's no need to spend thirty minutes obsessing over which Instagram filter best communicates the beauty of Christ.
Art is great, sure, but Jesus is better.
All That Matters is Who He Is
Maybe every now and then we need turn off the screens, stare at the wall, and ask God to search our hearts. Maybe we need to settle down for long enough to evaluate our thoughts and feelings. Maybe we need to figure out our motives and reset our attitudes.
God is gracious and merciful to point out our sin when we ask for conviction, to forgive us when we repent, and to steer us back to the gospel. It's hard to see our sin on our own, hard to discern what's going on in ourselves. We should be aware—aware of our weakness and dependent on God's strength.
It's not smartness or beauty or strength God wants from me, but worship. Worship not of myself, but of him.
Click To Tweet
Take it from me because I know how much self-absorption can destroy a person. We need God, we need his help, every minute of the day. We think we're good, we know the gospel and we know the list of dos and don'ts. But in our internal processes, in the mental and the spiritual realm, we are in perilous waters. With rocks on all sides, just underneath the surface, threatening to overturn us and drag us down to the sea floor, you'd better believe we need Christ.
So get involved in a community, ground yourself in the Word, and together let's center our being on Christ. In every situation, good or bad, let's be a people of prayer. Let's talk to him, take all our emotions and ideas to him and ask him for discernment.
Who cares if I'm an idiot in the eyes of the world? Does it really even matter? Eloquence, respect, is it anything more than a sham, when it's all said and done?
What really matters, what eternally matters, is Christ.
"For through the law I died to the law, so that I might live for God. I have been crucified with Christ, and I no longer live, but Christ lives in me. The life I now live in the body, I live by faith in the Son of God, who loved me and gave himself for me." (Galatians 2:19-20 CSB)
---