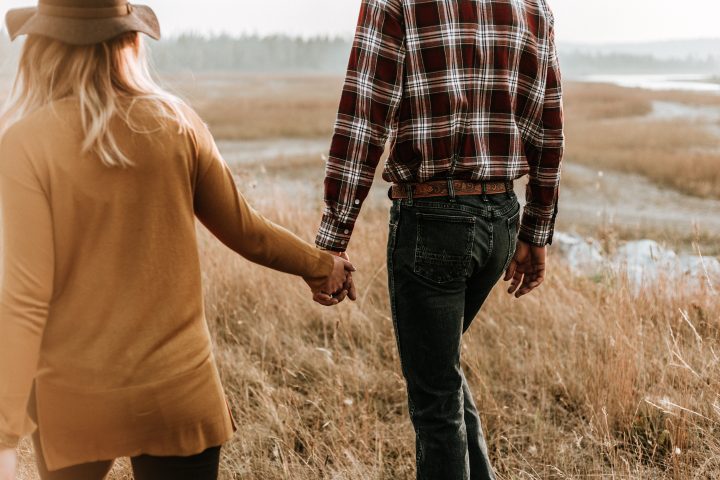 Editor's Note: Throughout the years, TheReb has published thousands of articles, each challenging and encouraging Rebelutionaries to do hard things and seek God. But among these posts, some have especially resonated with you, our readers. So over the next few weeks and months, we're bringing back these classics, reposting our most popular and well-read articles every Thursday. May they encourage and remind you of God's unchanging truth!
For a laugh, I bought a clearance t-shirt that says, "No Boyfriend. No Drama." My dad thought it was hilarious. And brilliant.
I'm seventeen and I don't date right now. That's intentional. I am too young to be looking for a spouse, and thus if I dated now, it would be strictly casual and totally for fun. I don't want to do that right now.
But it's not just because of the well-known drama that comes with twitterpated teen romance. Here are seven Biblically-fueled and parentally-influenced convictions for why I don't date right now.
1. Dating will abuse my time.
I have a lot of responsibilities and many good pursuits. I'm in college, working a part-time job, involved in ministry at my church. I have a lot on my plate, and so I must be selective and careful in how I use my time.
When the famed British abolitionist William Wilberforce became a Christian at twenty-five, he wrote in his journal: "To endeavour from this moment to amend my plan for time. I hope to live more than heretofore to God's glory and my fellow-creatures' good."
If I date, good things I do will suffer. The activities I am doing to glorify God right now will wane and I simply won't have as much time to attend to my fellow creatures' (e.g., friends', family's, acquaintances', enemies', Wal-Mart clerks', telemarketers', teachers', everyone's) good. I will miss out on daily good works.
There are better things I can do than date.
Colossians 4:5 says, "Walk in wisdom … making the best use of the time."
2. Dating will hurt my relationships.
A boyfriend will take me away from fostering godly relationships with my parents, my brother, my church family, and my friends. And it is these relationships that God has given me and called me to tend to right now.
My brother is more important than a boyfriend. Loving the people that God has placed in my life right now is more important than pursuing a new time-consuming romantic relationship.
3. Dating will distract me from the gospel.
Jonathan Edwards resolved "that I will not give way to that listlessness which I find unbends and relaxes my mind from being fully and fixedly set on religion, whatever excuse I may have for it–that what my listlessness inclines me to do, is best to be done, etc."
A boyfriend would unbend my mind from the gospel. I have an obsessive heart, and I know that my soul has the proclivity to fixate on serving him at the expense of serving Christ.A boyfriend would unbend my mind from the gospel. I have an obsessive heart, and I know that my soul has the proclivity to fixate on serving him at the expense of serving Christ. Click To Tweet
I want to spend my teen years maturing in my faith as I study the gospel. I want to stay active and diligent in my pursuit of Christ, and I believe dating right now would hinder that pursuit.
4. Dating will hurt my opposite-sex friendships.
I don't want a boyfriend, but I do want friend-boys, members of the opposite sex who I am simply and innocently friends with. Why do crushes and who-likes-whom always have to be brought into it?
I want diverse friendships that will help me grow. And I like boys. They're funny and crazy and over-think stuff less and don't nurse grudges below the surface. What you see is what you get. Girls need boys in our lives, not to romance us, but to be our friends.Girls need boys in our lives, not to romance us, but to be our friends. Click To Tweet
And I hope that when I do look to marriage, I will be friends with my future spouse first. Friendships reveal a true heart and real character.
5. Dating will not help my marriage.
Right now I am too young to get married. Thus, if I dated it would be purposeless and all about social fun. I don't see how giving away my heart to multiple guys will help my future marriage. Because my boyfriend – no matter how innocuous our relationship – would get a piece of my heart.
I think of the illustration that opens Joshua Harris' book, I Kissed Dating Goodbye. A girl named Anna told him of a dream she had of her wedding day. As she stood at the altar with her fiancee, David, all aglow, one by one other girls suddenly appeared, stood up, and formed a chain behind David as he said his vows.
"'Who are these girls, David? What's going on?' she gasped.
'They're girls from my past,' he answered sadly. 'Anna, they don't mean anything to me now… but I've given part of my heart to each of them.'"
She later revealed what so sickened her: "How many men could line up next to me on my wedding day? How many times have I given my heart away in short-term relationships? Will I have anything left to give my husband?"
6. Dating will provide unwanted temptations.
I consider myself a very virtuous person. Yet I am neither so naive nor ignorant to think that I am immune to sexual temptation. While I would like to believe that I would make the pure decision if I was put in an intimate situation with my boyfriend, I can't be sure.
And I don't want to find out. Right now I don't want that unwanted physical temptation. I struggle with enough temptations. My heart already is drawn toward sins like pride and anger and idolatry. I don't want to add someone who will tempt me – even unknowingly – now. I want to mature and grow in my love for Christ before I pursue a spouse.
7. No boyfriend, no drama
I deal with the daily drama of being a seventeen-year-old girl. I don't really need the drama that comes with having a boyfriend – decoding text messages, interpreting emotions, debating boundaries, dealing with hurt feelings (real or perceived).
Right now I want to devote my affections to my family and, most importantly, to Christ. In His mercy the Lord might one day grant me a spouse. I look to that day with joy, but I will not spend my teen years giving my heart away.
Instead I will use them to foster a greater love for my God.
Originally Published April 29th, 2015
---