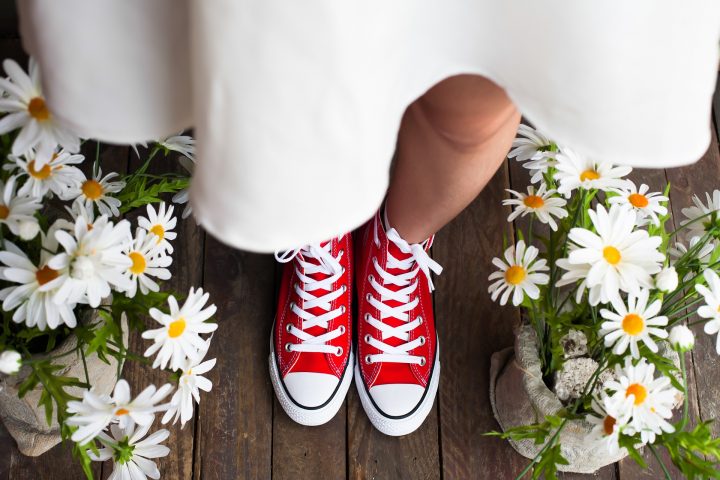 I wasn't prepared for the pictures.
Girls who had forgotten my name posed in prom dresses with guys I hadn't allowed myself to like. To them, I was nothing more than some kid in chemistry class. Even the girls who went without dates wouldn't bother to invite me.
So I imagined the evening they must have had. I wondered what it would be like to wear that flowing ball gown, to go out to eat together, to be one of the elite girls who earned a guy's attention. And here I was, joining the herd of young female writers weaving innocent romance into their stories because that, my friend, is the closest I will get to experiencing a relationship myself.
Somehow, telling myself "prom is stupid" didn't keep me from wishing I was there.
So this is for all the left-out high schoolers like me, the young adults who opted out of the "college experience", and all the single people longing for the world of dating and marriage. You know just how much the things we're left out of try to define who we are, how the experiences we lack threaten to overshadow the blessings we have.
We watch the world spin by, but we're removed from it; we hear coworkers, family, and peers glory in their experiences and relationships while we're on the outside, empty-handed.
I've spent years wishing for face-to-face friendships deep enough to share my heart, for a community where I actually belong. The closest I've gotten are online versions with people who, for the most part, I have never met in person.
And on the surface, that does sound pretty pathetic, right?
But to all you people like me who are missing out, I just want to let you know one thing. Life is so much more than cliches, so much vaster than a simple set of events. You may not be able to choose exactly the course it takes, but you can choose to make it meaningful.
What Makes Life good?
We notice those major landmarks, the high school dances and the college degrees, the weddings and the births of children. We fancy that's what life is all about. These are the accomplishments that define us, the events that bring joy to our lives, the days we live for.
But if this handful of moments is truly all we're living for, what kind of a life are we living?
What if instead of defining ourselves through a collection of cliches, we chose to love the world we see daily and find joy in the mundane?
Sure, it may not be fun to soak your hands in chicken grease serving up sandwiches for $7.75 an hour, but if you could see the people around you instead of the chicken grease, how different would your shift be? What if service truly was a pleasure?
There are human beings standing behind the counter. Find young ones hunched over the grill, old ones resting in booths, wee ones climbing over top of each other in the play place. Imagine all the stories they have to tell. Look at the expressions on their faces. What's going on in their lives?
Only you can decide how to see the world. Will you glance wistfully at statuses you'll never achieve, silently coveting carefree lifestyles? Or will you put on the perspective that enables you to see the wonder and the complexity in everyday encounters?
Christ calls us to live wholehearted, not fat-walleted or many-friended. He calls us to be filled with his compassion and contentment.
So if you want an abundant life, care about other people. Figure out what your passions and skills are. Search for the good in every situation, even when you're fully aware of the bad. Know that God is good to those who seek him (Hebrews 11:6).
Can You See the Good?
I might not go to prom, but I get to write books. I won't spend the whole summer hanging out with friends at the pool, but I am getting to visit my best friend (who just so happens to live on a instagrammable island). I don't have a boyfriend, and who knows whether I'll ever have a family of my own, but I have a God who hears my every prayer and brothers and sisters from around the world in this thing called the church. I have the privilege of getting to know dozens of those brothers and sisters through my epic, encouraging writing community.
God doesn't give me all the things I ask for, but he gives me all the things I need, all the things that keep me going and show me why I wake up in the morning. This world he made might be broken, but he makes this life worth living, every single day.
Appreciate the life you have, because you do have a life. Your eyes are turning wavelengths into pieces in a panoramic gallery literally updated with the blink of an eye. Ground rests beneath your feet, the texture of carpet between your toes. Rhythms envelope you, from the hum of the air conditioner to the rubber-soled footsteps down the hallway. It might all sound normal, but that doesn't make it any less real, any less tangible, any less complex, a mystery no physics or anatomy textbook can fully explain.
Whether we become ivy league graduates with kids or singles working fast food jobs in our hometowns, every moment of our lives is an opportunity to worship God.
We may not have everything, but we have everything we need.
Friend, let's not miss out on life.
---