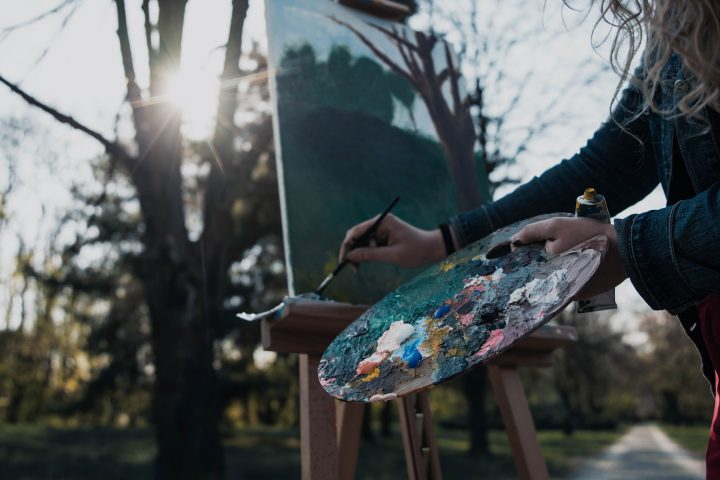 From blue crayon sketches to squeaky violin recitals to Disney murder mystery novels, hobbies have long been a part of my life. I've hated the hours of practice, hated the pieces that went in the trash, hated the wasted time. But if I could reclaim that time for another purpose, I wouldn't. In fact, I'd probably invest still more into my hobbies.
My sketches may not be featured in some New York gallery, and I'm still working for that Scholastic teen writing award. And by working, I mean staring at a blank screen and moaning at the injustice of the universe.
Still, I'm blessed immensely by these less-than perfect skills. Stripped naked of the glamor, the praise, the honorable awesomeness of perfection, hobbies are worth the unseen dedication. In fact, when I can get past the need to make my work perfect, that's when I realize the value of the process.
If you've struggled to believe hobbies matter, or your friends or family have discouraged you from pursuing them, allow me to give you a glimpse into how God has used art, music, and writing to make me a better person and be able to cope with life.
1. Hobbies Equip You to Serve
As a kid who didn't earn an allowance, I got creative with gifts over the years. Consequently, you'll find just about every person who meant something to me has received a piece of art, which may seem obscure and random, yet highly thought out in my mind.
You see, through art and music and writing, I'm able to take things I know about people, and shape these in something tangible. I'm able to say, "Look, I know you, and I'm going to make something that reflects what I like about who you are." It can be beautiful like (I hope) some of my paintings have been (okay, they aren't, but I tried), or it can be silly like the screenplay I wrote featuring my family as colossally failing contestants on the Great British Baking Show.
And presents are just one way to serve. Maybe you play hymns at a nursing home like one friend of mine does. Maybe you use geeky skills to fix somebody's computer or guide them to the best bargains on tech. Whatever your hobby is, God equips you to bless others with it.
2. Hobbies Connect You With Community
One of the most obvious benefits of writing for me has been the community I found with other teens in the Young Writer's Workshop. These people, more so than my classmates or even my church, have been my second family. We celebrate each other's wins, advise each other around plot holes, and pray through everything we deal with, from small inconveniences to life shattering losses.
Even though there isn't a Young Artists Workshop or a Young Swimmers Workshop or a Young Coders Workshop (at least not that I know of), there are sports teams and art classes and geeky clubs. And if there aren't, you can start one! As long as there are other people doing the same thing you love to do, boom, you've got yourself a group of people who share your passion, understand your interest, and can cheer you on in your journey.
Doesn't that sound incredible? If not… well, maybe you need to give it a try to find out.
3. Hobbies Help Your Mental Health
Even my solitary hobbies have helped me stay sane. Yes, there may be some temporary moments of insanity when I mess something up and don't know how to fix it, or can't make a plan and don't know what to aim for. But setting that aside for a moment, if I'm invested enough in my hobby to find my way through those obstacles, the progress and the success make up for it.
We humans were made to create stuff, to learn stuff, to have skills. When I embrace this fact and commit to channeling my free time and energy into a hobby, my brain starts to work again. It feeds me something to focus on so I don't get loss in overthinking and self-absorption. It's an outlet to express the feelings I rarely speak of in person. It's a stress-reliever, a distraction when I need to take a break from obsessing over momentary struggles.
Without writing, I'm pretty sure I would have gone insane staring at my walls for hours on end throughout middle and high school. Especially if you have and/or need lots of alone time, it's better to spend some of it with a good hobby than just your unharnessed thoughts, or, worse yet, pointless social media scrolling and random google searches.
4. Hobbies Are an Opportunity for Growth
Just to be clear, pursuing a hobby seriously enough to not give up on it takes a whole. lot. of. work. It means hours of practice, hours of research, hours of performance for an audience normally ranging from 0-5 people. Most of the time, your understanding will feel dream-squashingly inadequate and your abilities will fall unbelievably short.
But if you're willing to keep working for progress rather than perfection, you will grow. I could not have written a full length novel without figuring out how to dedicate time and energy from my daily routine to make it work. And it may be a trash novel, but now I can sit down and write a 5-7 page paper for my college classes in an hour or two after I've found my sources. I can sort through my problems and projects, academic or personal, with a big picture perspective, and make a plan to succeed.
Writing, my primary hobby, has taught me dedication I never could have found in myself otherwise. It's pulled out the best parts of my character, perseverance and problem-solving which are essential for adulthood, and showed those traits how to bloom. God has used my hobbies to make me a way better person than I would be without them.
5. Hobbies Bring Glory to God
Hobbies bless us in many ways, but our highest calling is to worship the Lord, with our hobbies just as with our lives. Bezalel, an Israelite designated to build the tabernacle, illustrated this in the most literal way. Regarding his role, Moses said,
"See, the Lord has called by name Bezalel… and he has filled him with the Spirit of God, with skill, with intelligence, with knowledge, and with all craftsmanship, to devise artistic designs, to work in gold and silver and bronze, in cutting stones for setting, and in carving wood, for work in every skilled craft. (Exodus 35:30-33)
We might not be appointed to build a beautiful place of worship for the Lord to dwell in. Yet from this instruction, we see how God equipped individual people, temple builders and twenty-first century Christians alike, to worship him in beauty. We know he reigns over all the earth, and both we and our skills belong to him.
So with our hobbies, as we observe and imitate the intricate world he's made, let's worship him. Let's work hard and seek his blessing on our work, and let's celebrate the hands we have to work with and the minds we use to think.
Let's make soli deo gloria not just a cool Christian cliche, but the true anthem of our creativity, our hobby pursuing, and the story of our lives.
---