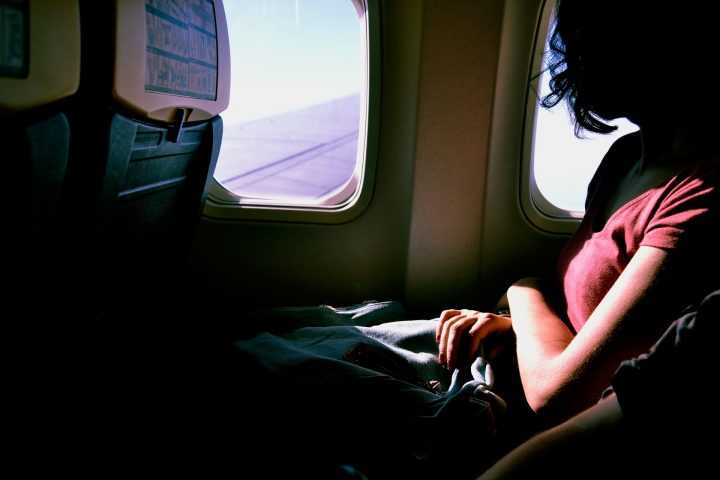 My flight was scheduled for mid-afternoon at the Miami airport. I spent the morning in a coffee shop, where I ordered a large latte, full of that dark magic called caffeine. Bad decision. Twenty minutes later, I felt like I was going to lose my breakfast, I was so tense even breathing hurt, and the only way I could think of to cope was curling up in my seat and closing my eyes, just as the lunch rush bustled in the door.
I've written a lot over the past couple years about my weakness and God's strength. I guess that's because God keeps telling it to me, again and again. He won't let me forget how much I need him every hour of my life, no matter what it takes to hammer that into my head. I cannot get myself to the right airplane gate, much less the narrow gate that leads to heaven.
I need God, and I need to know how much I need him. My weakness, my fear, and my failure bring me to my knees. Only there can I start to get the gospel on a practical level and to appreciate the fellowship I have with him through Christ.
I need God, and I need to know how much I need him.
Click To Tweet
You see, all throughout Scripture, God has made this one promise to his people, a promise he led them through a wilderness and sent them into exile to drive into their brains. Likewise, when all the craziness in my world and my mind blur together into nonsense, he prepares my heart to hear his voice.
I am with you.
Maybe you've glanced over it in your Bible reading just like I have so many times. Or maybe you've struggled to believe it's true, or to trust such an abstract claim.
So what does this promise really mean? How does it apply to me, right here, right now, in the mess of my life?
1. God Blesses Me
If you look at the old covenant, God's presence is always tied to tangible blessings for his people. We as new covenant Christians shift our hope to a heavenly inheritance rather than earthly prosperity. Nevertheless, God's blessing has a purpose in our lives on earth.
God's presence is the power that shapes us into the image of Christ. As his Spirit renews our souls, we learn to trust his providence at work in our lives.
Even on the worst days, the "TSA thinks you might be a terrorist so please wait as your hands are tested for explosives" days. God gives me friends to text-rant to, reminds me I left my laptop at security before I board the plane, puts nice people nearby to show me where I need to go.
Our sinful hearts are tempted to brush God's blessing aside as coincidence, ordinary, or less than we deserve. Yet if we believe the gospel, we know every good thing in our lives is grace, infinitely better treatment than the hell we truly deserve.
And while every human benefits from God's grace, it takes a saving grace to turn us from enemies of the cross into humble subjects who rejoice in the favor of their King.
God hears my prayers, cares about my suffering, helps me in my struggling. And because of this redemptive grace, my entire perspective should change. I don't deserve any of his goodness, and yet day after day, he lavishes it on me.
"Fear not, for I am with you; be not dismayed, for I am your God; I will strengthen you, I will help you, I will uphold you with my righteous right hand." Isaiah 41:10
2. God Leads Me
We humans make a million mistakes.
Not to knock counselors, older people, pastors, etc. (whom God may use), but God himself is the only infallible source of wisdom and direction. Other humans will never do the job God can, because we are finite and short-sighted. He, on the other hand, sees all of eternity, laid out by his own hands.
Even as God lets middle-class American me make my own detailed life-plans, he does set parameters. For example, whatever I'm doing should honor God. And if it is going to honor God, it must fall in line with his values, his directives. I must love others before myself, speak truth no matter what, and let my actions prove worthy of what short time I have in this life compared to eternity.
Oh, and if my well-meaning life plans happen to be a bad idea, or God has a better idea of how
I should spend my life, he will not hesitate to give and take away opportunities to redirect my path. He will do what he wants with my life, whether I see what he's doing or not. No audible voice from heaven necessary.
There is no danger in turning the wrong way when we are led by the Word of God. No matter where we end up physically, geographically, or vocationally, God can and will accomplish his purpose in us.
With this big picture in mind, we don't have to worry so much about our daily mishaps and terrifying adventures. We can never lose God or be lost by him, nor can we step off the path to heaven. This eternal security brings ultimate peace to our souls.
"The Lord is my shepherd; I shall not want. He makes me lie down in green pastures. He leads me beside still waters. He restores my soul. He leads me in paths of righteousness for his name's sake." Psalm 23:1-3
3. God Befriends Me
God dwells in unapproachable light; he is the King of Kings, the Sovereign Lord (1 Timothy 6:16). To say God is my friend with nonchalance would completely undermine the whole point of who he is and why he would reveal himself to me.
And yet, with humility I do say it.
Through the person and work of Christ, if we know and hear and follow him, we are no longer servants but indeed, he calls us "friends" (John 15). We have a relationship with him, an intimate relationship. A personal relationship.
God is the one I can turn to in a Miami airport bathroom (and trust me, you do not want to be there.) He's the one I can pour my most weird, personal thoughts and fears out to and know he isn't squirming in his seat. He made my body, he made my mind, he made my soul, and he is so compassionately looking out for me. He hears me and he knows me and I am fully known and loved by him.
If I write about loneliness, it's because God has taught me the hard way how much better he is than any friend. If I urge you to place your identity in him, it's because he is the only source of worth that doesn't ring hollow. If I offer up Christ as the answer to anxiety, depression, and every source of pain, it's because he has comforted me as nothing else could.
God is with me. This is the promise God won't let me forget, the truth that will never run dry. Turn to him, trust him with your everything, and he will never forsake you.
"My sheep hear my voice, and I know them, and they follow me. I give them eternal life, and they will never perish, and no one will snatch them out of my hand." John 10:27-28
---