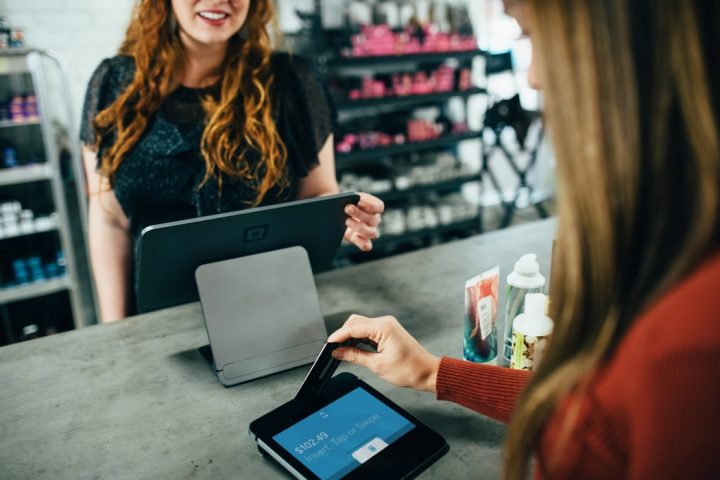 Cowering behind a register in my dull teal Food Lion uniform, I feel like I'm failing pretty miserably at changing the world.
I see a dad telling his five-year-old daughter it's okay to be sad, then he starts crying as he explains their dog died that day and my own eyes start to burn. I see white-haired ladies struggling to lift their groceries out of the cart and some of them tell me about the husband or son they left in the hospital and I wonder how they can manage on their own. Most of all, I see middle aged women with their earth-saving reusable bags, buying wet food for their shelter kitties, and old men who can't hear me when I ask them how they're doing.
For all I see, I don't do much of anything. Scan, bag, scan, bag, call for assistance because deli didn't put a price on the potato salad carton, print the receipt, repeat. All I do is help people pay for their groceries. How on earth could I make that matter?
I'm the type to over spiritualize things, to make every adventure a special monument of providence. At this very moment, I'm sitting at the Cincinnati airport condemning myself for not having said hello to the little old lady sitting by herself at the next table over in this food court. I don't know how far is too far or not far enough when I should be reflecting Christ to the world. No matter how many times I try, I feel like I'm getting nowhere.
But I do know this: Christlikeness has to start somewhere. It has to take hold of our lives to the degree that we look like him no matter how quick a glance others are taking. It should start with a seeable, tangible identity.
If we want to tell people about Jesus, we have to show them who he is. And if we want to show them, we have to know him first ourselves, and to be transformed by the knowledge of him.
Who Was Jesus?
Jesus must be our everything. His Spirit must be in us, his word must counsel us, and together they must wring out all the sinful muck in us so that we might be doused in and filled by the purifying fullness of Christ. The gospel changes who we are and how we think, overwhelming us with compassion for the lost, love for our spiritual siblings, and an all-encompassing awareness of our need for Christ. All of our need for Christ.
We can not change the world without Jesus. Only he can put life into the message we preach and give us life in the first place. He is the vine and we are the branches; anchored to him we can reach out to the lost, but without him we ourselves our lost. Without him, we can do nothing (John 15:4-5).
You know the fruit we're called to bear if you've ever read the New Testament or sat in Sunday school. "Love, joy, peace, patience, kindness, goodness, faithfulness, gentleness, self-control" (Galatians 5:22-23).
It's a tall order, right? And when I say tall, I don't mean the ironic name for a .0263 ounce latte at Starbucks. The fruit of the Spirit bothers me. It's easy enough to rattle off, but how often do we actually live it? What does that even look like for me and for you? What does that look like as a cashier in a small town grocery store?
Christ set aside heaven to break into our prison and die the death of a criminal. He came to heal the broken, to speak and work and eat among both beggars and tax collectors, who stole money from their neighbors in the name of a foreign empire. He touched the scaly, infected, contagious skin of lepers and spoke to adulteress women below the bottom of the caste system.
Instead of spitting on blatant sinners for their offenses, he spoke mercy upon them, mercy made possible through a cross and an empty tomb (John 8:11, Luke 23:34). He conquered hell and faced the wrath of God to give these beggars life.
How Can We Be Like Him?
Kindness: Being generous, friendly, and considerate, according to the top definition on my google search.
Yes, the greatest word for the gospel is love, but if any word can pin down the expression of love, it's kindness. Radical, giving-of-oneself kindness.
Kindness matters. Flowing from a love for Christ, our kindness reflects him on this earth. No matter how brief the encounter, no matter who receives it, we can and must shine kindness through it. Without love and its expression, we are nothing (1 Corinthians 13:2). Without visible transformation, we claim the gospel void in our lives.
People need to hear the gospel. It's more than a 45 second spiel, more than we may be able to explain in the amount of time it takes to ring up a bag of chips, and far more than we could force into anyone's heart by our own will.
Kindness is a place to start. It is not the whole gospel, but it demonstrates the gospel. It tells people we love them, and if God gives the opportunity, it forms the basis for us to talk to them about God's love.
In its own right, kindness deserves a regular place in our lives. When our hearts are geared to love others, our hearts are closer to the heart of Christ.
So let's be kind. Let's spread smiles and ask people how their day has been and even pray for them when the time is right. Let's be gospel-shaped people so when God brings opportunities to our classroom, our homes, or our cash register, we can speak the gospel as we live it. Let's be fully aware of the kindness God has shown to us in Christ, that while we were enemies, he made us his friends (Romans 5:6-11).
We can't change the world, but we can change our own attitude.
Even if it seems simple and insignificant, we are responsible for the way we treat others. We are called to kindness.
"He has told you, O man, what is good;
and what does the Lord require of you
but to do justice, and to love kindness,
and to walk humbly with your God?" (Micah 6:8)
---