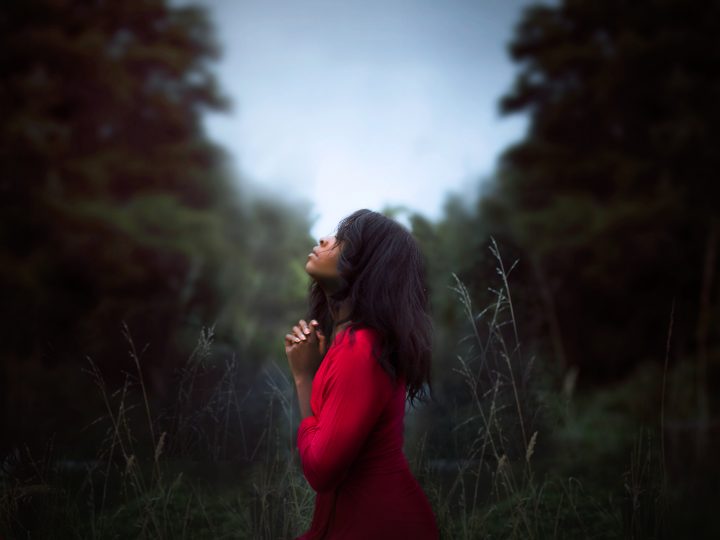 Exhausted, I tripped through the door of my cabin, made a bee-line to my bunk, and collapsed. It was my third week working at a Christian camp in Ohio, and my battery had simply run dead. Three weeks of 6-hour nights, 90-degree days, and bubbling with energy unknown had caught up with me. I was a wreck, and in need of a major refresh—physically, mentally, and spiritually.
In between listening to campers recite Bible verses and dealing with disciplinary issues, I was crying out to God for more strength. I couldn't do it anymore. Without questioning, my sweet co-counselor whisked the campers out of the cabin and down to swim time, leaving me to rest.
My thoughts were scattered as I lay there in the silence. I knew that sleep wasn't going to come. God, I need your strength. Please give me strength, I pleaded. I began praying about anything and everything that came to mind. 45 minutes passed. I'm pretty sure the innocent counselor that knocked on my door thought she saw a ghost when I answered!
When I finally left the cabin to open the gift shop for the campers, relief flooded me. I hadn't necessarily gained any sleep, but way more important than a physical refresh was the spiritual refresh I received.
How often do you sit down and pray for an hour at a time? Yes, you read that right—a whole hour. It may sound daunting at first, but trust me, it's worth it!
Spending large chunks of time in prayer has taken my walk with God to the next level. I haven't necessarily seen the shockingly-quick answered prayers that you hear about in missionary stories, but I've seen a transformation in my own life. Without fail, I am spiritually refreshed and my faith is deepened. I know God is listening because I can see him working in my life.
Young person, if you want to do a hard thing, than spend some serious time on your knees. If you want to change to world, there is no better place to begin than with prayer. Here are some practical ways to make this happen:
1: SET ASIDE TIME
Your prayer time doesn't necessarily have to accompany your normal devotional time. For me personally, a lot of times evenings work better for dedicated prayer time. It may be different for you. Whatever time works best, make sure that time is set aside especially for prayer. Having a designated, pre-planned time will also help you prepare your heart.
2: COLLECT REQUESTS
I have a yearly tradition of staying up till midnight on New Year's Eve, ending out my year by spending time with God. I text my friends and ask for their requests so I can bring them to God during my prayer time. If you've set aside a specific time for prayer (see above), collect requests from your friends in advance.
3: REMOVE DISTRACTIONS
Put your phone on silent, or better yet, leave it in a different room. Satan will try to distract you. Take care to make sure that potential stumbling blocks are removed.
"Be sober-minded; be watchful. Your adversary the devil prowls around like a roaring lion, seeking someone to devour" (1 Peter 5:8).
4: START WITH WORSHIP
Worshipping through song is something I have been working on incorporating more into my time with God. Worship is also a great way to prepare your heart. Create a playlist of calm, peaceful music for worship, or accompany yourself if you play an instrument.
"Sing praises to God, sing praises! Sing praises to our King, sing praises!" (Psalm 47:6)
5: USE A JOURNAL
My prayer journal has been a huge help in keeping me focused in prayer, as well as recording requests and answered prayer. Write down your requests and refer to your list as you pray. Make sure to check off requests that were answered!
6: COUNT YOUR BLESSINGS
Spend some time thanking God. Sometimes walking around during this part of your prayer time is helpful, as you can search for things to thank God for!
"Enter his gates with thanksgiving, and his courts with praise! Give thanks to him; bless his name!" (Ps. 100:4).
7: WRITE OUT QUOTES ON PRAYER
Below are some of my favorite quotes on prayer. I find it beneficial to copy out quotes like these into my prayer journal; they motivate me to take prayer seriously.
"If you are serious about your relationship with God, you will find serious time to pray." -Bill Hybels
"He who is too busy to pray will be too busy to live a holy life." -E. M. Bounds
"Is prayer your steering wheel or your spare tire?" -Corrie ten Boom
"Leave it all in the hands that were wounded for you." -Elizabeth Elliot
"It is not a matter of time so much as it is a matter of heart; if you have the heart to pray, you will find the time." -Charles Spurgeon
FINAL THOUGHTS ON PRAYER
"Watch and pray that you may not enter into temptation. The spirit indeed is willing, but the flesh is weak" (Matthew 26:41).
Prayer is a spiritual warzone, not a walk in the park. It's not easy! Although the devil will try and persuade you otherwise, it is absolutely crucial that life's battles are fought on your knees. Temptation is strong against prayer, but prayer is strong against temptation. Things happen when God's people pray!Temptation is strong against prayer, but prayer is strong against temptation. Click To Tweet
"Therefore, confess your sins to one another and pray for one another, that you may be healed. The prayer of a righteous person has great power as it is working" (James 5:16).
---