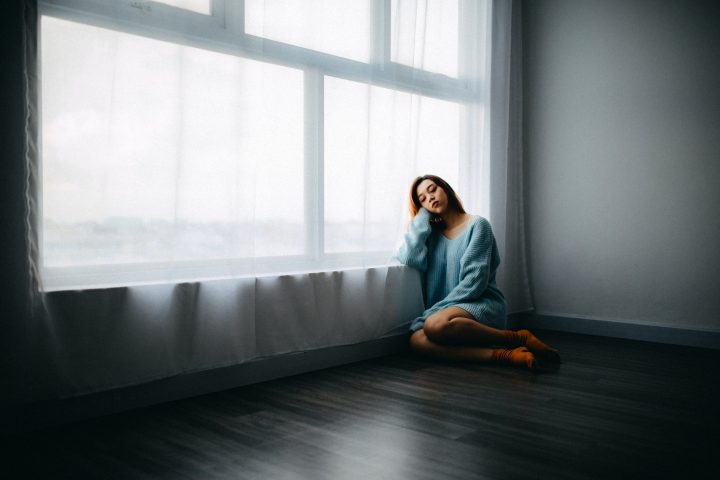 This time of isolation, quarantine, and illness has brought on or exasperated depression and anxiety for many of us.
The rising death toll, the extended quarantine with no real end date, the cancellations, the daily rhythms disrupted, the relationships cut off with no warning. They seem to be piling one upon the other, in an ever-growing burden.
If you don't already have depression or anxiety, many people may end up being diagnosed due to the traumatic events of this season.
But how do we deal with depression and anxiety? Those who have been diagnosed know that it is a daily battle—but it's usually a battle that starts in the mind.
Most people battling a mental illness (actually, all of us) spend a lot of time listening to themselves.
You take note about how you feel. You listen to those thoughts that spiral you into a panic attack or into that dark place. You hear the lies and repeat them to yourself.
You list off all of the things in your life that are bringing stress and worry. You go down the rabbit hole of fear and can't find your way back. You repeat bad scenarios in your head. You lament about your life and your appearance.
You listen and let them consume you.
There is a way out of this–and it is imperative that we start practicing this in the midst of such a trying time.
We must start talking to ourselves instead of listening to ourselves.
Addressing Negative Thoughts
The first step in talking to yourself instead of listening to yourself is to address your negative thoughts.
Call them out.
I've had conversations with friends when they have shared the lies they believed about themselves—I'm ugly, no one loves me, I don't measure up—and I was the first person to tell them they were lies.
Most people wholeheartedly believe these things about themselves until they come face-to-face with the real truth.
We must address these negative thoughts. If you start believing the lies that lead you to a dark place, stop and call them lies.
If your mind starts to wander to the worst possible scenario, stop yourself and recognize what you're doing.
If you start to make a list of everything that's bringing you stress and anxiety, notice where that list is leading you.
If you listen to the news and it takes you to a bad place, recognize what's happening and turn it off.
You must be able to recognize the negative thoughts to call them out as they are: lies, darkness, worry, defeat.
As you start to recognize the negative thoughts, you're going to realize how often they control your thinking. And then you'll want to do something about it.
Speak Truth to Yourself
Now it's time to talk to yourself.
"For though we walk in the flesh, we are not waging war according to the flesh. For the weapons of our warfare are not of the flesh but have divine power to destroy strongholds. We destroy arguments and every lofty opinion raised against the knowledge of God, and take every thought captive to obey Christ" (2 Corinthians 10:3-5).
You do not need to fight your thoughts with your own strength. You do not wage war against your mental illness on your own. We have been given divine power to destroy strongholds—and that includes the strongholds of our thoughts.
We have weapons: the Holy Spirit and the Word of Life.
It is not enough to call out lies or negative thoughts, we must take our thoughts captive and make them obedient to Christ by speaking truth to ourselves.
David actually went through a period of depression and wrestling with his thoughts in Psalm 42:
"My soul thirsts for God,
for the living God.
When shall I come and appear before God?
My tears have been my food
day and night,
while they say to me all the day long,
'Where is your God?' " (Psalm 42:2-3)
He was in deep darkness. His soul was thirsting for God. But something happened in the next verses:
"These things I remember,
as I pour out my soul:
how I would go with the throng
and lead them in procession to the house of God
with glad shouts and songs of praise,
a multitude keeping festival.
Why are you cast down, O my soul,
and why are you in turmoil within me?
Hope in God; for I shall again praise him,
my salvation and my God.
My soul is cast down within me;
therefore I remember you
from the land of Jordan and of Hermon,
from Mount Mizar." (Psalm 42:4-6)
David started speaking to himself.
He recognized what he was feeling, but then he spoke to himself. He reminded himself of who God is and what He had done in the past. He willed himself to hope in God. He recalled the faithfulness of God.
Recognize the despair you feel, but then recall God's faithfulness and remind yourself that you will see it again. Tell yourself what is true.
Stop listening to yourself and start speaking to yourself. Flood your mind and heart with truth. As you do, God will destroy the strongholds in your mind that have stolen your freedom and joy.
Knowing and Memorizing Truth
This is why we must not simply use one-minute devotionals to read the Bible. The Bible is our word of life, our sword in a spiritual battle (Ephesians 6:17). No soldier would head into battle without a weapon, yet we often head into our days without time in the Word.
We wonder why we can be so easily taken down by dark thoughts—but what does our Bible study look like?
We must spend consistent time in the Word. We will not skip this time if we believe that it is our source of life. It is alive and active and we must treat it that way.
We study it, memorize it, write in on our hearts, listen to it, know it, talk about it with others. It is our weapon given to us to destroy the strongholds in our minds.
Don't know how to do that? Transformed by Truth is a great book to help you start to study the Bible for all it's worth.
When You Can't Fight
This all sounds great in theory, but what about the times when you're too weak to talk to yourself? What about when you're so overtaken by anxiety that you literally can't move?
I've been there.
This is why God commands us to be in community with one another.
When you are unable to make your thoughts obedient to Christ; when you can't even read your Bible; when the lies are too loud that you can't even think—reach out to a friend.
Talk to a friend who knows truth and will speak it over you. Ask that friend to be the person who you can go to—day or night— when all you can do is listen to yourself.
Your friends will pick up the Sword of the Spirit and fight for you.
And during this time when friends seem far away, find consistent ways to stay connected with a few friends or family members so that they can continue to fight with you. They can speak truth over you, they can read scripture to you, they can worship with you, they can encourage you, they can speak of when they've seen the Lord's faithfulness in your life.
While all of this will not necessarily cure anxiety, depression, or other mental illnesses, this is a way to fight. The reality is that God has given us other options to help us deal with mental illnesses. We are made up of both body and spirit, and there are things we can do for both to deal with our struggles. Just like I take medication and combine it with lifestyle changes to alleviate symptoms for a chronic illness that cannot be cured, some of those battling mental illnesses will take medication while practice speaking truth over themselves to alleviate symptoms—but not necessarily cure it. Praise God for all the ways he can give us strength in our weaknesses.
You've been given everything you need in Jesus. Talk to yourself.
Don't wait. Let's start now. Let's come together. Let's join in the fight for truth right now by sharing scripture in the comments section below to give our friends words of truth and encouragement. Lets flood this space with the Word of God given to us.
---