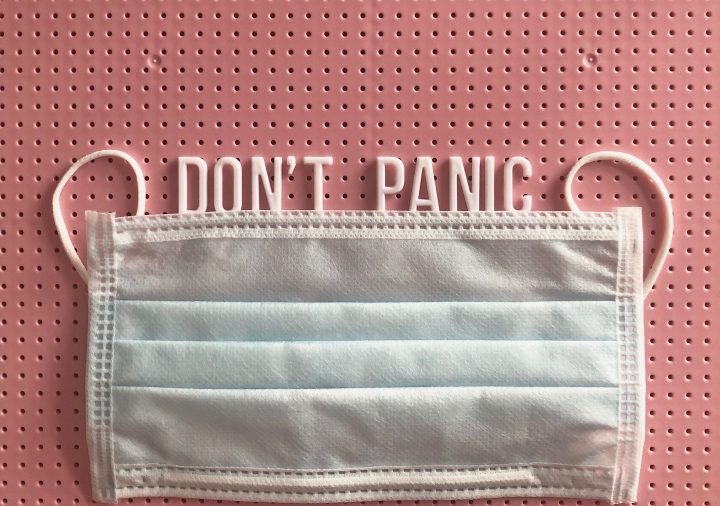 With a worldwide pandemic quickly racing across the nation, anxiety, stress, depression, sickness, and chaos are at an all-time high. Since the 2019 initial coronavirus outbreak, a threat in China has now exploded globally, including in the United States.
All it takes is a simple trip to your local grocery store to tell you that we as a society are not handling this chaos well. Like a zombie apocalypse just waiting to happen, humanity is fighting over toilet paper, while treating others as if they were the infectious virus themselves. But is this truly what God calls us Christians to do in such a troubling time? Of course not!
Though these unprecedented times are upon us, treating those around us with humility should not be a matter of question. Instead, we should rest in the art of losing control and letting go.
It Was Never In Your Control
It is evident that losing control is something we all have or will someday face. Especially during these crises, many are seeing the normalcy of "control" ripped from their fingertips. Left without work, learning from home, or learning to adapt to cooking because all the restaurants are closing, this social isolation is quickly becoming modern normalcy, even if we'd rather wish it wasn't.
But you know what the beauty is of losing control? Learning to let it go as you leave it in the Father's hands.
When we lose control, we get scared. We think, "If I don't figure out this uncertainty, how can I move forward?" We become paralyzed in our mindset of "We have to figure this out right here, right now," as if we were the ones controlling the events around us. Our minds race in anticipation as anxiety rises and confidence plummets, for "I have control issues" has never been clearer than now.
But my friend, today, I want you to know that there is freedom in losing control and letting go. There is a victory in allowing He who formed and crafted you with a specific plan and purpose to finish it out to completion, even when the enemy tries to thwart your plans. A bright hope and beautiful future are still in the Creator's plans for you, for He withholds no good thing from us and is faithful until the end.
Listen to God's Promises
I know that right now, your world is turned upside down.
Many of you are spending too much time listening to the mass hysteria consuming your thoughts than Jesus and His Word (myself included).
Even more of you are distraught at the thought you'll never get to see your friends again at school or college, or walk across that stage to receive the diploma you worked so hard for (and I am so sorry).
Fewer of you are freaking out that you will get sick and die of this virus.
Not enough of us are staying level-headed and trusting God to figure this whole mess out.
In Romans 8:28, Scripture confidently reminds us that the God who created us knew what we would go through even before our first step on this Earth. Yet, in recognizing these plans, He promised to fulfill the good work in our lives. "And we know that for those who love God all things work together for good, for those who are called according to his purpose" (Romans 8:28).
And though often over-quoted, Jeremiah 29:11 reaffirms this promise: "For I know the plans I have for you, declares the Lord, plans for welfare and not for evil, to give you a future and a hope" (Jeremiah 29:11).
Amid these stormy seas, troubling winds, and universal madness, rest in the promises and sovereignty of losing control and letting go. For at the core of losing control is realizing how little power you have over your life, but how the majestic splendor of God is orchestrating every single event with our best interests in mind. And in that losing control, we're able to let go, knowing that all He ever called us to be was still before Him as He settled the waves (Psalm 46:10).
Trust God's Control
Friend, I know that what is happening right now is terrifying.
I, too, have lost countless hours of sleep freaking out and grasping for control that was never mine to have in the first place. But if anyone can bring beauty out of this raging storm, I know it is my God.
Do not let your heart be troubled. Trust the one who asks you to lose control of thinking you have it all figured out and let it go directly into the palm of his hands–his hands which hold yours.
The joy the Lord can be your strength today (Nehemiah 8:10) as you cast your cares on Him (Psalm 55:22) and believe that He holds eternal control.
Here on Earth? He holds control.
Up in Heaven? He holds control.
Within our hearts? He asks us to release, submit, surrender, and let it go because He holds control.
Even with the T.V. Screens blaring,
Even with radio reminding us to wash our hands,
Even with social media discouraging us that hope will never come–God is still in control.
He's still in the business of taking this nation back.
He's still in the industry of fighting for us.
He's still in the pursuit of loving His people until the end of our days.
Even greater than the voices that haunt us.
Even higher than the fear that paralyzes us.
Even more than the control urges us to grasp with flailing limbs like we have the power.
Trust the promises, friend. I'm praying for you.
---