In Case You Missed It:
TheReb's Katherine Forster has put together a playlist to listen to during the quarantine. And Sara Willoughby has written a terrific article about maintaining purpose during COVID-19 quarantine.
Isolation is separating those with confirmed infections from other people, so that they can get better without infecting anyone else.
Quarantine is restricting the movement of, or isolating, people who might have been exposed to an infection but who aren't yet sick.
Social distancing refers to a slew of tactics meant to keep people from congregating in large crowds, to slow the spread of a virus (Vox).
The News
#1 Space News
Before we jump into Coronavirus stuff, I wanted to talk about one of my favorite subjects: Space. [Queue voice of Jean-Luc Picard.]
This coming Saturday, April 11, marks the 50th anniversary of Apollo 13. Apollo 13 was supposed to be the third mission to land on the moon, but due to some mechanical failure, they weren't able to and instead had to travel around the moon.
The trip around the moon was hard but they all survived the extended improvised trip. They even made a movie about it (released the year I was born) that starred Tom Hanks and everything.
Speaking of Tom Hanks, he and his wife Rita Wilson have recovered from COVID-19 and returned home from Australia, which is terrific news for a world that needs it.
Speaking of COVID-19, let's jump into some of the news items.
Coronavirus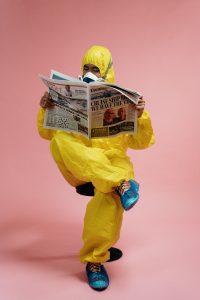 #2 COVID-19 Numbers
There are 1.4 million confirmed cases of COVID-19 worldwide and 80,000 deaths. In the US, nearly 400,000 people have been confirmed infected. For perspective, when I first started doing these updates about 3 weeks ago, there were 240,000 cases worldwide. The UK has 52,000 confirmed cases; Canada has 17,000; and Australia has nearly 6,000.
#3 The Prime Minister of the United Kingdom Boris Johnson had tested positive for COVID-19 and was moved to intensive care yesterday, according to the BBC.
#4 The CDC has changed its guidelines slightly and is now recommending that we wear masks anytime social distancing is difficult, like at grocery stores or while using something like public transport (see also CBS)
#5 Some Lovely News: According to CNN Business, "Two insurers — Allstate and American Family Insurance — announced Monday they will give back about $800 million to their auto insurance customers because people are driving far less during the coronavirus crisis."
#6 One way we as young people can serve those older than us during this time of isolation is help them know how to use digital devices. Likely, you're a little better at navigating the internet and digital media than your parents or grandparents. Now, you can help them stay connected by teaching them the in-and-outs of technology and we can love them by being patient and kind when it doesn't make sense.
#7 A 21-year-old college student named Ashley Lawrence has designed some face-masks for the deaf & hard of hearing (Good News Network). Sitting at home from school watching others make face masks, Ashley felt like she should do something for those who use sign language (which rely's heavily on facial expression and lip reading) to communicate. So she designed a see-through mask.
---