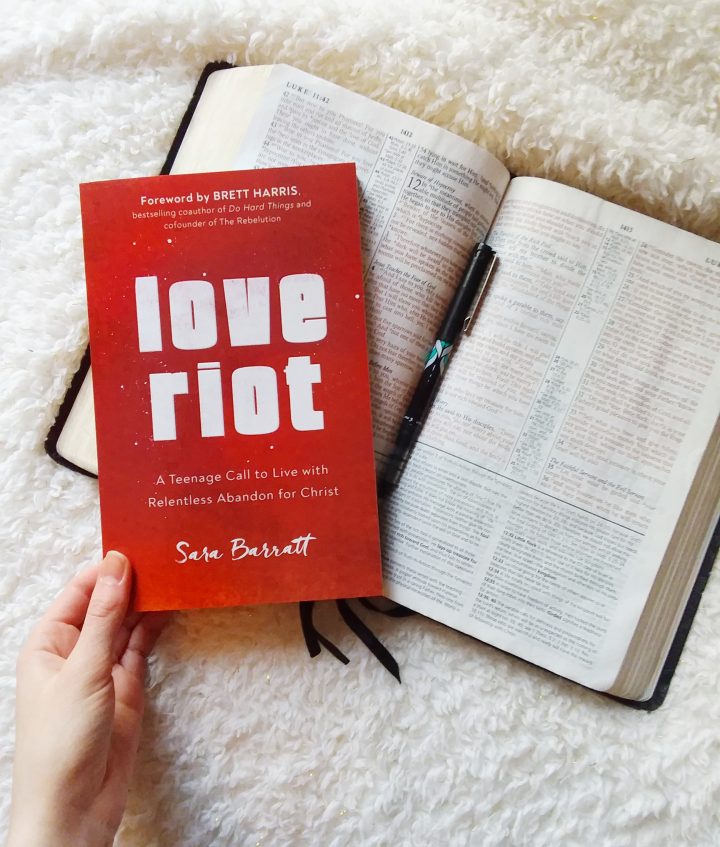 Young man. Young woman. God wants you to seek Him. To seek Him earnestly.
Oh… but there is so much to do!
There are band practices and dress rehearsals, piano recitals and soccer tournaments, friends to visit, movies to watch, and games to play. There are grades to consider. Essays to write. Scholarships to earn.
And let us not forget the great things we must do for God. Youth group events. Short-term missions trips. Countless opportunities to volunteer and serve. There is always more that should be done… that needs to be done.
But busyness is not the same as fruitfulness.
In the Bible, Luke tells the story of two sisters who received a visit from Jesus Himself. Mary, the younger sister, chose to sit at Christ's feet and listen to His teaching, while Martha was "distracted by much serving" (Luke 10:40).
Eventually Martha complained to Jesus, saying, "Lord, do you not care that my sister has left me to serve alone? Tell her then to help me."
But Jesus replied, "Martha, Martha, you are anxious and troubled about many things, but one thing is necessary. Mary has chosen the good portion, which will not be taken away from her" (Luke 10:40-42).
Might Jesus say the same to you, modern teenager?
"You are anxious and troubled about many things, but one thing is necessary."
And perhaps, maybe, in His infinite wisdom and goodness, Jesus has taken away your band practices and rehearsals, cancelled your recitals, tournaments, closed your school, and kept you at home long enough to say… "All these things are good, but none of them are necessary. Choose the better portion. Come sit at my feet."
I am worried that this shutdown will end and millions of Christian teens will simply return to life as it was before… blindingly busy, with no time to sit with Jesus. What a waste that would be. What a missed opportunity to reconnect with what matters most.
My Pick For "Book Of The Year"
I want to propose a solution in the form of a book.
It's called Love Riot: A Teenage Call To Live With Relentless Abandon For Christ  and it is a practical field guide to seeking the Lord with all your heart as a teenager.
Love Riot is like Do Hard Things meets Crazy Love by Francis Chan (with a bit of Radical by David Platt mixed in). It's a book written for Christian teens by a Christian teen. And it's a bold call for a revolution, a holy uprising… or as the author puts it, "A love riot."

I can heartily recommend this book to every teenager, pastor, parent, and youth worker. It is my official "Book Of The Year" for Christian teens, with nothing else coming close.
If I could pick one book, one topic, and one time where that book and topic were most needed… I would pick this book, this topic, and this time.
Here are some early reviews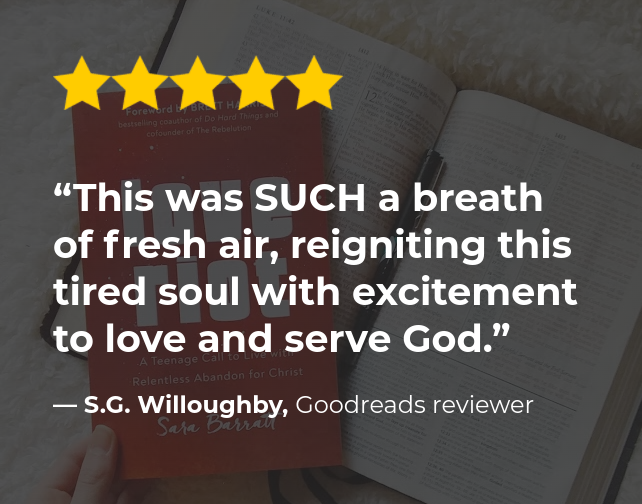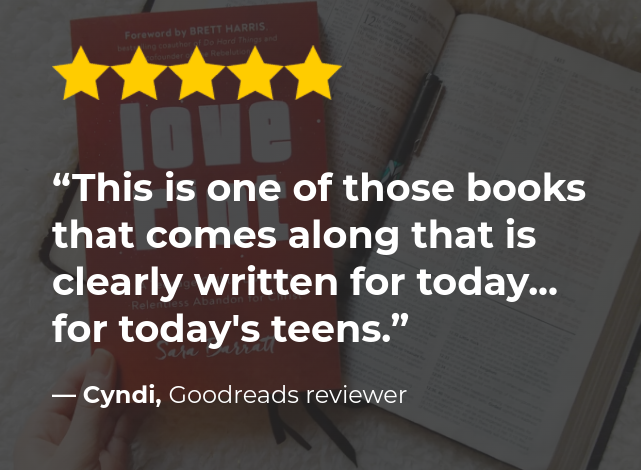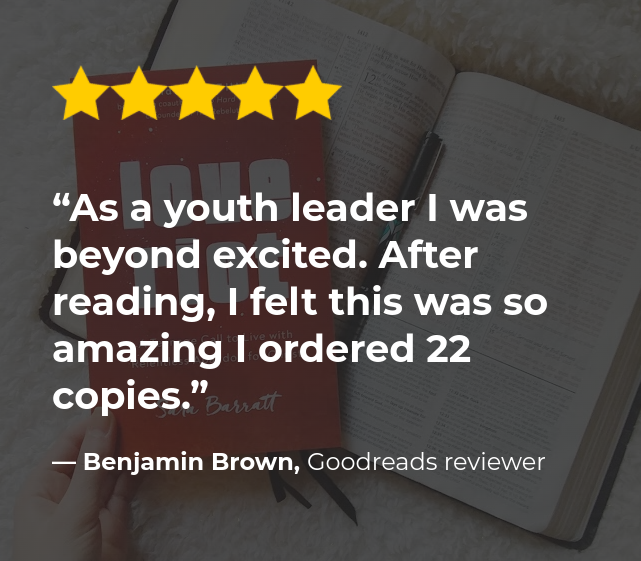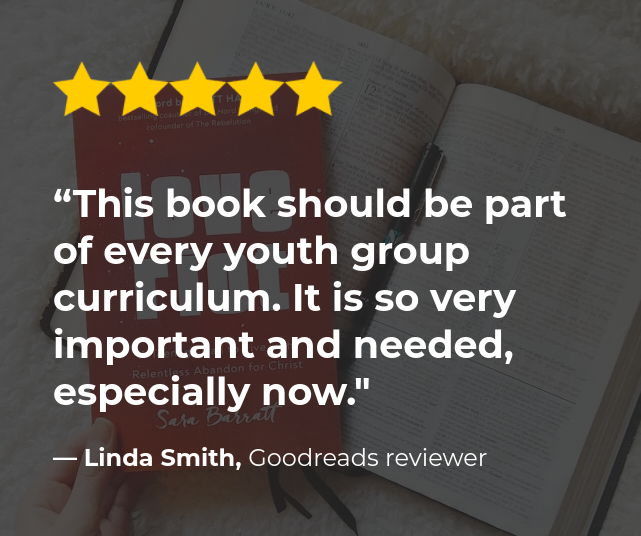 Here's what Kyle Idleman, pastor and author of Not A Fan, has to say about Love Riot:
"Sara Barratt wants to start a riot. An uproar. A disturbance for Jesus. She is actively driving and motivating her generation to live with reckless abandon because of God's great love. Undoubtedly, when you read, you will be captivated by her unrestrained outburst of irresistible faith."
This is what young people need more than anything — a captivating, irresistible call to seek hard after Jesus and reject spiritual apathy and low expectations once-and-for-all.
That is why I agreed to write the foreword to this book (which I rarely do) and why my wife and I provided in-depth feedback on the manuscript (which Sara graciously accepted).
If you are a Christian teenager hungry for more of what really matters. Or if you are a parent, pastor, or youth worker who longs to see revival among our youth. Get this book.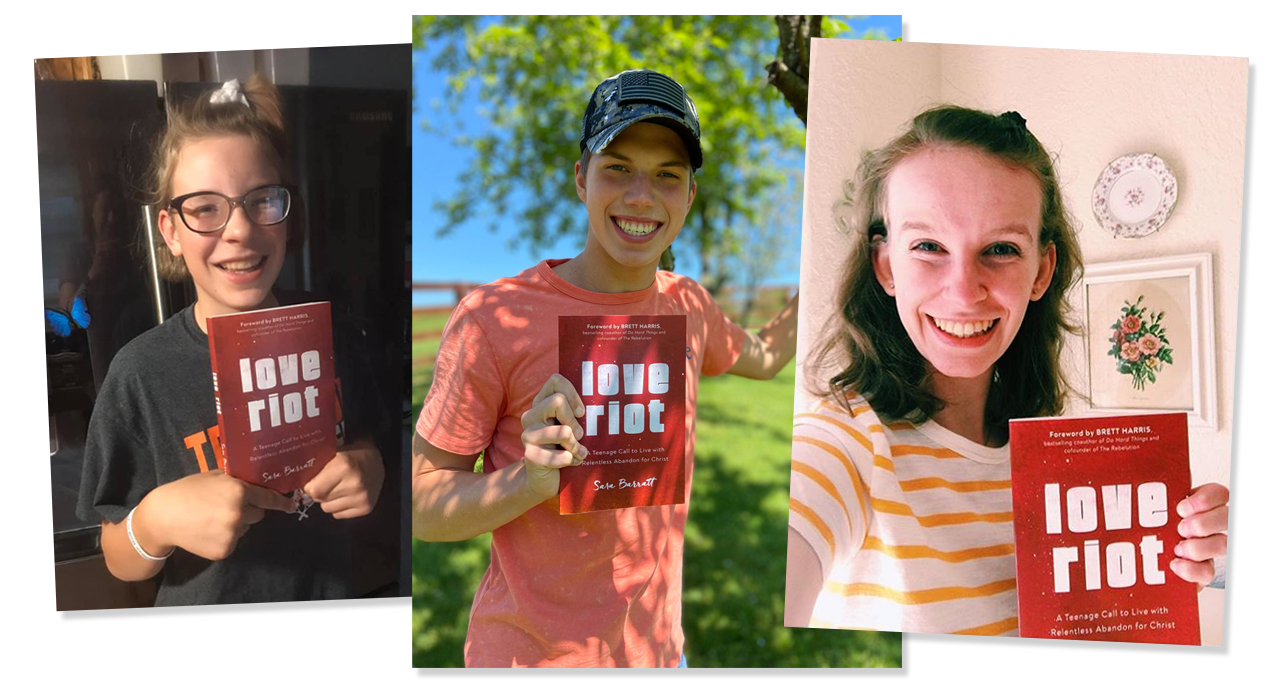 If you order a copy by this weekend (from any retailer) you will receive the FREE leader's guide and video series (perfect for small groups, youth groups, or personal study).
The deadline to receive the free resources is Sunday, May 10th at 11:59pm EST.
Get the book today