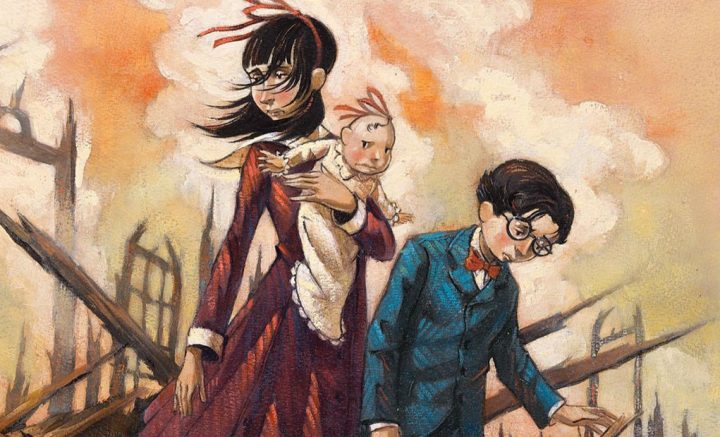 Editor's Note: Here at the Reb, we want teens to engage culture with a biblical perspective. One area of culture we all participate in is entertainment. Should Christians watch movies? How should Christians view entertainment? Can we use it for God's glory? These are questions we believe should be considered and answered. With that in mind, the Reb will occasionally be publishing reflections on films and other forms of entertainment in the upcoming months. Check out our first article Should Christians Watch Movies? here.
During the past few months of lockdown and social isolation, you may have found yourself wondering what to do. Maybe you turned to watching extra Netflix or reading more books, in an effort to make the days pass by until we return to normal.
I encourage you to engage these stories with your mind and see what lessons are there for you to discover. Today, I wanted to share with you a lesson from the Netflix series (and popular children's book series) A Series of Unfortunate Events.
Really brief synopsis of the story; and I mean brief.
The story focuses on three siblings, Violet, Klaus, and Sunny Baudelaire (bohd-l-air) after their parents are killed in a mysterious fire. Each episode/book has the children being sent to live with a different person and the evil Count Olaf continually trying to capture them for their parents' great fortune.
(I told you it would be brief.)
What to rely on when things look bad
In each story, things look dark for the Baudelaire's. Everything continually goes wrong and each time it looks as if their misfortunes are at an end and life will finally work out, Count Olaf turns up to ruin the day.
Our lives look a little like that nowadays. Just tune into the news and you're bound to hear another story that causes the sun to dim in your life and you to worry about tomorrow.
What are we to do when life doesn't appear to be getting any better? How do we find the strength to keep moving forward?
In the series, the Baudelaire's source of strength to move on comes from their love and care for each other. They are portrayed as a strong family unit that has to rely on each other to get out of trouble.
As Christians, we too have a family like this. It's called The Body of Christ.
The Body of Christ
I Corinthians 12:12-13 says that "For just as the body is one and has many members, and all the members of the body, though many, are one body, so it is with Christ, For in one Spirit we were all baptized into one body – Jews or Greeks, slaves or free – and all were made to drink of one Spirit."
As Christians, we are all part of this family. And just like a body, we all have different roles and skills, "For the body does not consist of one member but of many. If the foot should say, "Because I am not a hand, I do not belong to the body," that would not make it any less a part of the body…if the whole body were an ear, where would be the sense of smell? But as it is, God arranged the members in the body, each one of them, as he chose. If all were a single member, where would the body be? As it is, there are many parts, yet one body." (1 Corinthians 12: 14-15, 17-20).
A Series of Unfortunate Events reflects this point in a manner. To get out of their bad circumstances and to escape the clutches of Olaf, the three Baudelaire children must rely on each other's giftings and talents; Violet the inventor, Klaus the bookworm, and Sunny the biter. Through trusting in each other's strengths and working together, they are able to overcome the trials in their lives.
Leaning on the Body of Christ
During these stressful and uncertain times, remember that as Christians, we are the Body of Christ. One unit meant to work together for the glory of God.
I encourage you to pair up with one or two members of the Body of Christ that you know and use your unique gifts to find new creative ways to help others during these times; maybe you'll think of a way to spread encouragement through your local church in a fun manner, or perhaps you'll use your gifts of writing to write notes to people who are having a hard time. There are countless ways to find uses for all the wonderful gifts God has given us to use.
Have you seen A Series of Unfortunate Events on Netflix? What was your favorite talent of the Baudelaire's? What talents has God given you? Have you tried to use them in a new way to encourage others?