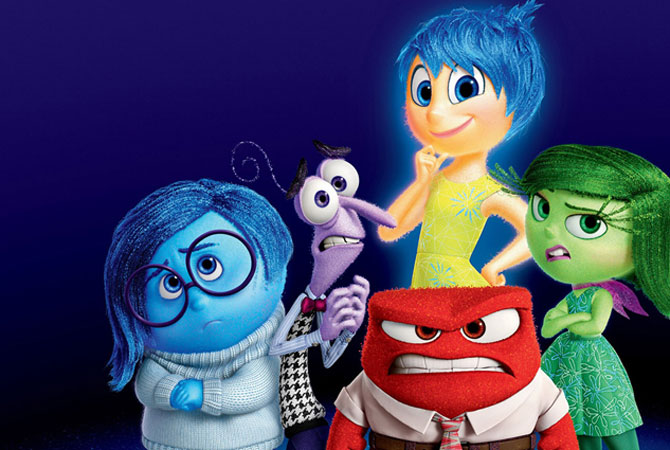 Editor's Note: Here at the Reb, we want teens to engage culture with a biblical perspective. One area of culture we all participate in is entertainment. Should Christians watch movies? How should Christians view entertainment? Can we use it for God's glory? These are questions we believe should be considered and answered. With that in mind, the Reb will occasionally be publishing reflections on films and other forms of entertainment in the upcoming months. Check out our first article Should Christians Watch Movies? and last week's article A Series of Unfortunate Events and the Body of Christ.
Inside Out, for those who haven't seen the film or need a quick refresher, is about an 11-year-old girl named Riley who moves across the country with her parents for her dad's new job. Her emotions, personified as Joy, Sadness, Anger, Fear, and Disgust, try to help her deal with leaving home and her friends behind. Things get complicated when Joy and Sadness become isolated from the emotion headquarters and forced to work together to find their way back to help Riley as she contemplates running away.
Emotional Confusion
The focus of Inside Out centers around the characters of Joy and Sadness. Initially, they are at odds with one another, Joy wanting Riley to have a happy life free from pain and sadness. But as the movie goes on, we see the importance of incorporating all our feelings and not ignoring them.
Over the past weeks, many of us have experienced a wide variety of emotions and feelings that we normally don't feel due to the quarantine. What are we to do with these feelings?
I, for one, have felt extra depressed, angry, sad, bored, worried, and confused since all this started. As a Christian, am I supposed to have these feelings? Should I get angry, sad, and worried?
We need to remember God created us with intentionality. He isn't surprised when we have these feelings. Our minds and bodies are designed to react in certain ways, and like in the movie, often when we feel sad or lonely, it can be a sign to others that we are in need of encouragement or a friend.
Emotions Out of Control
There is another side to all this. We don't want to let our emotions run rampant with no boundaries. In the movie we see this when Joy and Sadness are not there to balance out the other emotions and it almost leads to Riley running away from home. In the Bible, we see this in verses like James 1:19 where it tells us to be "slow to anger" and Matthew 6:34 where God tells us not to be "anxious about tomorrow…"
But wait, if God created us and designed us to experience emotions, then how can they be bad?
The unfortunate reality is that we live in a broken world yet to be made new. Christ is the only person ever to have lived a sinless life.
I like what Christian radio host and author, Brant Hansen has to say about anger during an interview, "God's anger is righteous. Yes, Jesus' anger is righteous, He's holy. But for us we're not good arbiters of our own anger, we feel threatened when we don't need to. We're supposed to get rid of our anger before the sun goes down."
Jesus is holy.
He is the only one who has experienced the full spectrum of emotions without the influence of a sinful heart. We, on the other hand, still struggle with sin, and thereby, struggle with giving a clear interpretation of our emotions. But there is good news.
The Holy Spirit, God Himself, lives inside us as followers of Jesus. The One who understands emotions in all their complexity lives in you.
So, when we feel anger, sadness, worry, loneliness, or fear due to what's going on in the world, take some time to ask God to help you understand your emotions. Talk to a parent or Christian friends about them. Just like Inside Out shows us that we need all our emotions, people aren't designed to go at this life alone. We need each other.
I encourage you to take some time this week to reach out to a friend in an email, letter, phone call, text, or Facebook message and let them know you're thinking of them!
---