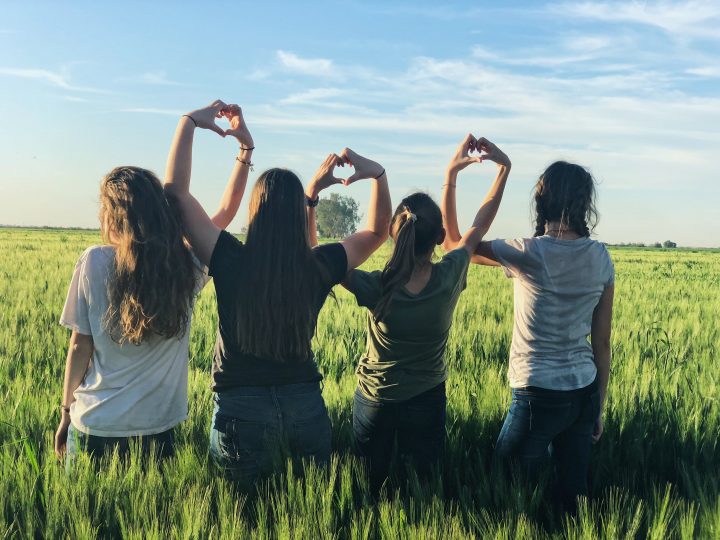 Tears. Again and again.
Fear. Fear that the vicious cycle will send you tumbling off your feet once more.
Friendships involve edging out of the shadows and into the piercing light. Friendships involve risk. A lot of risk. Friendships sometimes tear your heart to pieces, while at other times, build you up tremendously. While they come with their fair share of pain, friendships are so worth it.
But one thing must be made clear: friendships are not one-sided. Both must put in the effort to maintain this friendship. Both must stand up for one another. Both must turn the other to Christ.
Although friendships are so rewarding, they require much hard work. Expectations must be lowered, and our own responsibility must be realized.
But in order to have true, biblical friendship, we must be the ones to change. Here's three things to remember:
1: FRIENDSHIPS ARE NOT ONE-SIDED
Lying on my bed, my mind rewinds, replaying the previous events of the day. Oh my, I cannot believe she did not talk to me today. How dare she not text me and ask how I am doing? Does she understand what I am going through? Do my friends even care about me anymore? All I want are friends who will truly care about me. Is that too much to ask?
At this moment, I feel so justified in my thoughts. After all, I am the one who is going through a trial, right? I need someone to care about me and what I am going through, do I not?
But there are two core issues with these thoughts. First, it places me at the center of my friendships. I am the one who is important. I am the one who needs help. It revolves the universe around me. It creates the mindset that my friends are for me and they must serve me.
Because of this mindset, high expectations are not reached, and disappointment is inevitable. When we face various struggles, we so often turn inward and expect others to bend to our every wish. This self-centered attitude creates nothing but problems in any and every friendship.
Let Pain Point You OUtward
Second, it neglects my own share of responsibility in my friendships. We tend to become blinded by the struggles of those around us because we believe we are the ones who need the most help. We convince ourselves that no one else is going through what we are going through so no one will understand. In doing so, we miss the whole point of suffering.
Most importantly, we go through suffering to grow in Christ and draw closer to him as he refines us. But another purpose of suffering is to comfort others who are also suffering.
2 Corinthians 1:3-4 says, "Blessed be the God and Father of our Lord Jesus Christ, the Father of mercies and God of all comfort, who comforts us in all our affliction, so that we may be able to comfort those who are in any affliction, with the comfort with which we ourselves are comforted by God."
Pain is not meant to draw us inward and leave others to do all of the work in the friendship. Pain and trials are meant to not only lead us to Christ, but also to help us share in others' suffering. While I tend to put the weight of my friendships on the shoulders of my own friends, Christians have the responsibility to reach out and share Christ with our friends, even when it is hard to do so.
2: FRIENDSHIPS SHOULD NOT BE IDOLATROUS
After my grandfather died in August of 2019, I inadvertently placed too high of expectations on my friends. Without realizing it, I placed the hope in my friends that I should have placed in God. I have realized that my own pain hid others' pain from me.
Friendships become disappointments when too much hope is put into them. Without knowing it, we fashion others into golden calves. The problem is not the friendships themselves, but in the idolatry that can come from them.
Be wary of the way you think of your friends. Do you spend a lot of time thinking of all the ways your friends have "failed" you? Are you placing high expectations on your friends that you don't even fulfill? Have friendships become an idol in your life?
3: FRIENDSHIPS INVOLVE RESPONSIBILITY
As a rule of thumb, you should strive to be the friend that you want to have. Although it is easy to place heavy and sometimes impossible expectations on others, we seldom put any on ourselves.
When I experienced grief due to my grandfather's death, I placed too high of expectations on my friends. However, I also learned several valuable characteristics of a true friend that I have been striving to implement.
First, a true friend asks questions. Even when you do not know what to say, this is so important. When your friends pour their heart out to you, it is so painful to simply respond in silence. Ask how they are doing, how you can pray for them, what they have done in response to whatever they are going through, or just ask questions that show you have listened and care.
When absolutely no words come to you, simply say, "I have no idea how that feels, but just know that I care about you and I am there for you." Learn to "weep with those who weep" (Romans 12:15) and truly "bear one another's burdens" (Galatians 6:2).
Second, a true friend checks in regularly. Even though technology has its negatives, I am honestly so grateful for text messaging. A few years ago, one of my friends began to send me verses, regularly check in on me, and ask me how she could pray for me. Such a simple gesture meant so much to me and encouraged me in my walk with the Lord. We were able to build one another up in Christ and genuinely care for one another.
I began to follow her example and learn the blessing of encouraging words. As Proverbs 25:11 states, "A word fitly spoken is like apples of gold in settings of silver." Do not underestimate the power of words and the lives you can encourage if you wield them wisely.
Third, a true friend prays for others. After asking for prayer requests, it is so important to commit to praying for your friends. Write the prayer requests down so you can remember and look back on answered prayers in the future.
God tells us to "let [our] requests made known to God" (Philippians 4:6). 1 Timothy 2:1 urges that "supplications, prayers, intercessions, and thanksgivings be made for all people." God loves to answer our prayers and even tells us to pray on other's behalf. Truly biblical friendship involves taking the time to offer requests and thanksgivings on the behalf of others.
Friendships involve much risk and hard work but are a beautiful and necessary part of our walk with the Lord. We must help one another up when we fall, be willing to take responsibilities for our own friendships, and run the race side-by-side. The Bible says that "two are better than one, because they have a good reward for their toil" (Ecclesiastes 4:9).
When we pursue biblical friendship, we are pushed to draw closer to our Lord and serve him with more fervor.
We cannot run this race alone because we are bound to fall. It is when we come together that true growth can occur, and it is together that we can make a difference.
---