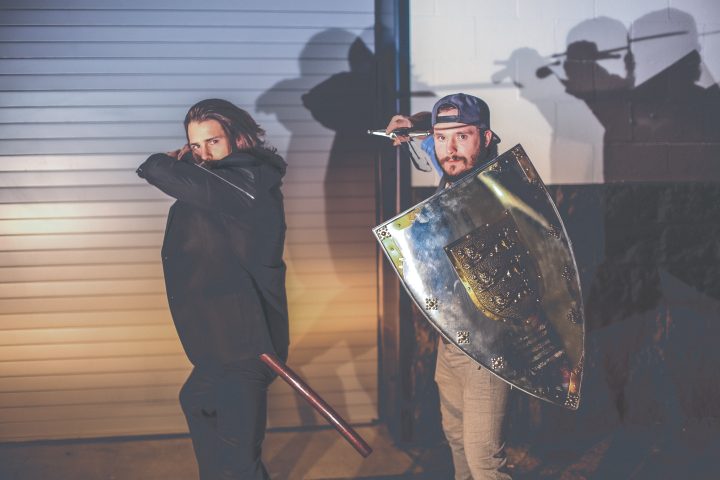 One of the things I look forward to doing every year is putting on my boots, donning my cloak, and picking out the best hat to wear when I go to the renaissance festival. I love being transported into the past and seeing all the demonstrations, singing groups, and entertainment the event brings.
As a nerd myself, I get excited when I'm around others like me. I love seeing what costumes people wear. One year I went to the festival dressed as Wesley from The Princess Bride and had a few interactions with people I had never met before, but we connected over our love for that film. That's one of the things I love most about nerds. We can recognize each other from a t-shirt, a necklace, a tattoo, or a full costume dressing up as our favorite Star Wars character. In these circles, we are known by what we love–by what we're passionate about.
When I think about Christians, we sometimes try and do that too. We wear our cross necklace, we get a WWJD bracelet, or wear a t-shirt asking if I can pray for you. But why doesn't this have the same impact as nerds wearing nerdy things? Are we missing something? It leaves us asking, "What should the Christian version of Cosplay be?"
Christian Cosplay
As cool as it sounds, I don't think the Christian version would be dressing up like Moses or Peter, or wearing animal skins like John the Baptist. No, as Christians we are not called to dress up like our favorite Bible character. We are called to put on a different likeness; the likeness of Christ. In Romans chapter eight, Paul says that those "he foreknew he also predestined to be conformed to the image of his Son." (emphasis mine). And in 1 Corinthians 11 it says to "Be imitators of me (Paul) as I am of Christ." These verses talk about more than just putting on a costume to look like Jesus; we are to be like Him.
Daunting, I know. It would be much easier to just try and appear like Christ for the afternoon and then go back to our normal lives. Unfortunately, Jesus doesn't always call us down the easy road. So what can imitating Christ look like? Is there a "Ten Steps To Imitate Christ" guide out there somewhere? Well, no; as much as I'd like one to exist.
Imitating Christ is a subject I don't feel qualified to handle myself, especially when I don't feel like I do a good job at it all the time. But we do have examples to look to; Paul for instance, shares a lot about becoming more like Jesus from things like the Fruit of the Spirit (Galatians), to the Armor of God (Ephesians). There are probably people in your life as well that do a good job imitating Christ in their lives; they could be a pastor, relative, friend. Try asking them about it sometime. They might give you some helpful ideas.
To end on, one of the best ways to become more like a person is to spend more time with them. If I want to nail a mannerism for a character I'm dressing up as, I'll spend a lot of time watching their movie to get it down.
It's the same way with God. If we want to be more like Him, spending time in the Word, prayer, reading books by mature believers, having conversation about our faith, getting out in God's creation, and listening to music that reflects Jesus, are all ways to grow closer to Him.
What have you found to be most helpful in growing closer to God recently?