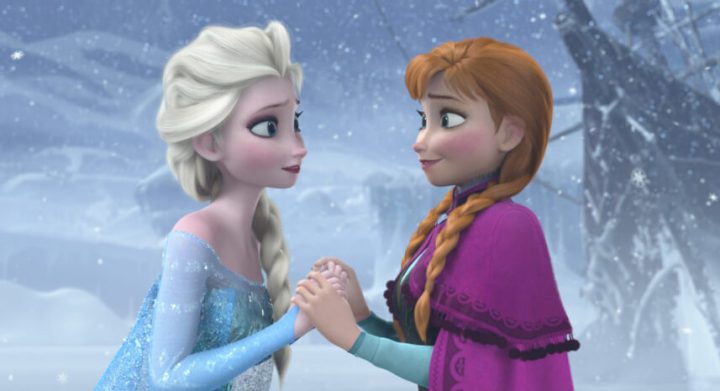 A Quick Overview of the Story
Set in the fictional kingdom of Arendelle, Frozen tells the tale of the sisters Elsa and Anna. Elsa, the eldest princess of the kingdom, possesses the magical power to manipulate water and ice at her will.
However, when the sisters were still both young, an accident prompted Elsa to hide herself away and keep her powers hidden. But when she is forced to take the throne, her secret is revealed, and propels Arendelle into a magical winter.
Elsa flees to the mountains. Now it's up to Anna, with the help of an iceman, Kristoff, and a magical snowman, Olaf, to find her sister and convince her to return and put an end to winter.
Frozen is, among other things, a movie about love.
What is Love (how do we define it)?
As followers of Christ, the theme of love is central to our faith. Jesus embodied love by sacrificing himself to save us, doing what we couldn't, "Greater love has no one than this, that someone lay down his life for his friends." (John 15:13).
Throughout the film we see a number of representations of love.
One of the characters we meet in Frozen is the fun-loving, comic-relief snowman, Olaf. He views the world in wide-eyed wonder and accepts people with open arms. He demonstrates an unconditional love for people, in that they do not have to earn his favor or reach some status for him to show them love and care.
Another love that develops over the course of the movie, is the love between Kristoff and Anna. It starts out as an acquaintanceship, then grows into a friendship, then by the end of the film is a romantic love.
And finally, the main view of love in the film comes from the sisterly love between Anna and Elsa. It is exemplified in the climax of the movie, when Anna gives her life to save her sister. This moment of sacrificial love is highlighted by the film: it's the act of "true love" that thaws Anna's frozen heart.
The Gospel Hidden in Frozen
Each of these three types of love can remind us of the ways God has shown his great love for us.
Jesus embodied unconditional love by calling everyone to come and follow him; "Come to me, all you who are weary and burdened, and I will give you rest" (Matthew 11:28, NIV).
God has also chosen to describe his love for the church (followers of Jesus) in terms of the romantic love between a bride and her bridegroom; "And Jesus said to them, 'Can the wedding guests fast while the bridegroom is with them? As long as they have the bridegroom with them, they cannot fast. The days will come when the bridegroom is taken away from them, and then they will fast in that day,'" (Mark 2:19-20).
And ultimately, just like in Frozen, the focal point of history centers on the one greatest act of sacrificial love that Christ showed us by dying on the cross; "But God shows his love for us in that while we were still sinners, Christ died for us" (Romans 5:8).
Heart of Flesh and Ice (what's the role of feeling in following Christ?)
In Frozen, there's a recurring phrase in the dialogue and song lyrics: "Conceal, don't feel."
Growing up, Elsa had rejected her feelings and connections with others in order to avoid letting her fear of being exposed dominate, and hurt those around her. She finally embraces her feelings when she runs away, and we get the big song of the movie Let It Go. The final reveal comes at the end, when we see that love, the love she has for her family, is stronger than the fear that controlled her.
In my own life, I have seen times when my walk with God was motivated by fear–what if I mess up again? Will God still love me if I don't read my Bible and pray enough? Will God punish me if I say or do something wrong? The life guided by fear is not the life Jesus promised for his followers.
In the Bible, it even says  the followers of Jesus are identified by their love; "By this everyone will know that you are my disciples, if you love one another" (John 13:35). Did you catch that? By their love, not by their fearful following of rules, not by their vast knowledge of the Bible, not by their fear of messing up.
But by our love. That's something Frozen gets right. Love is more powerful than fear. True love does cast out fear. God is love and he loves us! "There is no fear in love, but perfect love casts out fear…" (1 John 4:18a).
Jesus showed us this in his sacrifice. Dying on the cross was the greatest act of love the world has ever known. Before that moment, following God involved following lots of rules and guidelines, but Jesus fulfilled those laws, so now we don't have to live in fear of falling away from God when we break them. He's there, ready to forgive us.
"Greater love has no one than this, that someone lay down his life for his friends." (John 15:13).
What We Can Take Away from Frozen
So, when you sit down to watch Frozen next time, remember: We don't live in fear anymore, always following a list of rules, of being "the good girl you're always supposed to be."
Now we follow a Person. And that Person loves you.
And his name is Jesus.
What were some of your favorite parts of Frozen? Was there something I missed? Leave a comment, I'd love to hear about it!
---