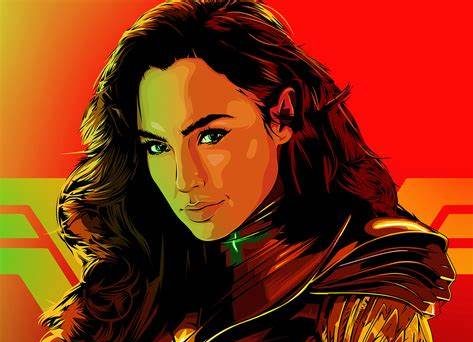 I had planned on writing separate reviews for both Pixar's new film Soul and Warner Brother's Wonder Woman 1984. However, after I saw both films I realized that the themes which stuck out to me were similar and I should tie them together.
Spoilers for both films below! You have been warned.
Soul follows the character Joe Gardner, a band teacher and jazz pianist. He gets the opportunity to fulfill a dream of his by playing with a jazz band, but before he can do it, he dies. He wakes in the "Great Beyond" on a one way street heading to a doorway of light. He escapes and ends up in the "Great Before" where new souls are given their personalities before being sent to earth.
The film follows his attempts to get back to earth and live out his dream, all the while working with a soul that wants nothing to do with life.
Wonder Woman 1984 follows the character of Diana Prince (aka Wonder Woman) in the 80's. She encounters a mysterious stone that can grant people their wishes. At first things go well, even with Diana getting one of her wishes fulfilled, but then things start turning south as people all across the world start getting their own unbridled wishes granted, and they need to find a way to stop these wishes before the world is destroyed.
In both films, the theme of disappointment shows up in a number of ways. In Soul, Joe is initially disappointed with his life and unrealized dreams. This theme is later complicated when he ends up getting to play with the band and doing the thing he'd spent years dreaming about, only to find it leaving him feeling empty.
Wonder Woman touches on disappointment with the wishes. It contrasts a few character's lives before they had their wishes granted and after, showing how sometimes our wishes leave us worse than before.
What do the films say about this theme?
In Soul, Joe learns that life isn't about that one big goal or dream, but rather, life is about the moments, the people, the everyday experiences we have.
In Wonder Woman, Diana learns to let go of her own wishes for the sake of saving the world, putting her dreams in perspective.
Both these answers are close to a Biblical understanding of dreams, goals, and disappointments.
Soul succeeds in grounding us in the moments of each day. As Christians we are to live each day for God, and make the most of our lives, as it says in Ephesians 5:15-16:
"Look carefully then how you walk, not as unwise but as wise, making the best use of the time, because the days are evil."
Wonder Woman is a good example of perspective and how we can't always see all the pieces. Sometimes we hold on to things that are in fact good, but not intended for us to cling to, and we need to let them go in order to follow God's leading. This greater perspective is summed up Isaiah 55:8-9:
"For my thoughts are not your thoughts, neither are your ways my ways, declares the Lord. For as the heavens are higher than the earth, so are my ways higher than your ways and my thoughts than your thoughts."
In Conclusion
It's good to remember that ultimately the old Sunday School song, "He's Got the Whole World in His Hands," rings true. God is in control. He knows what we are going through and what desires and wishes we have might not be good for us. We can trust him.
---
Editor's Note: Here at TheReb, we want young people to engage with culture from a Christian perspective–so we'll regularly talk about current cultural topics. However, not all media is appropriate for all ages or stages of life, so we encourage our readers to use discernment, listen to their authority figures, and ultimately, consider what is "good, true, and lovely," as they seek to glorify God in what they do and watch.
---