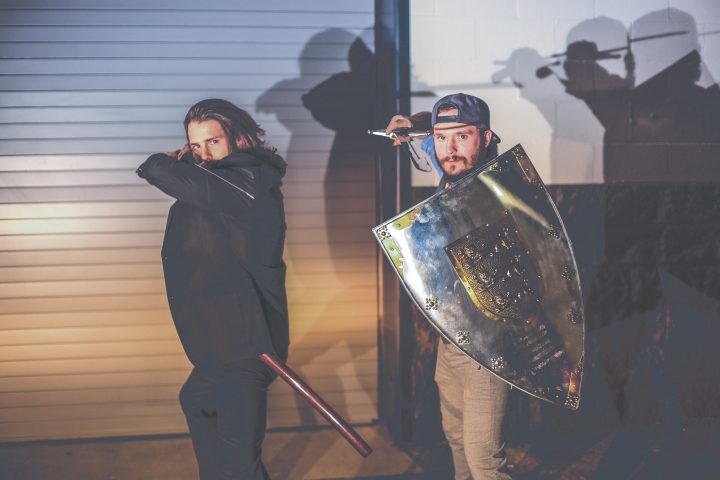 Eleazer stared at the field strewn with dead bodies, wounded men, and broken weapons. The battle was over. Finally, he could rest.
He turned to trudge off the battlefield and suddenly realized he was still gripping his sword. He tried to let go, but to his shock, he couldn't pry his fingers loose. He looked down at the sword firmly stuck in his grip. He'd fought so long and so hard his weapon had become fused to his hand. But when he looked around him, he knew that the pain and exhaustion of the battle was worth the victory for his God and king.
Eleazer–A Mighty Man of Persistence
Eleazer was one of King David's mighty men. The members of this elite fighting force were loyal and faithful, always the last to leave a battle. 2 Samuel 23:9-10 tells us how Eleazer was one of only three mighty men who stayed with David during an epic battle with the Philistines. All the rest of the men of Israel had retreated. But even though there were only a total of four Israelites left, Eleazer refused to give up.
2 Samuel 23:10 says that Eleazer "Arose and attacked the Philistines until his hand was weary, and his hand stuck to the sword. The Lord brought about a great victory that day; and the people returned after him only to plunder."
The Lord was the one who brought about a great victory, but he worked through the faithfulness and courage of the mighty men.
Eleazer and the mighty men give a whole new meaning to not giving up no matter how bad the circumstances. You know you're persistent when you fight so long and hard that your sword sticks to your hand!
Persistence For Our Own Battles
Eleazer's story is still relevant to us today, though our "Philistines" may look different than his. While most of us will never face a literal war, we all have challenges that make us want to give up. That make us want to put down our sword before the battle is over.
Maybe you're going through a tough time in school that has left you exhausted and ready to quit. Maybe you're a part of a ministry that is experiencing a difficult time, and it feels like it would be easier to just throw in the towel and leave. Maybe your job is challenging you more than you thought it would, and you feel overwhelmed. This life is not easy, and pushing through our challenges requires perseverance that mirrors Eleazer's grit.
I just graduated with my bachelor's degree in April, and my college journey often pushed me to the point of exhaustion and complete frustration. I'm glad I went to college, but it took determination and persistence to finish!
But the wonderful thing is that the struggle does not last forever. My graduation happened in an absolute flash. It snuck up on me. I was so used to trudging through one assignment after another, I almost didn't realize when the finish line grew closer and closer, until I finally broke through when I walked across stage to receive my diploma. Persistence played a huge part in my journey. There have been so many assignments that I have dragged myself through, so many assignments that felt kind of…pointless.
Now I see the point in them. Each assignment pushed me closer to my degree. Graduating has allowed me to accept a job at an elementary school that I absolutely love. If I hadn't worked hard at school, I wouldn't have this opportunity now. Just like Eleazer got to enjoy the victory from the Philistines, we get to enjoy the results of our persistence and hard work.
Most of the time, true persistence means pushing through undesirable circumstances. But we can push forward in hope, knowing that God strengthens through Christ us for the battle, no matter how long and hard the fight may be. Any victory we receive on the other side is only due to the all-sufficient grace and goodness of God through the struggle. In 1 Corinthians 15:57-58, Paul says, "But thanks be to God, who gives us the victory through our Lord Jesus Christ. Therefore, my beloved brethren, be steadfast, immovable, always abounding in the work of the Lord, knowing that your labor is not in vain in the Lord," (NKJV). As we push through our challenges, we can be encouraged by remembering that God has given us victory through Jesus.
Now that I've graduated, I'm realizing how much I have to learn in my new job. Once we complete one mission (like college), there will always be another challenge around the corner.
But the good news is that God's grace is always more than enough for the next challenge we face. As we stay persistent, we don't have to do it in our own strength. God is beside us, giving us the strength we need to keep going strong to complete the work He's set before us to do.
Whatever you're facing today, remember Eleazer and his epic fight against the Philistines. If God can give Eleazer the strength to persevere, then God can certainly give us the strength and courage to triumph over the challenges that life throws our way.
---