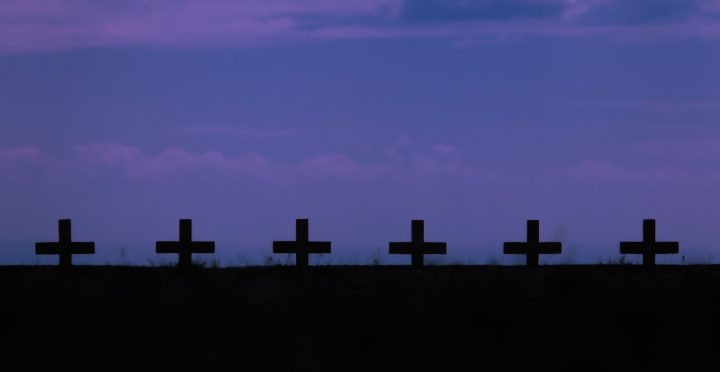 How do you live willing to die? What makes you decide that the lives of others are worth risking your own over and over again?
These are questions I was forced to ask myself after watching a movie which depicted WWII. The film told the story of a man who disguised himself as a Nazi officer in order to save hundreds of Jewish lives in Hungary. And, when I came away from the movie, it left me with a number of humbling questions―and realizations.
We are only one leader―or war, or ruling of the mob―away from a repeat of history. More than ever, America spirals down a path of potential self-destruction. How easily this road could progress to an atrocity we never saw coming.
The youth of today are unprepared. It's no secret that the youth of the 1910's and the 1930's were made of different stock than the teens and young adults of today. In the early days of the world wars, countless young men considered it their duty to fight for their country. I think we can all agree that most youth today would not face that kind of crisis with the same mentality. How would the young people of our generation cope with being called to war, or thrust into danger because of their beliefs?
Why did so many people risk their lives in the underground movements in Europe? Capture usually meant torture―and certain death. So why did so many people put their lives on the line for the lives of others? Not specially trained agents, but your average everyday person. College students like Sophie Scholl and Hans Poley―young adults with their whole lives ahead of them. People like Corrie ten Boom and her family, who might have come through the war unscathed if they hadn't chosen to save Jews.
What makes someone live willing to die? In the movie Walking With the Enemy, Elek Cohen, after failing to save a number of Jews while disguised as an SS officer, was asked, "Why are you doing this?" His impassioned answer was, "Because I have nothing left. Because they have taken everything from me."
He put his own life aside so that others would not have to face the same pain and loss that he did. So that others would live.
James Baldwin rightly said, "The most dangerous creation of any society is the man who has nothing to lose." And that was certainly true of the thousands of people who fought underground against German occupation.
They killed Sophie Scholl for writing leaflets that spoke out against German government. Pinchas Rosenbaum risked his life repeatedly in a way that most people would never dare to do, but saved many lives. Hans Poley gave up everything to rescue Jews and subvert German forces. And those are just three names of people whose courage and selflessness we are bound to answer to.
We look up to those people, their heroic actions, but what if you suddenly found yourself in such a situation? You could escape with your life―but others could not. One man in the 2011 film Return to the Hiding Place said it right: "If not us, then who?"
Who will stand up for the voiceless? Who will put everything on the line? Who will stand in the gap when everyone else runs away?
We are fortunate to live in a time and place where the atrocities of the second world war are but a chapter in history―a chapter few can relate to anymore. But are we living in a time that does not call for vigilance? Do we have an excuse for idleness, or for saying "It will never happen again"?
We have been redeemed by a Savior who, when he walked on earth, lived by this tenet: "Greater love has no one than this, that someone lay down his life for his friends." (John 15:13) Jesus laid down his life, not just for those who followed him, but for those who hated him. He is the ultimate role model, echoed in mere human terms by the countless men and women who chose to lay down their lives so that others may live.
What greater expectation can there be upon a life than to follow in the footsteps of our Heavenly Father?
I asked, "How do you live willing to die?"
The answer is: "So that others may live."
---