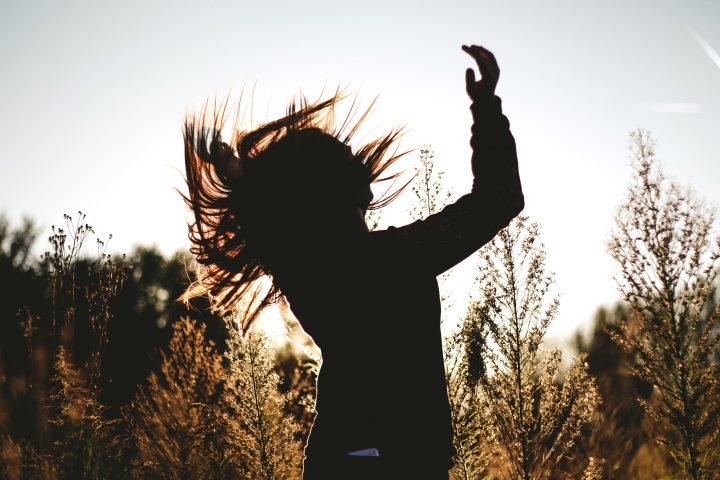 I dragged myself out of bed and groggily got ready for the day. I serve in a kid's ministry called JumpStart that does church services in lower-income neighborhoods every Saturday. This was our first day of the fall semester, and I was leading games. I admit – I was not in a high-energy, bubbly mood. I was still half asleep, and not particularly happy.
But it was hard to stay grumpy when I arrived at the first service. The kids were so excited for JumpStart! I was chatting with a five year old girl before the service started, and she couldn't contain her excitement – she burst into giggles! I sat with a bunch of the kids before the service started, and they couldn't wait to tell me about their new favorite movies.
We do services at three different locations, and I noticed the same attitude everywhere we went. The kids were so happy to be back to church. Joy was in the air! At the last location, I excitedly spotted one of my friends from the previous years. He has special needs, and he is one of the happiest, friendliest guys you will ever meet. We ran up to each other and gave each other a big high five. All the services were fantastic, there was joy in the house of the Lord that morning, and many of the kids received Jesus as their Savior!
When I returned home, I was full of stories to tell my family. I couldn't hold in my joy. I felt like the kids ministered to me more than I ministered to them! When I had left that morning, I felt down and out of it, but when I returned I was full of joy and smiles.
The Impact of Joy on Our Health
Joy is a powerful force.
Our emotions have a direct impact on our bodies. I was reading a study from Japan about laughter therapy for cancer patients. Laughter is so powerful that it is even considered a medical treatment!
Here is what the National Institutes of Health had to say about laughter therapy: "Researchers have since investigated the therapeutic efficacy of this therapy, and reported that it can have positive and quantifiable effects on a variety of medical conditions, such as depression, anxiety, stress, dementia, and pain without deleterious effects on health. Furthermore, researchers have also reported that laughter therapy can reduce the levels of depression, anxiety, and stress in cancer patients."
Of course, God already knew the powerful effect of laughter long before the National Institutes of Health ever discovered it! Proverbs 17:22 says, "A merry heart does good, like medicine, but a broken spirit dries the bones." Joy doesn't just impact our emotions – it influences our entire body! Our bodies and our minds function better when we choose to laugh and have joy!
God Wants You to Laugh!
God will help you have joy, especially when you are discouraged and let down. Recently I went through a disappointment, and I was feeling overwhelmed with sadness. One day at work, I was determined to keep rejoicing and keep my eyes on Jesus, but in that moment it felt hard.
I was at my desk, and one of my coworkers stopped by to say "hi" on his break. I have a closet behind my desk with very little spare room. I have always wondered if someone could fit into this cramped closet. Much to my delight, my goofy coworker shut himself into the closet, inch by inch. I laughed SO hard. I eventually stopped laughing long enough to let him out of the closet. God knew that I needed a good laugh right then. God will help us to have joy, even if He has to send us someone to make us laugh!
Choosing to Rejoice In All Circumstances
When we choose to rejoice, eventually our feelings will follow the direction of our thoughts and words. Our thoughts and words are the steering wheel for our emotions. Our thoughts direct our emotions. Are we dwelling on thoughts of depression and misery or turning our thoughts to God and His love and character?
Philippians 4:4 says, "Rejoice in the Lord always. Again I will say, rejoice!" Paul wrote this verse while he was in a Roman prison, definitely not the kind of place where you want to rejoice. But Paul knew the importance of rejoicing, even when our circumstances are difficult. Sometimes, rejoicing is a step of faith, expressing our trust and faith in God even when the situation seems terrible!
Sometimes, rejoicing is a step of faith, expressing our trust and faith in God even when the situation seems terrible!
Click To Tweet
In the book of Acts, Paul and Silas were on a missionary journey, and they were beaten and thrown into prison for praying for a girl with a demonic spirit. Instead of complaining or moping about their situation, they chose to praise God, and an earthquake struck the prison and freed them from their chains. In the book of Joshua, God commanded the Israelites to lift up a mighty shout of joy on the seventh day they marched around the city of Jericho, and the walls came crumbling down. Joy literally has dynamite power, tearing down chains and walls!
Our joy is powerful. We can have joy regardless of the circumstances because our joy is not based on our situation, but on God's love for us. Today, I encourage you to smile, laugh, and trust God. His dynamite power is working on your behalf as you walk in His joy.
---