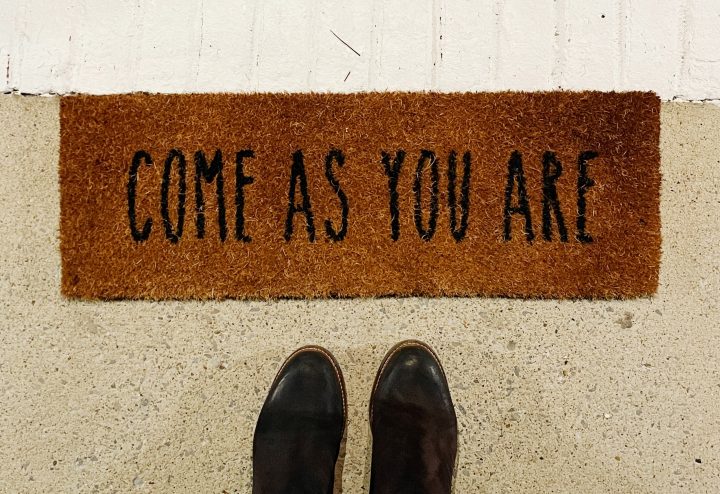 Can I be completely honest with you?
I don't have this thing called being a Christian all figured out.
I struggle. I sin. I rebel. Yet somehow I'm still loved. I've felt captivated by the very presence of God, so close as if I could touch Him, and I've also cried as I asked, "God, where are You?" I've run—both toward Him and from Him, and ask myself again, "why do I do the things I hate to do?" I've heard the enemy whisper in my ear, "You're a failure. You've failed yourself and you've failed God. You'll never be a good Christian. Why even try?" But I've also sensed God's pleasure as I seek Him.
And through it all, I think, "Shouldn't I have this figured out by now?"
God Is Enough
I know I'm not the only one who feels this way. I've heard Christians young and old say things like: I feel like I'm failing God. I don't understand why it's so hard. I'm a terrible Christian. I'll never be enough to satisfy Him.
At one point I asked God, "What's lacking? What do I need to work harder at? Do I need to pray more? Read my Bible more? Tithe more? Serve more? Witness more? Memorize more? Do more?"
And deep in my heart, I sensed Him saying, "I don't want your more. Give me your all, and I'll give you more—of Me."
We're a generation of strivers. We're constantly working and seeking to do more and be the best. We have a vision and goal and we'll do anything to reach it. Naturally, as Christians, we also have a vision of what we think a Christian should look like and how a Christian should act. We strive for a status of perfection, but ultimately, in our humanity, we fail. So we label ourselves, and speak words that say: God is disappointed in me. I'll never be enough. I can't make the cut. I'm hopelessly broken.
In our striving to be the model Christian, we end up trying to add to our salvation, become worthy of it, or even try to earn it.
In short, we live like Jesus' decree of, "It is finished" isn't really finished after all.
The enemy knows this weak link in our humanity, which is why he tries to implant in our hearts the thought that what God wants from us is more. He's tried to boil down Christianity, and turn it into a list do's and don'ts we should be able to manage on our own, without Jesus.
But Jesus didn't die to save us so we can handle things on our own and feel like we have to do more.
God doesn't need our more.
He wants to be our more.
You see, anyone can do the acts—the more—of a Christian… even a non-believer! Work that is vital in a Christian's life, but not what defines our salvation. What sets us apart isn't the quantity of our work, but the all-encompassing flame of love inside our hearts, compelling our actions.
Jesus Is Enough
If Satan's diluted Christianity were true, then the way to eternal life would be up to us. We'd be going back to before Jesus came to earth, where the way to forgiveness was paved by the cleanness of our own hands and the acceptable offering of our animal sacrifice. We would, in truth, be able to take credit for our salvation.
But I can't take credit for anything, least of all the unimaginable grace offered to me.
When Jesus died, it set us free from the bondage of our striving. He shattered the pattern and the need for constant sacrifice to atone for our sins, because He is the ultimate sacrifice, and the only one we'll ever need. He died to show us that He is enough—so we won't have to be. He died to reveal that He doesn't need our more, because He is more.
On my own, I'll never do enough or be enough. I can never satisfy the impossible standards the Christian culture tries to place upon me. I can never lift this burden from my shoulders. I can never give enough to cover my sin.
Thankfully, I know the One who can.
He is My More
All I can do is give Him my heart. My all. My unconditional love and surrender.
I don't think I'll ever have it figured out. And I'm glad of that. If I did, I would have no reason for Jesus. No reason to daily return to the foot of the cross, in awe and worship.
Click To Tweet
I don't think I'll ever have it figured out. And I'm glad of that. If I did, I would have no reason for Jesus. No reason to daily return to the foot of the cross, in awe and worship.
At that cross, the master switch took place.
My death for His life. My brokenness for His healing. My flaws for His perfection. My lack for His unending grace.
I'm realizing it's okay to be broken, because there is a Healer strong enough to take on our brokenness.
There is One who is enough, when we're not. There is a King who is our more. There is a Restorer and Mender who can wash and sooth our weary hearts from the lies and burdens so long placed upon it.
And He's standing right beside us, holding out His hand, and whispering, "Come, my beloved."
The cure for my brokenness and inadequacies isn't more of me.
It's more of Him.
Previously published on November 6, 2017. 
---
Share Your Thoughts in the Comment Section!
---