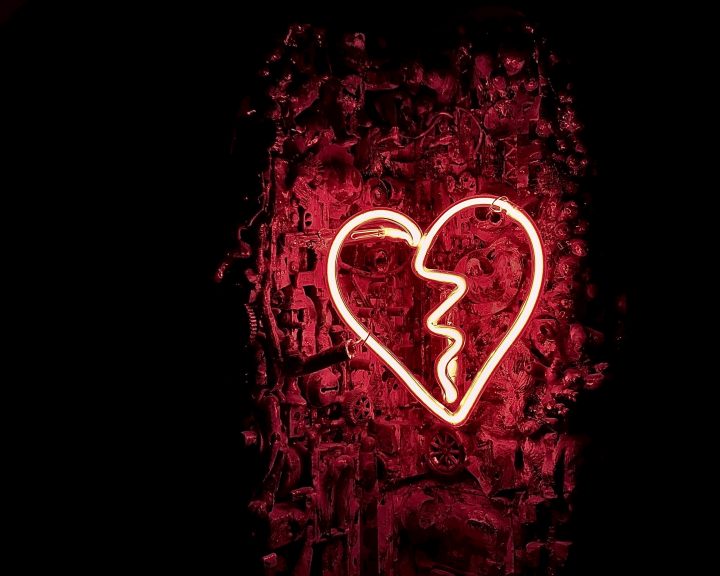 If you're reading this, chances are you've been through a breakup. Maybe a year ago, maybe a week ago. At any rate, I am so deeply sorry, friend. I don't know the circumstances, but I do know the pain. It's the worst pain I've ever experienced to date. Maybe you can relate?
When you realize things are over between you and this person you loved, it feels like there's a stabbing ache in your chest. It's sharp. It's heavy. You want to curl into a ball on your bed and sob. Maybe you didn't realize you could cry so hard.
As you lie on that bed, trying to wrap your head around what just happened, you find yourself asking, "Why God? Why did You have us meet at all if it was just going to end like this?"
There's nothing wrong with expressing your feelings to God. Show Him your hurt and let Him know how lost and abandoned you feel. But I encourage you to pause. Pause and remember who God is. He knows what you need so much better than you do. I promise, He will be faithful to heal your shattered heart and bring you what is truly meant for you.
Unfortunately, before the break of dawn there is a shadow of darkness we must walk through. So how do you get through those first few months of heartbreak?
1. Allow Yourself To Grieve
The loss of a boyfriend/girlfriend is something we have to grieve. You've lost the person you've spent months of your life with – maybe years. Talking every day, building memories, sharing your heart together. You've also lost the future you dreamed of with them. All of those plans, hopes, and dreams… gone. Suddenly, when you look at your future all you see is a void – because that person was your whole future.
Allow yourself to go through the grieving process. Take some time to understand the different stages of grief so that you can recognize where you're at and take more control of your emotions.
When we're hurting, a natural response is to numb the pain. We could just pretend it doesn't exist and fake it through. But that only hurts us so much more.
Go in the other room and sob if you need to. Punch your pillow when that anger is kicking in. Fall on your knees before God and give Him your heart.
Your feelings are valid – don't push them away. Feel them, acknowledge them, and move forward – one step at a time.
2. Surround  Yourself With Godly Community
I cannot stress enough how crucial it is to avoid isolating yourself during this time. At the beginning, you may feel too low to go to church – go anyway. You may not want to go to Bible study again and feel single – go anyway.
Go find your friends and be honest with them about how you're feeling. Let them pray over you, and listen to the advice they have from their own experiences. Allow them to pour into you and point you back to Jesus. You desperately need a godly community pouring into you and supporting you during this time.
I know it's tempting to stay home. Why go anywhere when we can watch Hallmark movies, cry, and eat ice cream? Friend, please don't sit around at home. Don't give in to depression. Get out and have some fun with your friends and be encouraged.
3. Get In The Word
During the first few weeks after my breakup, I struggled in my walk with God. But one thing I did within the first few days that I wish I'd continued over the months was reading my Bible.
I don't mean just a small portion for five minutes; I mean sitting on my bed and reading through an entire book of the Bible in one sitting.
I did this maybe once or twice and it really helped. I wish I'd done it more. There's nothing like sitting before God in your hurt and soaking up His Word. It's healing.
There's nothing like sitting before God in your hurt and soaking up His Word. It's healing.
Click To Tweet
Something I didn't mention earlier is that I really struggled with anxiety after my breakup. My heart often raced, and it felt hard to breathe. That's what led me to sit and read Scripture the first time and it brought me so much peace.
When we're hurting, we are more vulnerable. It's easier to slip into doubt and believe the lies that float around us. So, it is crucial that we feed ourselves light and truth.
Get in the Word and turn on some worship music. Don't lie in bed listening to sad breakup songs – those just invite you to dwell on your pain, which unlike processing through grief, is unhelpful. Instead, let God fill your mind with goodness, hope, and light.
4. Journal
I was in a long-distance relationship, so I was used to texting my ex all day. Even when he was at work, I'd be sending him messages about anything and everything. Getting used to not having him to talk to was so. hard.
Suddenly I had no one to send my random thoughts to. I didn't know who to tell about the exciting things that happened, the funny things, or the annoying things. The number of times I grabbed my phone to text him something only to realize I couldn't, is too many to count.
One night when I was really struggling, I called my friend and told her how I was feeling. She suggested I start journaling everything I'd want to text him, that way I had some sort of outlet, and I didn't feel that emptiness.
I spent so many nights journaling in my bed – sometimes for hours. I'd journal about everything I was thinking and feeling, and I'd journal things to my ex at times, too. It helped to feel like I was saying things to him that were left unsaid.
After a while I stopped journaling directly to him for the sake of protecting my heart and allowing myself to move on. But during the beginning stages, it really helped.
I can definitely tell you I journaled more consistently after my breakup than ever before. It was so therapeutic for me. If you need an outlet – a journal is the way to go.
5. Keep Busy
Seriously, so important. Especially if there was a certain time of day you'd hang out with your ex, I highly suggest filling that space with a fun hobby or maybe try to hang out with a friend.
I took up crocheting again after years of not touching it. I got an adult coloring book and started coloring while I watched shows with my mom. I did some deep cleaning around the house, and I spent a lot of time with friends.
Staying busy not only keeps your mind occupied, but also gives you some stability. Even though a huge part of your life has changed, the world around you is still moving at its normal pace.
Life may feel bleak and empty right now. Maybe you feel like you'll never be able to move on and you'll be broken forever. I know what that feels like. But I also know that God is faithful to turn everything for good. I know that God wants the best for you. And I know He is near to the brokenhearted.
"The Lord is near to those who have a broken heart, and saves such as have a contrite spirit." – Psalms 34:18
"The Lord is near to those who have a broken heart, and saves such as have a contrite spirit." - Psalms 34:18
Click To Tweet
You feel broken right now, but you're in good hands, friend. You won't feel broken forever.
---