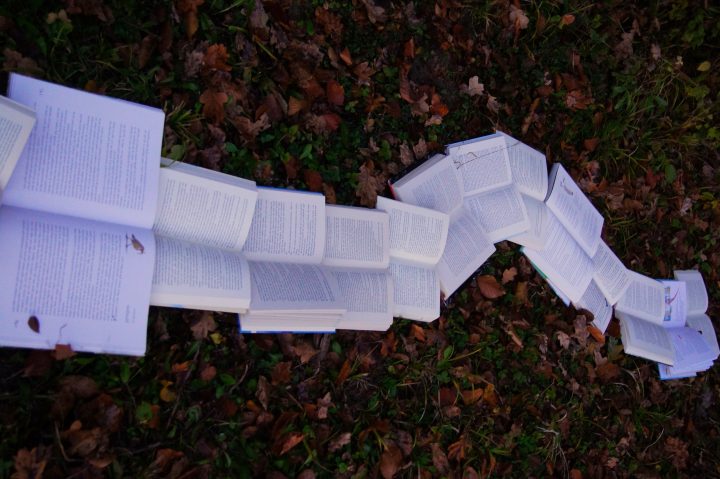 We all have books that have impacted us over the years. Today, a number of writers from TheRebelution would like to take the time to share some of the books that have affected our spiritual growth.
Zach Sollie
The first book I want to talk about is Blessed are the Misfits by Christian radio host, Brant Hansen. The book focuses on those who feel like misfits from the church. It was the first time I felt someone with a platform really understood me and the struggles I had with connecting to the church and church culture. I highly recommend it for anyone who feels they don't fit in with the stereotypical Christianity of today.
My second book is Wild at Heart by John Eldredge. This book is written for men to help them grow in their faith and develop their masculinity in a godly manner. Though I'm not your typical outdoorsy kind of guy, I did find myself connecting with Eldredge's call to adventure and life beyond what this world promises.
The final book I want to share with you is titled Chasing Francis by Ian Morgan Cron. It's a fictional account of a megachurch pastor named Chase, who has a crisis of faith and what he learns when he embarks on his pilgrimage to Italy. While there, he retraces the life of Saint Francis of Assisi and discovers what the modern church can learn from the life of this saint.
Abbi Langille
Many books have touched my heart over the years, both fiction and nonfiction. The Kingdom Series and The Knight's of Arrethtrea by Chuck Black really helped me feel connected to the gospel in a special way, as the books present it as a fantasy series. It showed brokenness and fallenness turning to healing and resurrection, and presents Christ as the source of it all. The books call to action and produce a longing to hear nothing but, "Well done, good and faithful servant."
Another book, one that is perhaps more well known, is The Screwtape Letters by C.S. Lewis. This unique and creatively written piece opened my eyes to the ways the enemy subtly tries to manipulate individuals, how this has and is affecting our culture, and how we can combat it in our own lives. Lewis' whit and wisdom are evident in this piece and I would recommend it to anyone.
Elizabeth Davis
The Master Plan of Evangelism by Robert E. Coleman. I read this in college when I was learning what it means to give my life away for others to know Jesus. It's a small book packed with a clear picture of how Jesus modeled a life and a ministry that we are to follow. I quickly learned that this lifestyle wasn't very common, and it would take a lot of sacrifice to pursue others so that they would come to know Jesus.
Walking with God Through Pain and Suffering by Timothy Keller. Not only did this book help me to understand suffering and what it means to continue walking with God as we experience all kinds of suffering; it also helped me to work out some deep theological questions I was wrestling with. I walked away from this book with a clear and strong picture of the character and love of God.
The Freedom of Self-Forgetfulness by Timothy Keller. This tiny book takes about an hour to read but impacted me deeply. This challenges your pride and gives a true picture of what humility and trusting in your identity in Christ can look like.
Heaven Franklin
In His Image: 10 Ways God Calls us to Reflect His Character by Jen Wilken. I just recently finished this book, and it was so encouraging to read about the more important yet overlooked attributes of God and how we as Christians, are to reflect them. We will never be able to do so perfectly, however, Jen Wilken shares practical ways we can do so and challenges us to show Christ with our lives.
Beholding and Becoming: The Art of Everyday Worship by Ruth Chou Simons. This book is primarily for women, however, the applicable message across the board is how we are to worship God, even in the little things. We can glorify Christ in the things we must do by our attitude and how we respond to things. Worshiping God is more than just singing hymns on Sundays; it's praising Him in the hills and valleys.
Holly Ciampi
When I think about books that have impacted my spiritual growth, three come to mind. Chaos Can't by Allen Arnold, Love Does by Bob Goff, and The Battle Plan for Prayer by Stephan and Alex Kendrick. Maybe not your typical spiritual growth books, but God used these books to open my eyes to the truth about who God really is at His core.
In Chaos Can't, Allen takes readers on a journey to discovering that it is possible to remain unshaken in a world of chaos. This book is an invitation to experience God as Creator, uproot the lies of chaos, and be astonished at how God fills empty voids with light, beauty, and order.
Love Does walks you through the simple message (and biblical command) to love God and love others. Bob tells story after story of how God's love in our lives can overflow to others in beautiful ways. After all, love isn't just a feeling; it's an action.
Never has a book had more impact on my prayer life than The Battle Plan for Prayer. Stephan and Alex dive straight into the heart behind prayer and the great weapon it is in the spiritual realm. I learned strategic truth and tips that have helped me pray with confidence and complete faith in our Almighty God!
Tabitha Bell
Jesus in Me: Experiencing the Holy Spirit as a Constant Companion by Anne Graham Lotz. If you want to better understand the third person of the Trinity, the Holy Spirit, this book is an excellent resource. In it, Anne details Who the Holy Spirit is, what role He plays in our lives, and how we can engage and cooperate with Him.
I'd be remiss if I didn't mention Habakkuk: Remembering God's Faithfulness When He Seems Silent by Dannah Gresh. This is actually a Bible study, not a chapter book, but when I think of books that have impacted my spiritual growth, this one is top of mind. I learned so much about how to process my fears, frustrations, and hard questions with God, how to pray and praise in difficulty, and how to go deeper in Bible study on my own. This study is especially helpful for those wrestling with why God allows bad things to happen.
We hope this list is helpful for you as you seek to grow in your walk with God. Now it's your turn, leave a comment below telling us which books have made the greatest impact on your spiritual growth!
---
Please note that these books have not been reviewed by TheReb leadership and therefore we encourage you to read them with discernment. This post is not an endorsement of all the views expressed within or those held by the authors.
---