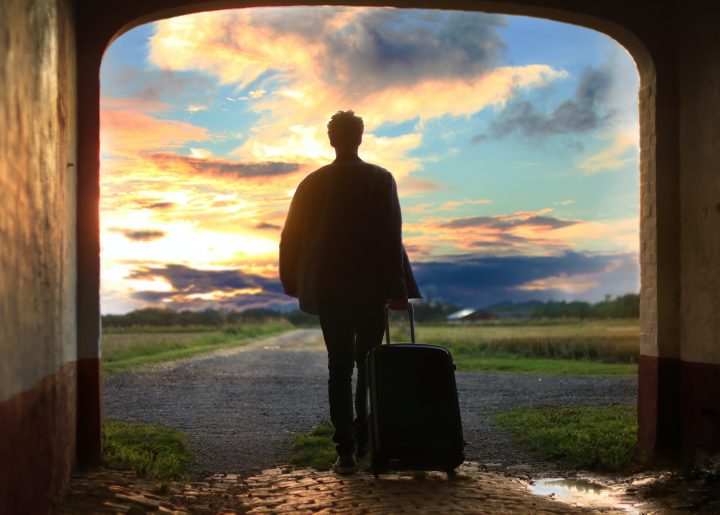 I follow my dreams. In fact, you do too. Each day, we form new dreams, develop old ones, and hold them up high as our ultimate destination.
I have dreamed of becoming many things—a missionary, a doctor, a mom, a wife, a writer, a singer, and a princess, among other things. Although my dreams have changed with time and age, I have held on tightly to each one, often unwilling to let them go.
I've worked diligently to pursue my dreams. I have daydreamed about accomplishing them and poured vast amounts of energy into them.
Many times, I have placed myself at the center of my dreams.
Everywhere I turn, I'm told I can be whoever and whatever I want to be. I'm told I should seize hold of what I love most and pursue it with all my might. I'm told to disregard those who would tell me otherwise and not let them get in the way of my dreams.
But where do we draw the line? As believers, should we follow our dreams? And who are these dreams for anyway?
1. Our Dreams Will Always Disappoint Us
Sometimes I dream of what I want my future to look like. I imagine comfort and happiness as I finally reach my goals and get my degree. I imagine having my own perfect little family. A happy life attained through the pursuit of my dreams.
Our culture feeds us the lie that our dreams will fulfill us. If we only pursue our true identities, follow our desired career path, and marry the perfect spouse, we will lead happy lives. Living in a world where movies, shows, advertisements, and dolls tell us to disregard those around us and reach for our dreams, it is easy to follow the same mentality.
It's easy to forget that when dreams are attained, the harsh reality sets in, and we're often left thinking, this isn't what I thought it would be.
It's easy to forget that when dreams are attained, the harsh reality sets in, and we're often left thinking, this isn't what I thought it would be.
Click To Tweet
When we picture our future lives, we do not dream of the tribulations we will face. So, if we manage to attain our "perfect" dreams and are then met with an imperfect reality, we feel cheated and disappointed.
But Jesus does not promise perfect tranquility in this life. On the contrary, He promises there will be hardships. He tells His disciples in John 16:33, "I have said these things to you that in Me you may have peace. In the world you will have tribulation. But take heart; I have overcome the world."
When we follow our dreams, without surrendering them to the Lord or heeding the wisdom of other believers, our dreams are bound to disappoint us. We need the truth of God's Word to inform our hearts because they are prone to wander. They're prone to search for perfect peace and happiness in the fulfillment of our dreams instead of where those things can truly be found–in Christ.
2. Our Dreams Tell Us We Can be Our Own Gods
We are the masters of our own ship. We control our own destinies. We decide who we want to be.
Sound familiar?
The world tells us we deserve to follow our dreams. We must follow that rainbow and find the pot of gold at the end of it. We can do anything we can dream; all we have to do is believe in ourselves.
We're told our feelings dictate our truth and should direct our thoughts and actions. We do not need a superior being because we can do the impossible. We do not need a savior because we can take ourselves where we desire to go.
In essence, we are told we can be our own gods.
So, we hold tightly to our dreams, unwilling to surrender them to the one true God. We cannot fathom letting go and placing them in His hands.
But human shoulders were never meant to carry the weight of God-sized burdens. And eventually, being our own god wears us out.
We're told our feelings dictate our truth, we don't need a deity because we can do the impossible, or a savior because we can take care of ourselves. But eventually, being our own god wears us out.
Click To Tweet
Jesus tells us in Matthew 6:24 that "No one can serve two masters…" We cannot serve both God Almighty and the god of self.
Jesus says that "where your treasure is, there will your heart be also" (Luke 12:34). Christ is the treasure, not us. The power and control belong to God, not us. We are merely earthen vessels (2 Cor. 4:7).
Where is your heart? Are you willing to give up your dreams for the sake of the kingdom of God? Who is the god of your dreams? Are you buying into the lie that you can map your own destiny, or are you laying your dreams at the feet of Jesus?
3. Our Dreams Put Self at the Foundation
If we were to look at the motive behind our dreams, we would discover a disgusting truth: we all long to be praised.
I've realized that throughout the day I make decisions to make my own name known. I tend to serve in ways that are noticeable by others. Ways that garner recognition and admiration.
If we're being completely honest, it feels good to be looked up to and heralded as selfless, all while our hearts secretly yearn for praise.
We dream of getting the promotion at work that would set us apart. We dream of becoming a famous singer or actor who receives much recognition. We dream of being a missionary doing great things for the Lord others are unwilling to do. We dream of putting our names in the spotlight and receiving admiration for our gifts.
At the very essence of our being, we long to be set apart from the rest. To be unique. To be special.
We work excruciatingly hard to clean ourselves up on the outside because we long for the praise of man. With the sin-cursed blood of Adam coursing through our veins and infecting every inch of our body, we think only of ourselves. What will make me comfortable? How does that make me feel? How am I following my dreams? How do they view me?
What we love is what we worship. And we love to think of ourselves.
But as Christians, we are called to deny ourselves, take up our cross, and follow Christ (Matthew 16:24).
Do our lives exalt our names or Christ's? Do others see us pointing to ourselves or pointing to the Lord? Who is at the center of our lives?
Something Better than Our Dreams
Psalm 37:4 says, "Delight yourself in the Lord, and He will give you the desires of your heart." This does not necessarily mean that God will bless us with a mansion, a Lamborghini, and a million dollars.
When God makes us a new creation, the old has passed away and "the new has come" (2 Corinthians 5:17). He exchanges our old desires with new ones. When we previously would have desired prosperity and an easy life, the Lord teaches us to desire Him. New dreams replace old ones, and we no longer want to serve ourselves and exalt our own name. Rather, we desire to glorify God and exalt His name.
We learn not to love the things of this world, but instead to love Jesus. We learn to delight in the Bible, in God's people, and in Him. We learn that our greatest desires can only be fulfilled in Christ. When we find peace and contentment in Christ, the dreams of fame, fortune, and exaltation this world offers begins to leave a bitter taste in our mouths.
Remember that as a believer, the desire of your heart should be to follow Christ, not to follow your dreams. Dreams come and go, but the Lord remains the same.
Dreams are not inherently wrong. But, when we cling to the dream instead of Christ, that's a problem. God gives us dreams for the purpose of using them to serve Him.
Click To Tweet
Dreams are not inherently wrong. But, when we cling to the dream instead of Christ, that's a problem. God gives us dreams for the purpose of using them to serve Him. The gifts and talents He's given us are meant to be given back to Him for the use of His kingdom, not our own.
Know that "the heart of man plans his way, but the Lord establishes his steps" (Proverbs 16:9). Do not grasp your dreams tightly, only letting go if someone were to pry them from your fingers. Share your hopes and dreams with the Lord, surrender them to Him, and be willing to let them fade away.
Preach the gospel to yourself daily, delve into His Word, and live your life for God. "Seek first the kingdom of God and His righteousness, and all these things will be added to you" (Matthew 6:33).
---