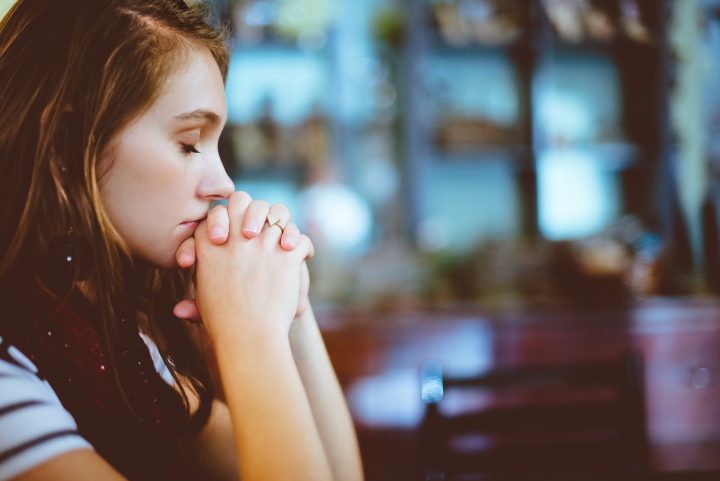 When you're confronted with a problem, blindsided by a crisis, or pressing through a season of difficulty, asking for prayer should be a no-brainer. It should be easy. But too often, reaching out for prayer support can feel daunting and overwhelming.
At least, that's been my experience.
Prayer Request Dread
I used to hate asking for prayer. Even now, when I have a need, there's still a moment of hesitation before I press send on that prayer request text.
It's not that I think I'm above needing prayer. Quite the contrary. I'm fully aware of how desperately I need prayer coverage—an awareness that has only intensified in recent years as I've been faced with heavier burdens, more complex trials, and gut-wrenching heartaches.
It's not that I think prayer is unimportant or useless. I know from experience how incredibly valuable and necessary it is to have others praying for me during seasons of suffering. Prayer is powerful, and when I'm too weak to pray, I'm grateful for those who drop everything at a moment's notice to carry me to Jesus.
"Asking for prayer isn't about putting burdens on our friends, it's about letting them walk with us down a path we were never intended to walk alone." ~Renee Swope.
Yet, even with this head knowledge and life experience, asking for prayer still feels hard some days. It dredges up feelings of dread and doubt, so I put it off. Why? Because in the past, people have responded to my prayer requests in less than helpful ways. Most of these unhelpful reactions were well-intentioned, but a few crossed the line of insensitive and bordered on cruel.
Over time, these experiences made me reluctant to ask for prayer, but they've also taught me some valuable lessons on how to respond to prayer requests well.
Prayer Request Do's and Don'ts
1. DON'T: Ask Questions
When someone asks for prayer, it's natural to be concerned and curious about their situation. However, I've learned that it's better to refrain from asking questions and simply let people share what they're comfortable sharing. When people are going through a difficult season—especially an extended one—they're vulnerable and often, emotionally spent. In this state, the once simple task of answering questions can suddenly become overwhelming. Even well-meaning inquiries can feel like an ambush or interrogation.
DO: Respond with Empathy.
When people are hurting, they don't need to have to explain why. They just need to know that someone cares. It's amazing how much a simple "I'm so sorry you're going through this," can mean to someone in a moment of crisis. It acknowledges that what they're going through is hard. That their feelings are valid. Asking questions can inadvertently make our friend's prayer request about us and our desire to know more. In contrast, responding with empathy keeps the focus on the hurting as we step into their pain to mourn with those who mourn (Romans 12:15). In so doing, we demonstrate the heart of our Savior who was so deeply moved by His friends' grief that He wept with them (John 11:33-35).
When people are hurting, they don't need to have to explain why. They just need to know that someone cares.
Click To Tweet
2. DON'T: Give Unsolicited Advice
When our friends are hurting, we want to help. We want to fix it and make everything better. Unfortunately, far too often, there's simply nothing we can do. This is when we start scrounging for nuggets of wisdom or advice to offer. Here's the thing—most people in a crisis have already considered all their options. They've done their research, asked God for direction, tried various treatments, etc. Therefore, when they ask for prayer and receive advice, it can be incredibly frustrating. Instead of making everything better, unsolicited advice can leave people feeling reprimanded for "not doing enough or trying harder." Instead of fixing the problem, it can burden weary souls with the tiresome task of having to list out every option, resource, and effort they've already exhausted.
DO: Respond with Prayer
When people are hurting, they don't need finite opinions. They need fervent prayer. They need friends who will hoist them on their shoulders, tear through a roof, and present their need to Jesus (Mark 2:1-5). When people send us a prayer request, we need to honor their request by doing what was asked of us—praying. Immediately. Unceasingly. A quick reply of "praying now" can be a lifeline to a drowning soul. Wanting to help a friend is a noble desire, but we need to let them be the ones to open the door for advice. If they want our opinion, they'll ask for it. If they don't, we need to respect that and entrust them to God's keeping.
3. DON'T: Use Accusatory Language
I wish I didn't have to list this one, but unfortunately, it's something I've experienced again and again. People should feel safe when voicing a need and asking for prayer. Not terrified of receiving pharisaical comments like, "There must be hidden sin in your life," or "If you had more faith, things would change." Accusatory language like this is NOT helpful. It makes people feel condemned, depressed, and chastised. It drives people to hide their pain and isolate, which only makes them more vulnerable and at risk of spiritual attack.
DO: Respond with Love
When people are hurting, they don't need to be torn down. They need to be built up (1 Thessalonians 5:11). They need to be encouraged with biblical truth, lifted in prayer, and shown the love of Jesus. In the midst of suffering, when the pain feels unbearable and the darkness seems unending, people need to be reminded that God is Love. He cares about our suffering deeply. He bottles every tear we shed. And He promises to be with us always, even to the end of the age (Matthew 18:20). Yes, we will have trouble in this life, but we will also have Him (John 16:33). Emmanuel, God with us. Our Prince of Peace when our world is in chaos. Our Anchor of Hope when our life is in shambles. Our very present Helper in times of trouble (Psalm 46:1-2).
Prayer Request Steward
Despite my bad experiences with question askers, unsolicited advisers, and judgmental accusers, I've slowly learned to ask for prayer even when it's hard. Through the risky process of reaching out to others, I've found a small group of believers I can trust with my prayer needs. As I pray for them in turn, I've endeavored to learn from the past and let it mold me into a better friend. A faithful prayer request steward. Someone who responds with empathy instead of questions, responds with prayer instead of advice, and responds with love instead of accusation. Someone who can be relied upon to carry others to Jesus.
Be a faithful prayer steward. Someone who responds with empathy instead of questions, prayer instead of advice, and love instead of accusations. Someone who can be relied upon to carry others to Jesus.
Click To Tweet
---