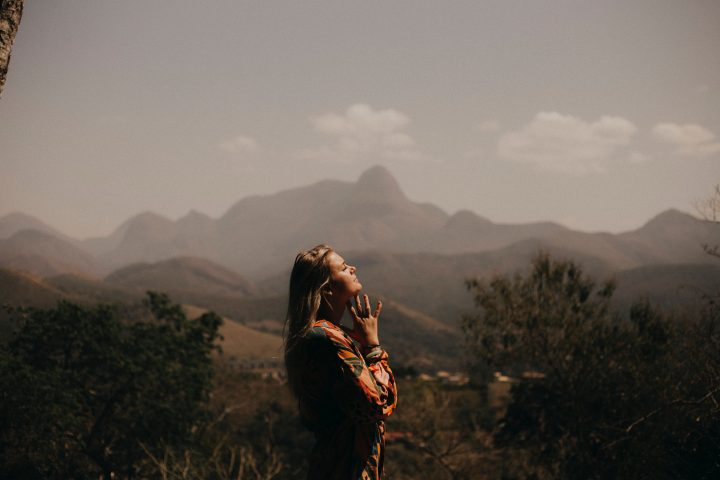 "Pure and undefiled religion before God and the Father is this:…to keep oneself unspotted from the world."
— James 1:27
Have you ever wondered what it means to keep ourselves unspotted from the world?
I do, all the time. How do we live in the world, yet not be of the world?
Is it a list of rules? A kind of behavior?  Certain "do's or don'ts"?
Some Christians seem to believe so. They have an unspoken code of conduct, a way they think a Christian is supposed to live. They don't wear make-up, or listen to certain kinds of music. They court — not date. They don't dance or watch TV.
But while these rules might set one apart from the ways of the world, they often open up the door for judgment and criticism among God's sons and daughters.
Although I believe their motives are pure, and I respect that God calls some to live a particular way, I have to wonder — is this really the definition and completion of "pure and undefiled religion"?
As Christians living in a world polluted by evil, we often set up a myriad of rules and regulations in an effort to protect ourselves from that evil. We focus on these guidelines because they're the most applicable. But are they the root of the issue?
While I am far from perfect and could never claim to be, I strive to follow Christ in all areas of my life. But still, I wear make-up — and jeans. I listen to contemporary Christian music. I watch movies. I love to dance.
Maybe you don't. Maybe you try to avoid those things. Does that make you a better Christian?
I don't think so.
On the other hand, maybe you went to see a movie I personally felt uncomfortable watching. Maybe you read a book I didn't completely agree with — and loved it.
Does that make me a better Christian? Do I have the liberty to judge you for it?
Absolutely not.
Don't get me wrong. There are many things that are black and white, that are clearly wrong or right. I'm not advocating an "anything goes" mentality. There are certain movies Christians shouldn't watch. Music that wouldn't be acceptable on a Christian's playlist.
However, there's a difference between saying that Christians shouldn't listen to secular hard rock, and saying that contemporary Christian music is too worldly.
Many other things are not so clear. Still, we often act as if they are. As if our personal conviction and opinion is the only right and true way. As much as I cringe to admit this, I know I'm guilty of it too.
But I've seen the consequences of such judgment. I've known families that fell apart over such non-issues, and I've witnessed friendships severed because of them.
It breaks my heart.
And, I think it breaks God's too.
God does call some people to do certain things. Maybe He has asked you to refrain from watching TV. Or listening to this, or wearing that. Whatever it may be, obey His leading. But don't push personal convictions on others, or make judgments about them.
Let's face it. Living as Christians in our current culture is messy and confusing, and leaves more than a little room for misinterpretation. How often I have wished for a "one size fits all" Christianity. One where God gives a giant list of rules down to the very last detail, and makes us, His followers, stick to it.
But that wouldn't be a relationship, would it?
And that's what God desires from His people above all else.
More than rules and legalism. More than a squeaky clean life or flawless past.
More than all of it, He wants your heart.
Your love.
Your obedience.
Your life.
That is what He values more than anything.
It may sound a bit radical, but I think the best way to keep ourselves unspotted from the world isn't to shun everything in the world — after all, we do live in the world and among those who are of the world — but rather to chase after God so hard that He captivates our single-minded devotion and becomes our first love.
The only way we will ever truly be different from the world — unspotted — is by having a transformed heart that leads to a transformed life. And Jesus is the only One who can bring about such a change.
Click To Tweet
The only way we will ever truly be different from the world — unspotted — is by having a transformed heart that leads to a transformed life. And Jesus is the only One who can bring about such a change. Not rules. Not legalism. Just a personal relationship and daily intimacy with the King of kings.
Follow hard after Jesus. Obey Him in the personal convictions He's placed on your heart, and love your brothers and sisters in Christ, even if He hasn't placed the same convictions upon them. That is the only way the world will ever see the unending love of Jesus in our lives. The only way to claim pure and undefiled religion.
Maybe, keeping ourselves unspotted from the world has a little less to do with the outward and a little more to do with the inward.
What do you think?
---
Photo courtesy of Send Me Adrift via Flickr Creative Commons.
---
Share Your Thoughts in the Comment Section!There are currently __ Comment(s)
---