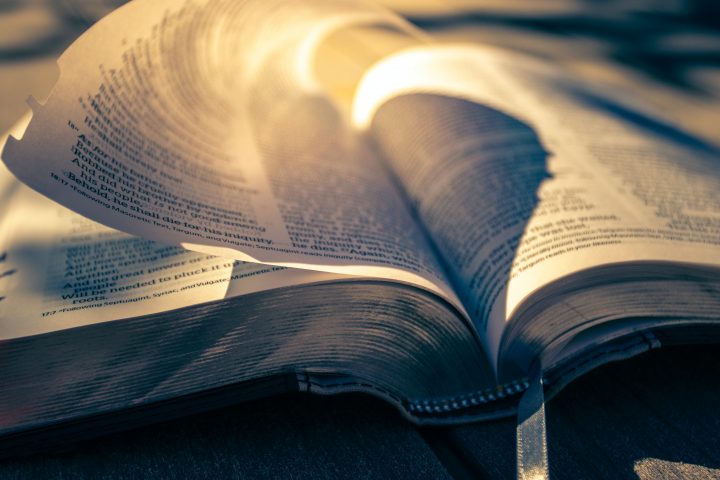 In the past, my Bible reading has been largely unplanned and unscheduled. I would randomly pick a book of the Bible to study because it's what struck my fancy in the moment, and I wouldn't set any kind of time frame to complete it. Whenever I finished that book, I'd pick the next one in the same manner, and so on.
But this year, I decided to try something different; something I've always wanted to do. I set out to read the Bible in chronological order in the span of a year. Outstanding, I know.
A few days before January first, I printed off my reading schedule. Thumbing through it, I could tell it would be a challenge. But it's good to challenge ourselves. That's how we grow.
I was so eager to get started!
Sometime around February, I finally completed the book of Job, which if you've done a Bible in a year plan, you know what that means.
It means I fell behind—way behind.
So I quit.
When the Plan Becomes a Problem
For about the first week, I did a great job keeping up with the reading plan and found myself really enjoying it. It was so satisfying to check off each day!
But then I got sick, and I fell a bit behind. I told myself not to stress, to just pick up where I left off.
I continued with the plan for several more weeks, but during that time I noticed a few things happening:
Firstly, my mind struggled to absorb all I was reading. I'm a slow reader, a muller. I contemplate and ponder so I internalize what I've read, or else, it will likely go in my eyes and out my ears. I enjoy mulling, but it takes time—time the plan didn't leave any margin for.
Secondly, taking notes became increasingly difficult. Note taking is where what I've read goes from head knowledge to understanding. It's through this practice that God helps me connect the dots between what I've read and practical application. Without it, my eyes may see the words, but my mind doesn't grasp them, and my life isn't affected by them. I process what I've read best when I put my own pen to paper, which slows me down considerably and makes keeping up with a four-to-six-chapters-a-day-plan nearly impossible.
The third thing I noticed is that in trying to keep up with the plan, my thoughts became more focused on checking off that day's reading than meditating on what I had read. It made time in God's Word feel like homework, a task to be accomplished rather than precious time spent abiding with God. This was the clincher in making the decision to quit the plan.
Together these three things made it clear that reading the Bible in a year isn't a suitable plan for me, at least not now. I'm still reading the Bible in chronological order. I'm still following the plan in that sense. But my pace is molasses compared to the plan's outlined schedule, and I've realized that's okay. And it's okay to quit striving to keep up with a pace that's not feasible for me.
If you relate, please, don't be hard on yourself. Your pace is not a problem, but maybe the plan is. If following a reading plan to a T is hindering your ability to slow down and listen to that still, small voice perhaps you should consider if the plan is worth doing. Perhaps the plan is a problem.
If following a reading plan to a T is hindering your ability to slow down and listen to that still, small voice perhaps the plan is a problem.
Click To Tweet
Progress Over Perfection
Second Timothy 3:16-17 says, "All Scripture is breathed out by God and profitable for teaching, for reproof, for correction, and for training in righteousness, that the man of God may be complete, equipped for every good work."
We can use this passage as a guide when deciding whether to persevere with a reading plan (like I mentioned earlier, challenges can foster growth) or to quit the plan by asking ourselves these questions:
1. Am I learning about God's ways, character, and how to live as a Christ follower?
2. Am I feeling convicted of sinful mindsets, actions, and behaviors?
3. Am I sensing correction and guidance on how to "set straight"?
4. Am I being trained in righteousness in my body, mind, will, and emotions?
We should be seeing these effects from our time in Scripture. And if we're not, we may need to change our approach to how we study it.
Because what matters is that we are growing, not how fast we're going.
What matters is that we are growing, not how fast we're going.
Click To Tweet
What matters is that we're retaining and recalling what we've read, not that we checked off a box that day.
What matters is that we're progressing in our walk with God, growing in our understanding of Who He is, developing the fruit of His spirit, and dying to our flesh a little more each day, not that we complete our reading plan perfectly.
It's important to remember that we read and study God's Word for a purpose and that purpose is to know Christ and be shaped like Him. Sometimes our plans can get in the way of that.
Bible in a Year Alternatives
Maybe like me you've realized reading the Bible in a year isn't for you, but you still want to have an overview of Scripture. This is not a bad thing, it's actually a very good thing. So then, how can we go about it? Here are four alternatives. Try them, but please keep in mind that it's perfectly okay to stop and switch plans if needed.
1. Audio Bible in a Year – We can listen to things faster than we can sit and read them. Why? Because we can listen and do other things simultaneously.
I listen to my audio Bible while I'm making my bed, getting ready for the day, cooking dinner, folding laundry, and unloading the dishwasher. I use an app called Audio Bible and listen to the NKJV dramatized version. It has a musical score and voice actors so it's more engaging than a monotone read-aloud and reminds me of listening to radio theater when I was a kid. This is the alternative I've chosen to supplement with my more in-depth study.
2. Bible in Two Years – If you really want to read the entire Bible all the way through, try doubling (or even tripling) your timeframe. Who says it has to be done in a year? It doesn't make you more holy or a better Christian if you complete the Bible in one year, nor does it make you less holy or a worse Christian if you complete it in two or three years.
3. Bible in 3 Months – Okay, you might be thinking this sounds nuts, but hear me out—three months is a shorter time commitment to devote to this kind of plan. It might be a great challenge to take on during the summer when you have more free time.
4. Children's Storybook Bible in a Year – if you read my article "How to Get in God's Word When in Depth Study is Hard" you know I'm a fan of children's storybook Bibles. They're a great, fast way to get a big picture overview of Scripture, and since a lot of the little details are left out, you're less likely to get distracted by word-by-word study. Again, this could be a supplement to more in-depth study.
Follow Jesus
Since I gave myself permission to quit the Bible in a year plan, the additional stress and anxiety that had developed around my time in the Word has been lifted. My mind is less hurried and distracted. I feel more at liberty to pause and meditate when a single verse tugs at my heart, and I've still been gaining a big picture overview of Scripture by listening to my audio Bible.
Maybe you've realized the Bible in a year plan isn't right for you either. If so, please know that there's no shame in quitting. As long as you're learning about God every day, growing in relationship with Him, seeing more of His fruit and less of your sin, then you're moving in the right direction.
Remember, reading plans and Bible study guides are merely tools, and they can be helpful. But if they're making the job of seeking Christ more difficult, we shouldn't feel guilty for switching tools. The wrong tools just get in the way.
Also, we don't win medals for completing reading plans. The prize we find in scripture, the treasure we should carefully mine its pages for, is Christ Himself.
Following a reading plan isn't the point. Following Jesus is the point.
---