Heather Stone lives in fear of repeating the past, yet she continues doing the one thing that could trigger another disaster. When the police trace an illegal Bible to her house, Heather's world begins to crumble.

Her father's life hangs in the balance. No one with the power to help knows or cares. If she tries to save him, she could lead her friends to their deaths. If she does nothing, her father's fate is certain. Can she evade a hostile police force and win public sympathy before it's too late?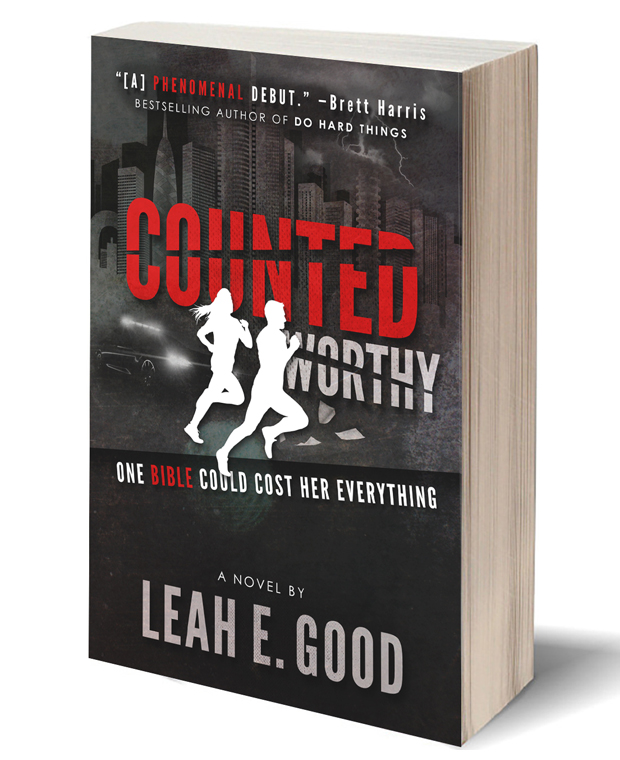 ---
The message of Do Hard Things is back, but this time it's wrapped in a story. This exciting new novel by rebelutionary Leah Good is set in a dystopian future America. Christians are persecuted, forced to recant, or executed. Bibles are destroyed.
But the underground church survives, in large part because of people like 16-year-old Heather Stone who rescues Bibles from book sorting centers and smuggles them to other believers.
Heather is a fictional character, but she represents thousands of real young people throughout history who have taken remarkable risks and made enormous sacrifices for their faith.
If you want to be inspired (and thoroughly entertained) grab a copy of Counted Worthy today!
---

---
Endorsements:
"Every generation must discover it's own storyweavers. Leah Good is one of ours and we are fortunate. Counted Worthy is a thrilling work of inspirational fiction that perfectly complements the message of Do Hard Things. Grab a copy for yourself, grab a copy for a friend, and help spread the word about this phenomenal debut. Counted Worthy belongs in the hands of every Christian teen and story lover in the country. It's that good."
— Brett Harris
Co-Founder, The Rebelution
Author of Do Hard Things and Start Here
"Page-turning, tersely written dystopia about the power of words and the ultimate power of THE Word. A great first novel from an author I hope we'll see more of."
— Rachel Starr Thomson
Author of The Oneness Cycle and The Seventh World Trilogy
"This is a timely novel during a year that international persecution of Christians has regularly made headlines."
— Woody Robertson
Co-Founder, CollegePlus
"Counted Worthy is quite possibly the best contemporary Christian fiction I've ever read. The strong, beautiful message is clearly conveyed without the slightest bit of preaching; something exceedingly rare in today's Christian market. The premise, both unique and familiar, shines like a candle in the dark, forcing you to re-evaluate just how far you'd go with your faith. Ultimately, it instills a desire to follow God to the end of this world. Eagerly awaiting Miss Good's next novel!"
— Catsi E., Reader
"Radical. Intense. Compelling. Leah Good's dystopian novel, Counted Worthy, powerfully embodies the message that today's young people need to hear: the Reason we have to die to self, pursue the impossible, and when all else fails, to stand. This is the message that has the potential to turn a generation of complacency into a generation of inspiration."
— Melody van Achterberg, Reader
"Intense. Even if you're not religious, you can still find appreciation, inspiration, and will wait in anticipation reading this novel."
— R. Stars, Reader
---