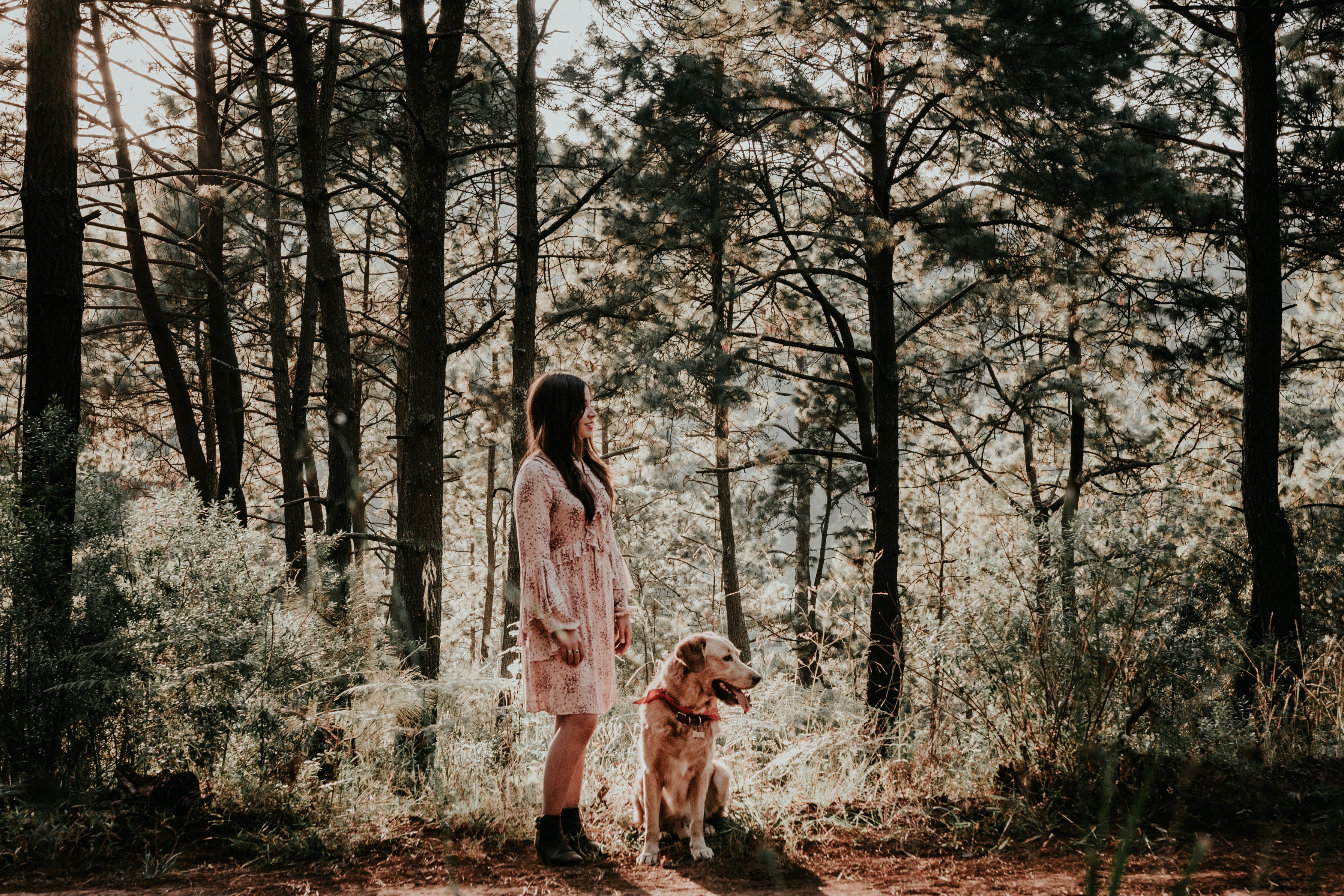 Sometimes it seems as if God ignores us.
As if our pleading and prayers mean nothing. As if the sleepless nights don't count and our tears are lost in a pool of a million others.
Three months ago I was there, feeling ignored by God. 
Trixie was a big, black and grey scruffy mixed breed. She was loyal to a fault (taking after the sheepdog in her, no doubt). You would pet her and she would burrow her body into yours, her tail spinning like a propeller. She was the dog I begged for as a little child, the one I grew up with, cared for to the best of my abilities, and took on daily walks.
One day as I prayed long and hard during my personal devotions, I ended by saying, "Let Trixie live three more years…at least until I finish college." Trixie was ten years old and the previous  year had experienced various health issues. However, the last six months it was as if her health was revived—her coat was glossy and luxurious, she had energy again, she even ran around the yard like a gawky adolescent pup any time I reached for her leash.
As I prayed, I believed God would extend Trixie's life. I was confident.
But barely three days later, I found myself in a dank veterinarian's office, rain drizzling down the windows. In the center of the room, on an ugly metal table, lay Trixie's lifeless body. Tears ran down my face as my mind blurred the last 8 hours. I had cupped her face in my hands as she painfully lifted her head, looking up at me with those soulful brown eyes of hers for one last time. My mind raced with all the memories we'd had over the years. I massaged her cold fuzzy ears for one last time and then trudged out of the clinic room.
It was then that it dawned on me: God had not answered my prayer the way I had planned. I had asked for Trixie's life to be extended, a prayer I had never before prayed (at least, not intentionally), only to watch her die 48 hours later.
I wasn't necessarily angry with God. But I felt hurt, as if I had been neglected and ignored by my own Creator.
I think we have all been there at some point in our lives: wondering why God hadn't done things our way. Even thinking that we knew better than God, that we could have wrote a happier ending. Over the last few months, however, God has been showing me that prayer is not quite what I thought it was. That, in fact, prayer is something so much more than I can even begin to fathom.
God Always Answers Prayer
One lesson God has been teaching me is that there is no such thing as an unanswered prayer. Psalm 66:19-20 says, "But truly God has listened; he has attended to the voice of my prayer. Blessed be God, because he has not rejected my prayer or removed his steadfast love from me!"
God always hears our requests, and he always responds to our prayers. I think we have all heard of the three ways God answers prayers: "yes", "no", or "not yet." We seem to always celebrate when God says "yes," we try to be content when God says "not yet." But when God says "no", we oftentimes begin to doubt his goodness. This is when we begin to believe the lie Satan desperately wants us to believe: God has neglected us—he doesn't care. 
The truth is, however, God does care about us. He knows the very number of hairs on our head. He feeds the sparrows and he dresses the lilies of the field. He even sent his very own, perfect son to die in our place—God never leaves us or forsakes us. When he answers our prayers, however, he answers them according to his will, not ours. God never compromises his will for the comfort of our emotions.
God never compromises his will for the comfort of our emotions.
Click To Tweet
Sometimes God's will is a mystery to our finite human minds. But his will is always eternally superior to ours. Romans 8:28 says, "And we know that for those who love God all things work together for good, for those who are called according to his purpose." God's will is always good, even when we cannot see the light or fail to understand his plan.
We Must Pray With Humility 
The other week at church, the pastor said something that resonated with me: "Prayer requires complete dependence on God." 
How quick we often are to say we know better than God. That we can create a greater alternative. In prayer, however, we should be lost in the humbling realization that God is awesome holy and we, simply put, are not.
Worship is the act of humbling ourselves in the presence of an all powerful God and exalting him for his awesomeness. This state of worshipful reverence reminds us of our complete reliance on God.
God always answers our prayers according to his perfect will. But maybe he allows bad things to happen (or in other words, allows prayers to be answered not according to our plan) so that we are forced into humility—a reminder to return to our First Love.
Ann Voskamp states in her book, The Broken Way, "Brokenness breaks us from our need to be 'right' and breaks us open to our need to extend the grace we have been given."
God loves us more than any human is capable of loving another—wouldn't he want the absolute best for his children? Prayer is, in essence, trusting that God always loves us and knows best for his children. We must cling to this promise.
Romans 8:37-39 reminds us, "In all these things we are more than conquerors through him who loved us. For I am sure that neither death nor life, nor angels nor rulers, nor things present nor things to come, nor powers, nor height nor depth, nor anything else in all creation, will be able to separate us from the love of God in Christ Jesus our Lord."
Nothing can separate us from the love of God. However, trials of this world can have the potential to draw us closer to God. A prayer that is not answered our way should not drive us away from God but, rather, force us to humbly return to God and, with prayer, approach his throne with renewed boldness and confidence (Hebrews 4:16).
We Must Pray With Thanksgiving 
My favorite song can change daily. However, I am currently in love with Counting Every Blessing by Rend Collective. The refrain, in particular, stands out:
I am counting every blessing, counting every blessing
Letting go and trusting when I cannot see
I am counting every blessing, counting every blessing
Surely every season you are good to me
How difficult it can be, especially when our life does not go according to plan, to let go and continue trusting him. We all have our plans and ambitions. We all have dreams and fantasies. I believe one of the hardest commands Jesus gave to his disciples was, "Follow me." His disciples had to leave behind their families, careers, and dreams. They had to let go of everything to follow Jesus. And even in letting everything go, they would have to join the Psalmist in saying, "Surely goodness and mercy shall follow me!"
The difference between praise and thanksgiving is this: praise is praising God for who he is while thanksgiving is thanking God for what he has done. Both are crucial in one's prayer life. However, when we thank God, we are weaving contentment into our lives. We are learning to be content no matter the situation and we are learning to trust God no matter the outcome.
Praise is praising God for who he is, while thanksgiving is thanking God for what he has done.
Click To Tweet
In Philippians 4:11-13, Paul writes, "…For I have learned in whatever situation I am to be content. I know how to be brought low, and I know how to abound. In any and every circumstance, I have learned the secret of facing plenty and hunger, abundance and need. I can do all things through him who strengthens me."
Let us praise God for his goodness and rejoice in his faithfulness. In praying thanksgiving, we learn to trust in his goodness and steadfastness.
We Must Pray Without Ceasing
1 Thessalonians 5:17 says, "Pray without ceasing." It's a small, simple verse. And yet, it is a Bible verse that has always frustrated me. How do you pray without ceasing? We all have busy lives and cannot devote every single second of every single day to prayer, right?
According to John Piper, in his article How Do I Pray Without Ceasing, "Discipline in regular times of prayer during the day keep this kind of 'without ceasing' prayer alive." So perhaps, praying without ceasing is not necessarily a constant state of prayer. Instead, it is a disciplined prayer life.
All my life as a Christ-follower, I have struggled in having a robust prayer life. Consistency eventually fades into an as-need basis. However, all throughout scripture, we are shown the power and significance of prayer. Prayer is vital to one's faith. It realigns our hearts to God and his perfect plan.
In all honesty, I am still struggling through the death of my childhood dog, Trixie. I struggle not only with her absence, but with the fact that my prayer was not answered the way I wanted it to be answered. I still struggle with having a strong prayer life. But God always gives grace to carry on.
In prayer, I find comfort and and am reminded that God is, without a doubt, always good.
C.S. Lewis once wrote, "I pray because I can't help myself. I pray because I'm helpless. I pray because the need flows out of me all the time—waking and sleeping. It does not change God—it changes me."
Let us sincerely pray that God will give us the desperate need and desire to pray. Let us pray that God will give us both the humility and boldness to kneel before his throne.
---